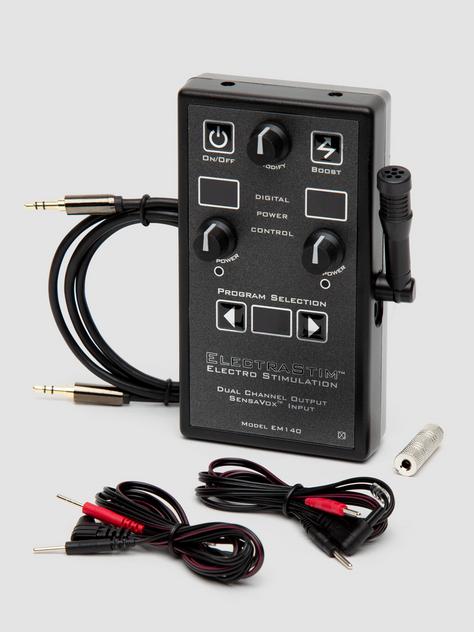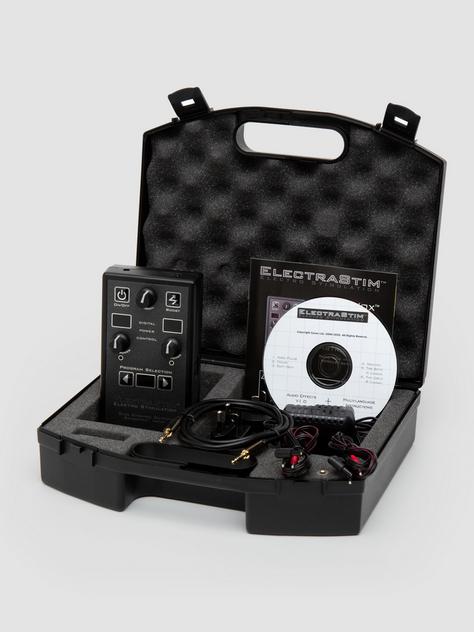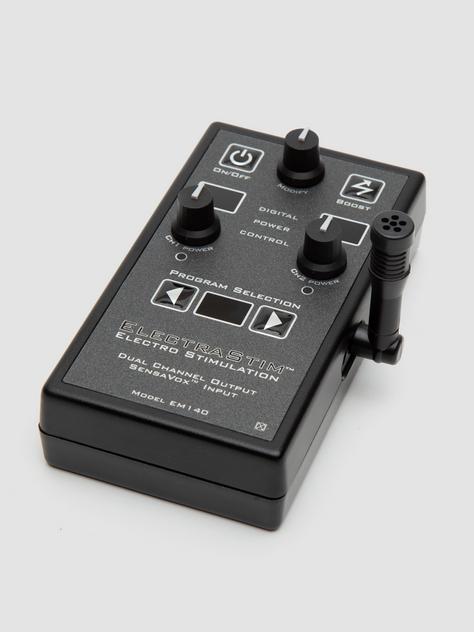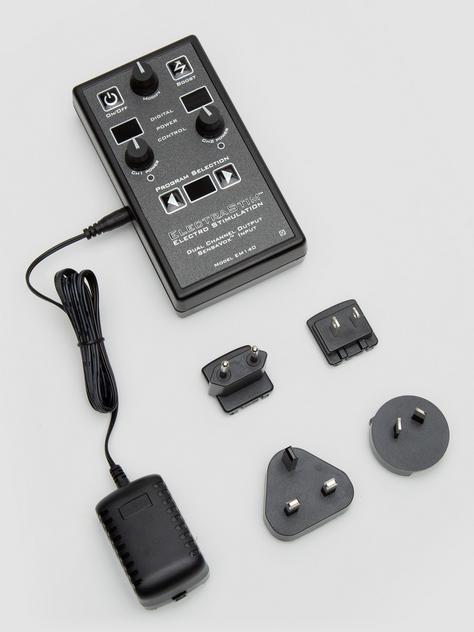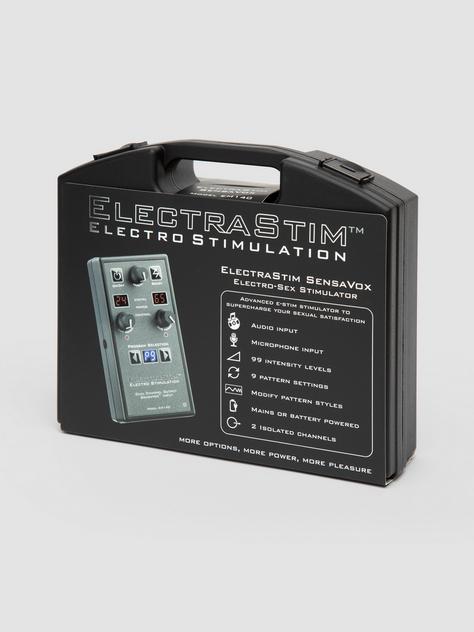 ElectraStim EM140 SensaVox Power Unit Dual Channel Electrosex Kit
Last chance! This product is not going to be re-stocked!
Mains or battery-powered electrastim unit for thrilling couples E-Stim pleasure
Uses the same technology as TENS machines and lazy tummy toners
Dual outputs can power up to 4 uni-polar toys (or a pair of bi-polar toys)
Optional audio setting activates power with music or your voice
Requires 2 uni-polar or 1 bi-polar toy to complete a single circuit on a single channel
EM140 SensaVox is the ultimate in electrosex play for couples. Dual channels with individual controls allow you to use up to 4 uni-polar or 2 bi-polar sex toys. The unit can even be controlled by music or your voice and operates via mains or battery power.

The ElectraStim SensaVox delivers incredible stimulation by sending electronic pulses through any electrosex toy you connect to the unit. Designed with absolute safety in mind and utilising years of research into electro therapy, this expandable kit offers a varied platform for couples electro-play.

The beauty of this unit is that it has two channels instead of one, each capable of operating either a single bi-polar toy or two uni-polar toys. This allows you and your partner to enjoy different toys, at different intensities, using the same power unit. If you prefer a high-powered buzz and your partner likes a gentle tingle, both of your tastes are catered for.

Each channel has its own separate control dial, allowing you to adjust the output intensity from level '0' to level '99' one step at a time. This offers incredible control over the intensity of the electric waves and pulses you feel, assuring the sensation is never too much... or not enough. Take it from an incredibly gentle nudge to a vibration-like tingle and onto a sensational shock one step at a time.

Utilising digital encoder technology means that over four full rotations are required to increase the intensity to the maximum level, ensuring a smooth comfortable climb - although few, if any, can go all the way with this powerful unit.

If you want some extra oomph during play, press the boost button. This escalates the power for a couple of seconds, tipping you over the climactic edge.

Choose from either a continuous stimulation or from 9 other patterned programs which behave in the same way as vibrator modes. Each of the patterns is also fully adjustable in intensity for shock-free shocks!

If you want to spice up play further, try the audio input. This allows you to connect an MP3 player or stereo to the SensaVox unit, making your electronic waves pulse in time with your favourite music. Choose something slow and sexy for long waves or something upbeat for a shorter pulse.

For extra raunchy play, try the microphone input. This allows you to control stimulation with your voice. Sweet talk, dirty talk or moan and groan to activate the tingling sensations.

Fitted with the very best in safety technology, the unit will always operate at '0' intensity when you first switch it on. Likewise, when changing patterns, the intensity will always start at '0' to ensure you never experience too much too soon.

You may power this unit either by using the included 9v battery or via the worldwide mains adaptor, depending on your preference. When operating via battery the unit will power save by dimming the LED display and switching off the display lights after a few seconds. The unit will continue to operate when the display is dimmed, saving power and extending your play.

Please Note: There are no electrode attachments included with this set. These must be purchased separately. This unit is compatible with any uni-polar or bi-polar toy that accepts 2mm pin connectors.

Kit includes: An EM140 Power Unit with dual channel control, 2 x connecting wires with 4 x 2mm pin connectors in total, 1 x 9v battery, mains power supply with multiple country adaptors for worldwide play, a microphone, a 3.5mm jack audio lead for MP3 and stereo input, CD, detailed instruction booklet, hard case with removable product sticker.

Voltage: 100 - 240V
Frequency: 50 - 60hz

Warning: Not for use on the nipples or anywhere across the chest.

Please note: This item can not be returned if it has been opened or used.
Essential Info

Power and Speed

Power Type: Batteries (included)
Product videos
With dual channels and individual controls that allow you to use up to 4 uni-polar or 2 bi-polar sex toys, the unit can even be controlled by music or your voice and operates via mains or battery power.
Bondage Advice
If you're looking to dip your toes into the world of Bondage and BDSM, our advice guides are here to help you get started in the easiest possible way.
Frequently bought together
Popular combos for more sexy fun