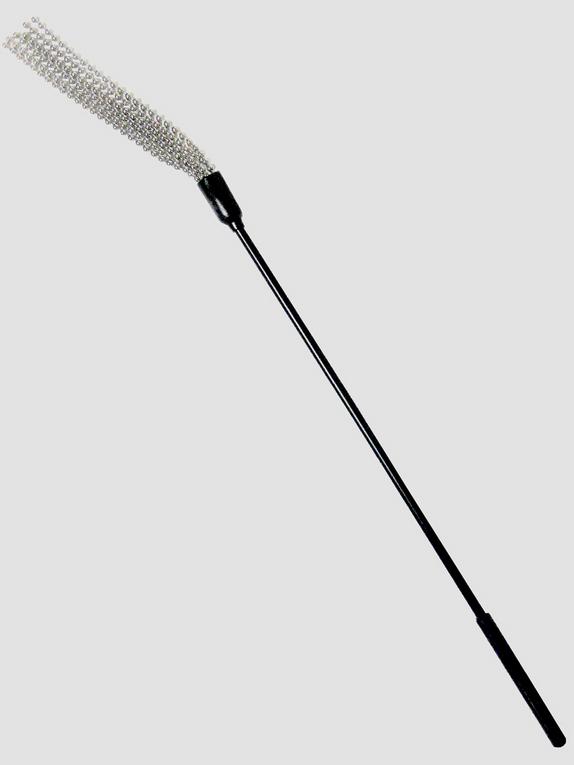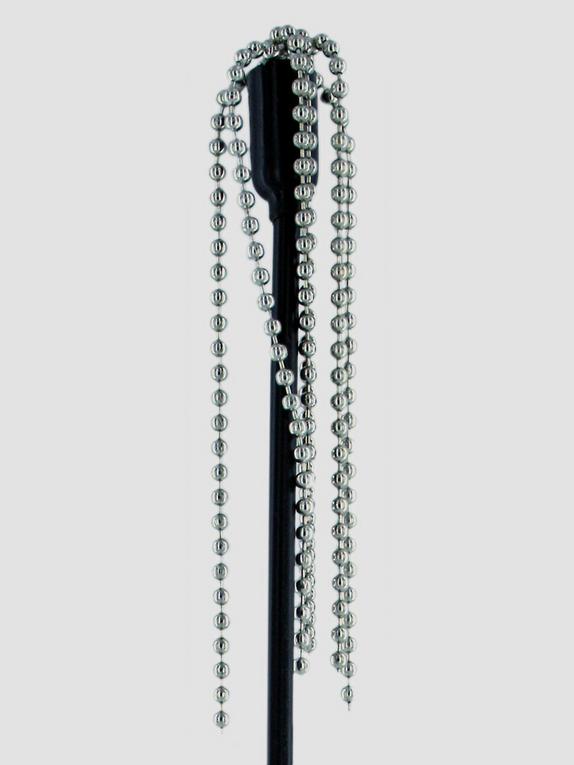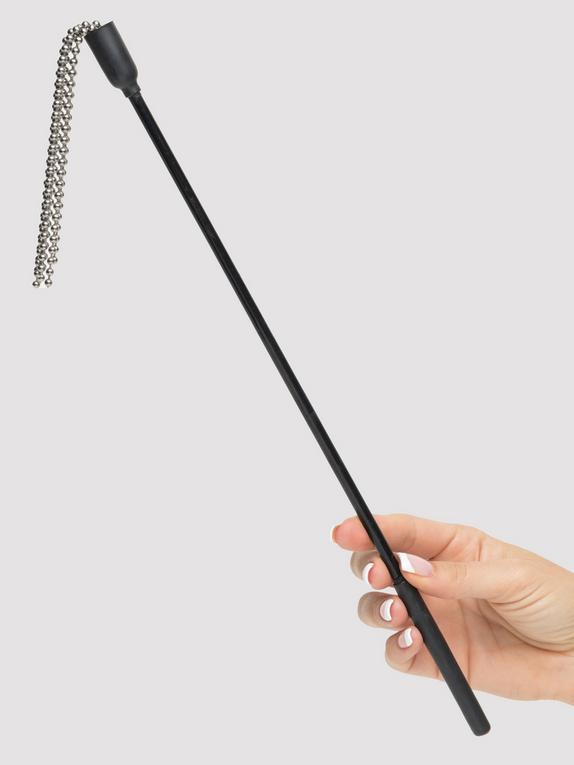 Sportsheets Body Tickler Ball Chain Whip
Last chance! This product is not going to be re-stocked!
Ball chain tipped spanker for a variety of sensory play
Flexible chains can be used for delicate tickles and hair-raising spanks
14.5 inch slender handle offers foolproof control
6 inch tassels feel amazing when warmed up and cooled down
Perfect for all levels of play, from beginner to advanced
Something of a unique toy if ever we saw one, this whip-tickler combo brings you a wide variety of exciting sensations to explore. Delicately tickle your lovers skin, or switch to awakening spanks for a more intense experience.

Thanks to their metal make up, the flexible tendrils can also be warmed or cooled in water to add a thrilling new dimension to sensory exploration.
Essential Info

How it Measures Up
Bondage Advice
If you're looking to dip your toes into the world of Bondage and BDSM, our advice guides are here to help you get started in the easiest possible way.
Frequently bought together
Popular combos for more sexy fun
Customer reviews
4.5
4.5 star rating
23 Reviews
4.5
4.5 star rating
23 Reviews
Thank you for posting a review!
We really appreciate your opinion and hope to see you again soon.
Thank you for posting a review!
Your review was sent successfully and is now waiting for our staff to publish it.
Search reviews
5.0 star rating

4.0 star rating

3.0 star rating

2.0 star rating

1.0 star rating
Whip me baby one more time
Review by Purring-Pussy on 15 Dec 2015
review stating Whip me baby one more time
I'd been eyeing the Sportsheets Body Tickler Ball Chain Whip for a while and picked it up in the 3 for £30 bondage offer. I'm really into receiving impact play and wanted something different to your usual paddles, floggers and whips. When it arrived, I was a little disappointed to be honest. Although it is only £12.99, it dies look rather cheap and I thought the chains would be a little longer. However, during play, it is a lot better than I had expected. The whip comes with a Sportsheets label which is easily removed. It even has 3 sexy games if you want ideas on how to use it, from tracing the beads over your partners body, to icy/hot play, by dipping the chains in ice water or warm water. The plastic handle is 14.5 inches long, with the chain being 6 inches. The stem is a little bendy and I found it could have been more comfortable to hold, as the end of the handle isn't smoothed off well and becomes scratchy whilst it's in my hands. Having the whip used on me: I love heavy impact play, so I was able to take a good whipping on my booty. It is thuddy with a bit of a sting, feels great after a flogging. With a burning red ass, it feels great being traced across it after the chains have been left to chill in a bowl of ice water. An occasional thwack with the stem, kept me in my place with a sting and then the ball chain gently sweeping across my booty. Using on partner: My partner is a beginner with kinky stuff. I like to do a little tie and tease with him, using satin restraints, so he feels a little safer. I like him to lay on his tummy, whilst I trace the ball chains across his back and ass. A very gentle thwack evey so often and alternate with a small suede flogger, just teasing his body with different sensations. I like to tickle his feet and watch him squirm, then trace back up his body and add a few little spanks. Who I'd recommend the Sportsheets Body Tickler Ball Chain Whip to: I think this chain is very suitable for beginners, it's a great kinky toy to tease a partner with in the bedroom. It can be sensual kink, or hardcore for those Dominants who like to punish their subs and then tease them with the different sensations that this chain provides. So whether your an advanced player or just a beginner wanting to explore, this whip would be well suited. It is now a firm favourite in my kink kit. Overall, it was better than expected when I first saw it. Although it is a bargain, you can tell by the quality of it that it's cheap. If you have the imagination, you could have a great time exploring new games and arousing the senses. It gets used often, but not sure how long it will last. Now I'd like this whip ti have more and longer chains, with a comfortable handle, but for now this one does the job.
Bottom Line:
A good addition to your kink kit.
Cons:
Looks cheap, handle was uncomfortable and scratchy on the end.
Pros:
The ball chains, the different sensations it provides.
On Sportsheets Body Tickler Ball Chain Whip
Squeals that I'd never heard her make before
Review by Adventerous C. on 6 Aug 2015
review stating Squeals that I'd never heard her make before
Outstanding results! Allow me to explain how I made my lady squeal in a way I've never heard her squeal before. I had her lying on her back on the bed. Each foot was tied to ceiling hooks holding her legs in the air and open wide enough to provide vulnerability, restraint, and access for what was to come. Her hands were cuffed together, and the chain between the cuffs was roped to the bed to hold her hands behind her head. This gave me complete restrain and access to her body. I blindfolded her, and then fetched two mugs of water: one cold with ice cubes, one hot from the kettle. I pulled out the chain tickler, and stroked her nipples and clit. She had no idea what it was, and so she asked - but do you think I let her know what I was using? I then dipped it in the cold water, and draped it over her nipples. She had no idea it was coming, and squealed as she experienced a new sensation she's never had before. She loves her nipples being teased, and this tickle was completely new. I did the same thing with her clit, stroking it up and down, each time squealing, trying to wriggle around on the bed, but with nowhere to go. I then dipped it in the hot water, and suddenly the warmth of the tickling provided yet another extreme difference in sensation, driving her wild. I kept dipping it back in the hot water to keep it wet and warm, which was a very comfortable sensation for her, much like my warm tongue that she loves licking her, but with a tickle behind it. Then after a while I went back to the cold water, and not expecting it, she exploded with squeals of sensitivity. I took the blindfold off so she could see what I was using. Then whilst I lowered my head between her tied and restrained legs to eat her out, I used the tickler whip to tickle one nipple, with my other hand to flick and pinch her other nipple. Anal beads and a glass dildo were also involved, each one slowly taken in and out as I licked her all up. The orgasm she went on to have almost caused her to black out. She was screaming so loudly in pleasure that I must give this product full marks. The whip itself isn't really something perhaps best described as function over beauty. It's not the sort of thing that you'll orgasm just by looking at, as it is a cheap looking flimsy piece of plastic with some cheap ball chains, not too dissimilar to those chains used on products to hold brand name tags on. If you were to use it as a whip to strike with, it may very well break. But don't get me wrong, this is a very unimportant aspect of the review. For the materials and manufacturing involved, and the suspected strength and durability of the product being less than desirable for rougher play, I would like to see it at less than half the price it's sold for. But don't get me wrong, it resulted in an incredible experience well worth the cost! I don't think using it as solo play, or unblindfolded play, would be anywhere near as pleasurable as your partner being blindfolded and unexpecting it. And I highly recommend the extreme temperatures. Enjoy!
Bottom Line:
An incredible experience, but consider a more durable one for whip usage.
Cons:
It looks cheap, and seems rather flimsy, for the price.
Pros:
It made my lady squeal in ways I'd never heard before!
On Sportsheets Body Tickler Ball Chain Whip
Handle with care
Review by Dunny&Smithy on 30 Jan 2015
review stating Handle with care
Well if you are adventurous this will certainly tickle your pleasure spots ladies and gentlemen! If not handled with care this little whip can cause some massive pain..or pleasure ;) The first time we used it we tried it after placing the ball chains in warm water, and it adds a whole new sensation to our foreplay; even the other half tried it (no whipping, simply running over his body) and he's not a fan of being spanked so try not be afraid of how it looks.
Cons:
Can't really fault it.
Pros:
Just the other games you can have apart from spanking.
Bottom Line:
Opens up to a whole different level of fun. :)
On Sportsheets Body Tickler Ball Chain Whip
Exactly as described
Review by Shirazkitten on 5 Jan 2015
review stating Exactly as described
This product fulfilled all of my fantasies. It was more than successful in creating oozing feelings of pleasure whilst using the tassels in a stroking motion down my back and equally exciting feelings when used in a whipping motion. The whip is also sturdy, we have used this a lot and it has not yet broken at all!
Cons:
Not very luxurious material handle.
On Sportsheets Body Tickler Ball Chain Whip