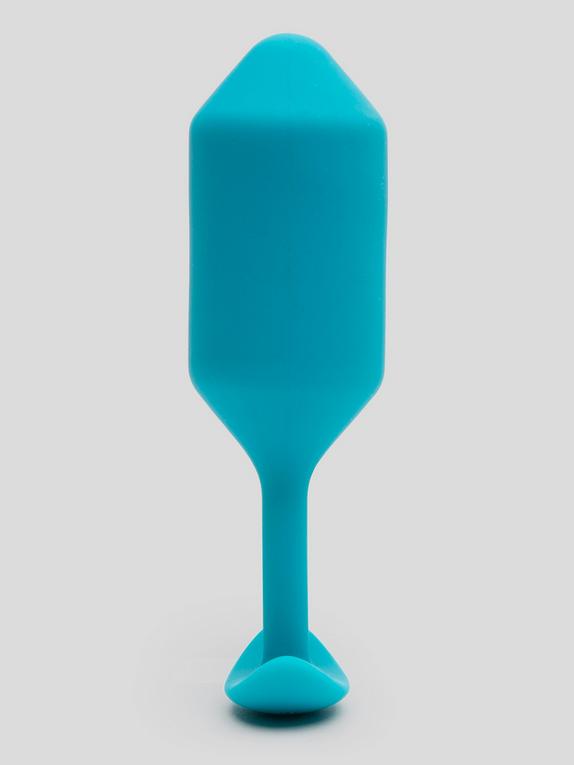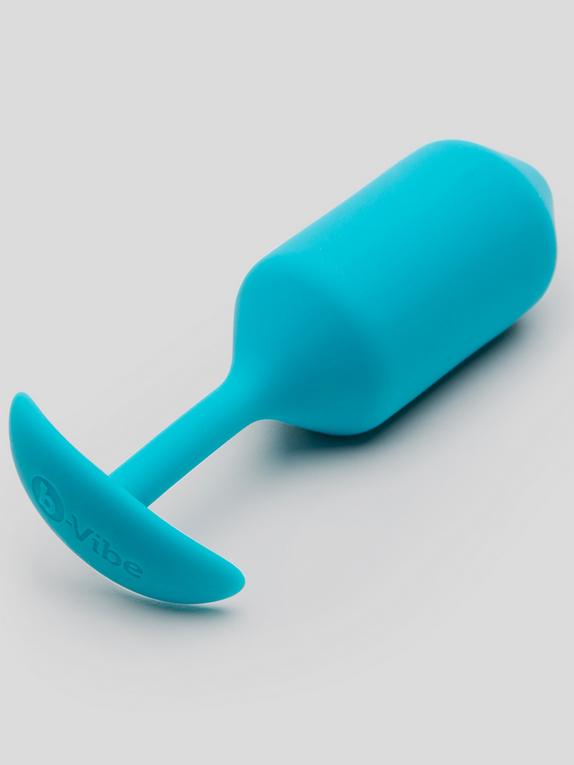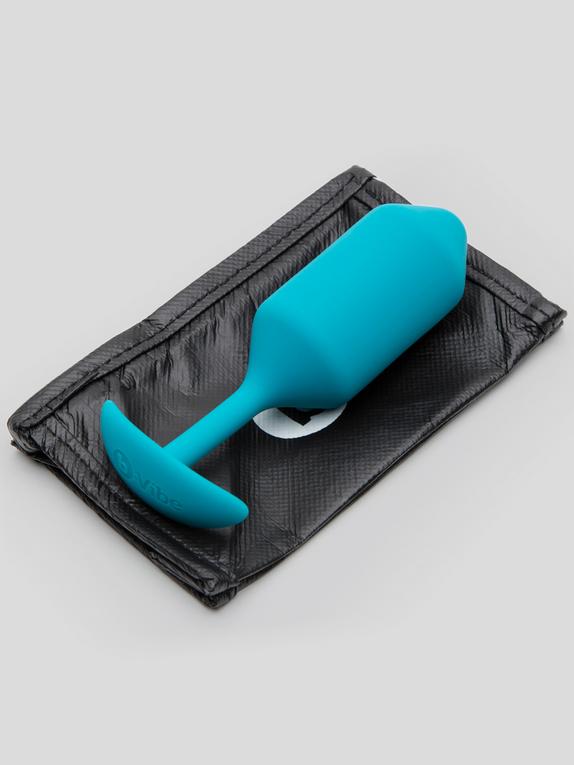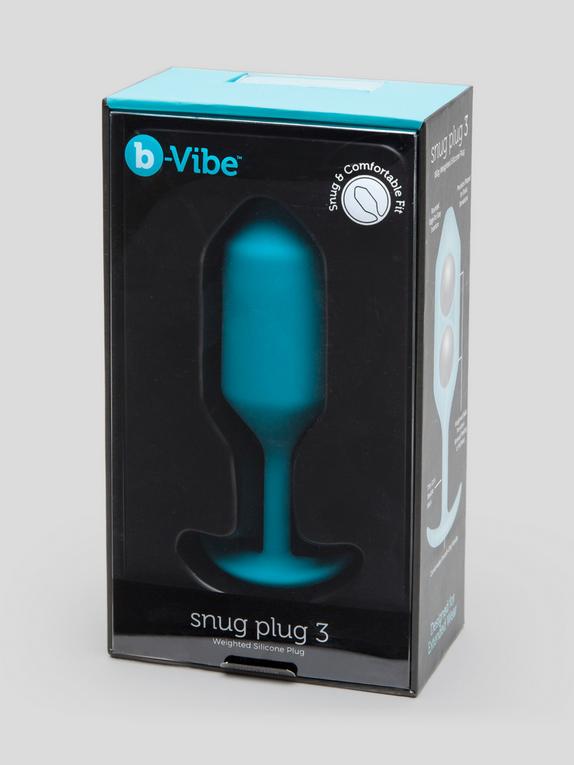 b-Vibe Snug Plug 3 Large Weighted Silicone Butt Plug 4.5 Inch
Last chance! This product is not going to be re-stocked!
Seamless silicone butt plug with internal weights for intense stimulation
Intelligent shape with long, thin neck for comfortable prolonged wear
Smooth grip handle allows for easy retrieval
Tapered tip ensures easy insertion
180g weighted plug for intense fullness
Take the weight off your shoulders and put in your butt for an explosively good end-of-day experience. The weighted butt plug provides an intense and sensual feeling of fullness to enjoy during sex or a steamy solo session.

Crafted into an innovative, ergonomic shape, the plug fits perfectly into the contours of your body. The elongated, sleek neck is thin and flexible for comfortable prolonged wear.

A tapered tip makes for easy insertion, but don't forget to use a good quality anal lubricant for the best sensations.
Essential Info

Allergens: Latex-Free , Phthalate-Free
Features: Flared Base
Waterproof: Submersible

How it Measures Up

Circumference: 4.75 inches
Insertable Length: 5.5 inches
Length: 5.5 inches

How it Feels

Flexibility: Flexible
Material: Silicone
Product videos
Take the weight off your shoulders and put in your backside for an explosively good end-of-day experience. The weighted butt plug provides an intense and sensual feeling of fullness to enjoy during sex or a steamy solo session.
Butt Plug Advice
Butt Plugs are the perfect introduction to backdoor fun, and our butt plug guides give you all the info you need to choose and use the best anal plug for you.
Frequently bought together
Popular combos for more sexy fun
Customer reviews
4.3 star rating
4.3
17 Reviews
Thank you for posting a review!
We really appreciate your opinion and hope to see you again soon.
Thank you for posting a review!
Your review was sent successfully and is now waiting for our staff to publish it.
Design:
Ease of use:
Quality:
Orgasm rating:
Filled up
Review by Cerulean on 24 Nov 2020
review stating Filled up
I bought this during the first lockdown as I returned home from uni and wanted to wear something naughty around the house.It did not disappoint!The butt plug has a nice taper which makes it easier to insert along with the firm smooth silicone. There is no give in this butt plug when inserting, so I would only recommend for those who have dabbled in anal before hand. The two jiggle balls inside provide a surprising simulation when they move about. But I have only found they move with vigorous activity, such as running up the stairs. Although, when the balls move in public it provides an extra feeling of naughtiness which I find really turns me on. In terms of extended use, the butt plug is comfortable to wear for a long time, due to the very slim neck and how the flared base nestles flat against your body, between your cheeks. There is also a good weight to it which engages your muscles, I've had no issues of feeling like it's going to slip out. The butt plug was also packaged really nice and came with a cute sticker, a little storage bag and instructions.
Pros:
The weight, this allows the plug to stay in.
Cons:
Wish the balls move more.
Bottom Line:
Good for public play.
On b-Vibe Snug Plug 3 Large Weighted Silicone Butt Plug 4.5 Inch
T
Throwaway38475390
5.0 star rating
Design:
Ease of use:
Quality:
Orgasm rating:
The most comfortable plug I've ever used
Review by Throwaway38475390 on 21 Nov 2020
review stating The most comfortable plug I've ever used
I originally bought this plug as per a recomendation from reddit, and oh how I'm glad I did, at the time I had been using a gem type plug for extended 24h sessions and frequently had to stop due to the sheer ammount of chafing and just overall discomfort caused by such a plug. However uppon buying this I was able to reach far longer times, eventually making my way all the way up to three months plugged (nearly) 24/7. At no point did I have any issues with the high quality silicone and I was very pleased with the packaging (especially the pouch which can come in handy in a pinch, aswell as being good spot to store lube). The large t-bar base is very very comfortable and minimises the inevitable slight chafing to a comfortable level, as well as completely removing the risk of it slipping inside. The slim neck is perfect for long term comfort, though it wont stretch out your outer sphyncter like something wider it works perfectly for long term use. The bulb portion is perfect, its just the perfect size and shape to nessle itself inside you and act as your naughty secret giving you pleasure whenever you squeeze while also still being large enough to prepare you for the night to come. I really enjoyed the weight of it, it reaches a perfect equilibrium between reminding you that its still there while not getting in the way. Now for my only complaint. The balls inside are most certainly a gimmick, you only ever feel them while walking up stairs or getting up from sitting and even then its just a minor rattle, this doesnt get in the way of the actual function of this plug at all, just dont expect a battery free vibrator.
Pros:
Brilliant design, very comfortable, very good packaging, materials and extras.
Cons:
The balls inside are just gimmicky and get in the way more than provide pleasure.
Bottom Line:
Amazing design and quality for a fair price.
On b-Vibe Snug Plug 3 Large Weighted Silicone Butt Plug 4.5 Inch
Design:
Ease of use:
Quality:
Orgasm rating:
Disappointed
Review by Ozrocco on 2 Nov 2020
review stating Disappointed
My experience with the B-Vibe Snug Plug 3 was disappointing. On the plus side the weight and girth are fantastic, very exciting. Insertion was not as intimidating as I thought with plenty of lube and relaxation. Extraction was even easier. The feeling of fullness was very exciting. Unfortunately, there were a few things, all mentioned in previous reviews, that subtracted from the enjoyment. Firstly, the shape of the T-Bar handle was very uncomfortable. Maybe it's just the way my body works but it tries to pull the product in as far as possible and the pointy ends of the handle digs in to some very sensitive flesh. Couldn't adjust it to make it comfortable and I cant leave it in for more than an hour. Not pleasant at all. Secondly, I can't feel the ball bearings move inside the product no matter what I do. Walk, jog, jump around, nothing. Lastly, and by no means a really big deal, the product retains an odor even after thorough washing, drying and airing. You have to put it up to your nose to smell it but it's there.
Pros:
Girth and weigh. Feeling of fullness.
Cons:
Shape of T-Bar handle very uncomfortable. Can't feel ball bearings move.
Bottom Line:
Disappointed by the product. Sounds good but wasn't as expected.
On b-Vibe Snug Plug 3 Large Weighted Silicone Butt Plug 4.5 Inch
I
Inyago M.
5.0 star rating
Design:
Ease of use:
Quality:
Orgasm rating:
Great plug to wear out (and in bed)
Review by Inyago M. on 27 Sep 2020
review stating Great plug to wear out (and in bed)
I won't tell you what you already know, this plug is very comfortable for long term wear and fits nicely between the cheeks. The first thing I noticed was its weight, and that was a very pleasant surprise, it really does give you that full feeling. The weighted balls inside the plug are definitely noticeable, I had my doubts when I bought it, but whenever you run, go up/down stairs or even just walk, you can feel them bouncing about, which is a lovely sensation, reminds you its there, which I'm guessing would be what most would want from a toy like this. Many reviews mention the smell as the major drawback, however, while there is a smell once you've had it in, it is only really noticeable if you.. well, if you smell it; if you put it to your nose. But otherwise I haven't had any problem with how it smelt. In fact, if I hadn't read about the smell in other reviews, I doubt I would've noticed it! One recommendation I have is to clean yourself out before using, as it is a considerably long plug and after a while of wearing you may need to take it out... I should also mention that while this plug is perfect for wearing out and for extended periods of time, it can of course be used in more intimate and private occasions as well. I have worn it while having sex and it was great, especially when I could feel the weights while thrusting! Overall I am extremely happy with my purchase and won't be looking for a public or long term wear butt plug any time soon!
Pros:
Fits nicely, the weighted balls are great! Good for public and long term wear.
Cons:
Nothing! Maybe some would mind the slight smell.
Bottom Line:
The perfect plug for public/long term wear, noticeable and stimulating while being very comfortable.
On b-Vibe Snug Plug 3 Large Weighted Silicone Butt Plug 4.5 Inch
Design:
Ease of use:
Quality:
Orgasm rating:
Loved It
Review by The O. on 19 Sep 2020
review stating Loved It
Firstly the packaging was brilliant. The box and hard plastic front gave great protection and the impression of a high quality product. This only added to my excitement about this plug. Upon opening I found a great little booklet detailing usage and care instructions and the other products they do. This is the first time I've seen this with a toy and was very impressed, you can tell the company really take pride in what they do. When I touched the plug I was taken aback at how soft and sleek the material feels. It was so smooth and very high quality. I put some lube on the plug and prepared myself for insertion. This is the first plug I've had with a flexible neck so I had to alter my normal technique which took a little getting used to but not an issue at all. The neck is slim meaning once inserted your hole closes nice and tight around the bulbus end keeping it firmly in place making it perfect for prolonged use. My gosh it felt good and so filling. Once I became accustomed to my new toy I started going about my chores and blimey with the combination of the weight and the ocelating balls inside it certainly made it more fun. The T bar base gave me the piece of mind that I could move around, stretch and bend knowing it wasn't going anywhere and was very comfortable. I was thoroughly turned on by this plug and decided to have a little play with one of my dildos. This plug filled my backside so much that it made my vagina really tight and pushed the dildo right on my g-spot. The resulting orgasm was explosive and I was thoroughly spoilt. Considering it is quite unusual for me to orgasm through penetration alone I was extatic and would certainly not have achieved that level of extacy without this amazing plug. Once finished, removal was a doddle as the base is a perfect handle to grip even if you are all slippery with lube. Now you may be put off by the price but let me tell you....... It was worth every penny! I recommend this butt plug to anyone looking for that filling feeling and to use for long periods of time while out and about. Perfect for beginners and experts alike. B-vibe is definitely my new favourite brand and I shall be purchasing many more of their products in the future.
Pros:
The packaging and the material as well as the filling feeling.
Bottom Line:
Bloody amazing.
On b-Vibe Snug Plug 3 Large Weighted Silicone Butt Plug 4.5 Inch