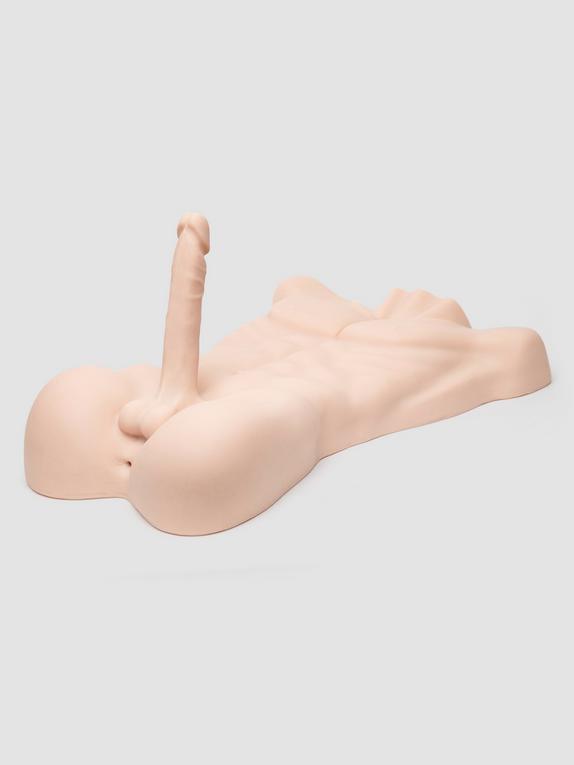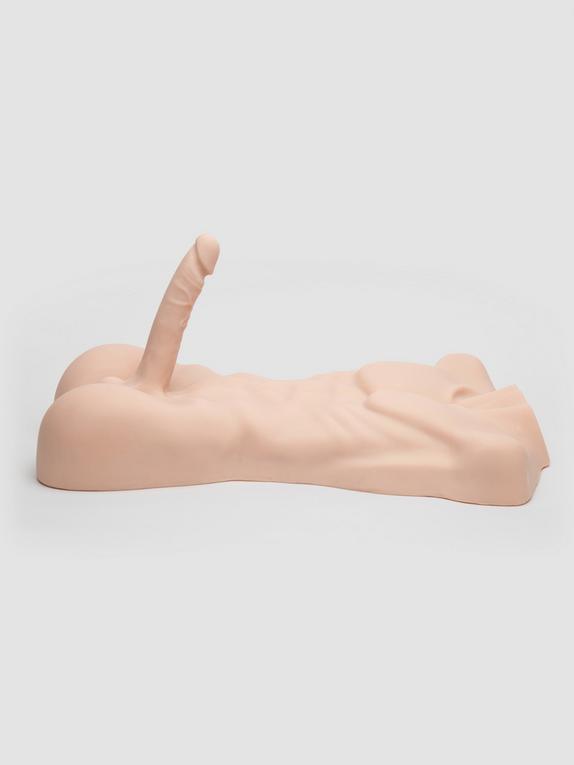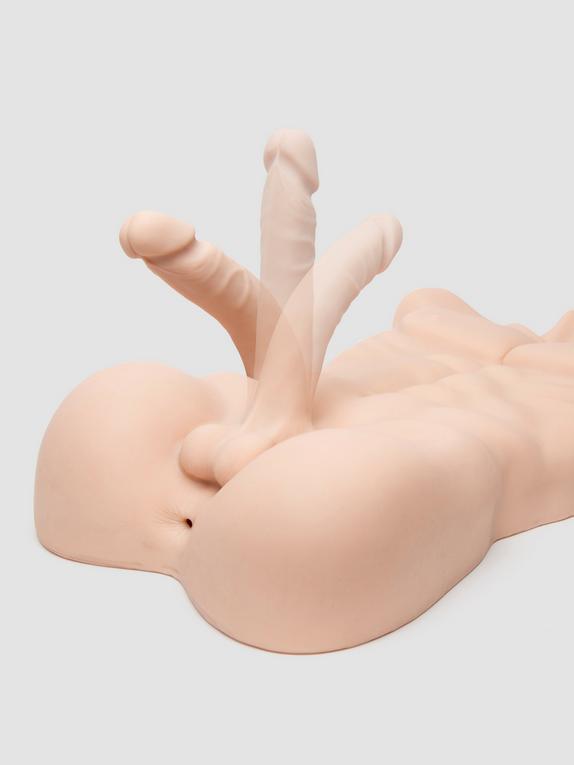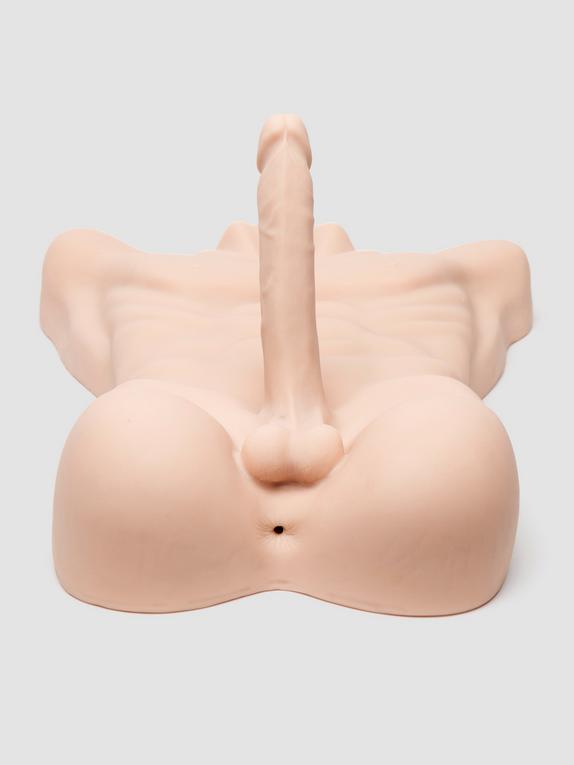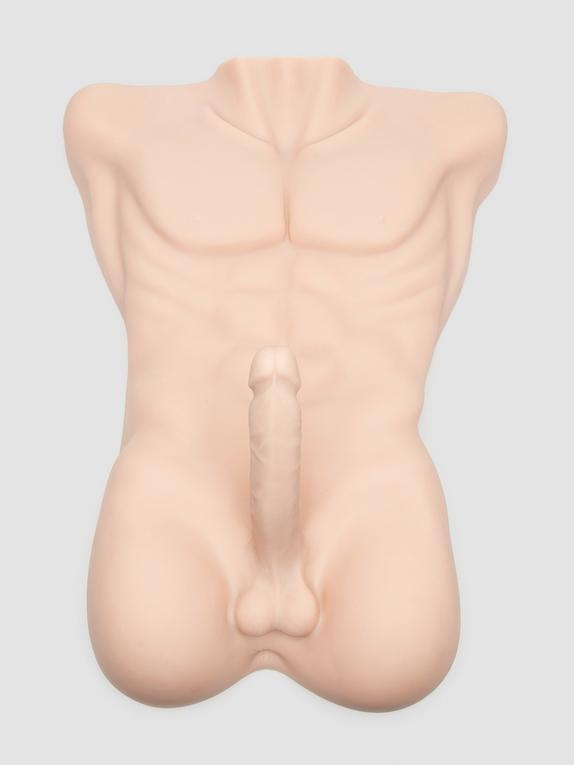 Lifelike Lover Realistic Torso with Dildo and Ass 388oz
Last chance! This product is not going to be re-stocked!
Lifelike torso with erect cock, butt and penetrable asshole for varied play
8 inch cock with balls for a realistic, filling experience
Realistically textured 4.5 inch anal canal for incredible sensations
Ready to take home a real chunk of hunk? Boasting a proud 8 inch cock that's 4.5 inches around, this Lifelike Lover invites you to ride or suck to your heart's content, before diving into a realistically textured 4.5 inch anal canal for your big finish.

From shoulders to shaft, your new friend is crafted from lifelike, real-feel material, with carefully sculpted details to bring your fantasies to life. Squishy balls, an ever-erect shaft and a realistically textured anal canal combine to give you plenty of pleasure options.

Choose your way to play and combine with water-based lubricant for a wild ride.
Essential Info

Allergens: Phthalate-Free
Waterproof: Submersible

How it Measures Up

Internal Length: 4.5 inches
Opening: Male Butt
Length: 8 inches

How it Feels
Dildo Advice
If you're looking for a Dildo but aren't sure where to start, our handy guides will show you how to choose and use the best dildo for you.
Frequently bought together
Popular combos for more sexy fun
Customer reviews
5.0
5.0 star rating
3 Reviews
5.0
5.0 star rating
3 Reviews
Thank you for posting a review!
We really appreciate your opinion and hope to see you again soon.
Thank you for posting a review!
Your review was sent successfully and is now waiting for our staff to publish it.
Search reviews
5.0 star rating

4.0 star rating

3.0 star rating

2.0 star rating

1.0 star rating
Amazing!
Review by Becky on 14 Mar 2021
review stating Amazing!
Wow this is the best item I've ever brought, a little heavier than expected but feels amazing and the dildo is perfect you can bend it to whatever position you want. This wonderful man is always ready for fun and makes a great cuddle Buddy too! He doesn't complain or push you away because he's "tired" he just let's you take control and if you don't feel like sex he will let you cuddle up to him. The attention to detail on his body is amazing too and feels so much like the real thing defiantly worth the money!
Pros:
Everything is perfect
Bottom Line:
Best item I've ever brought!
On Lifelike Lover Realistic Torso with Dildo and Ass 388oz
Top or Bottom
Review by Melody1 on 1 Jan 2021
review stating Top or Bottom
A friend ordered me a present 'to keep me company' over the holiday period. A big heavy box arrived with no clues to give away the contents. "Surprise", a big hunk of man meat. Out of the box, he looks as pleased to see me as I am to see him. Be careful he doesn't take your eye out during the unboxing.This is one seriously sexy bod. I'm enjoying just running my hands over the soft feel skin and the lovely squeezable butt cheeks. And with that big straight rod in my face, I suddenly have an overwhelming desire to go down. Mouthfeel is excellent and there is definitely scope to practise your deep throat skills. But that can wait. I was hungry to get started and when I did, I couldn't get enough. I raced through the first sixty-eight positions like a time-lapse video to a Benny Hill soundtrack. I'm a cowgirl forward and reverse. I'm a missionary, he's a missionary, then with a little help from the bedroom wall, we're spooning front and back. Sadly though, no '69' for obvious reasons. On top, the body contours are perfect to caress. The shoulders great to grab, as are the buttocks for thrusting and bouncing. If you are into that sort of thing, there's enough neck to wrap both hands around and squeeze. The torso also has a nice weight to it should you wish to lie back with him on your own tummy. Either way it up felt good. Very huggable. Everything went by in a blur and soon I was gushing deep in the anal passage. Not the chattiest post sex partner, but I guess that works for a lot of people. So I just lent back in a daze gazing over at my new roommate. The detailing is terrific with pronounced abs, a good set of pecs, some rib and collar bone definition and a tummy button you can stick your finger or whatever in. There're nipples to be tweaked too. The manhood hasn't been overlooked either, a sculptured head and pretty veins. His balls are small and tight and in the length over girth debate he scores well in the former. Like any man, you have to take what you get, and I'm very happy with what I've got. The ass is wonderfully tight.Over the next few nights, I find a massive advantage over standard dildos, even those with impressive suction cups, is that this one isn't going to come loose and fall over. The penis is also 'poseable' so you can set the angle appropriate to front or rear facing action or just straight up and down. I had my torso on a bed and its only movements were 'natural'. No frustrations over repositioning or re-sticking. The shaft isn't the girthiest, but this gave me the opportunity to 'DP' with a couple of my other favourite dildos, something I've not done before but very rewarding. Dressing up can also be fun as the torso is big enough for real clothes. A simple t-shirt can help take the winter chill off body contact, but my preferred ensemble was a Lovehoney peek a boo bra and crotchless panty set. Another fantasy ticked.I'm still not sure about the best way to clean out the bum. Unlike say a Fleshlight, there is no exit hole for water to flow through. I took my guy in the shower with me but damn, it is so hard not to keep screwing around. That c*ck is always ready, willing and able. The chest and abs are great alternative places to unload and easy to wipe clean. When dry, it's a joy to sprinkle a little talc over him just to feel the actual sexiness of your new best friend again. You are, though, going to need somewhere to keep this Adonis. Moving him around isn't the easiest, not just because of the weight but his taught bod can go a little wibbly when he's lifted. I'm lucky as I have a spare bedroom where he now hangs out, with a towel to hide his modesty.So, top or bottom? Well, my new housemate is happy to take it all night long, even when the going gets a little rough. He's also a willing giver, no need for blue pills, even if he could swallow. I'm not giving him an actual name because that would be creepy right, but let's just say that I will be making frequent trips to the guest room over the coming months, excited to sneak some quality time with "Mr Versatile."
Pros:
So sexy and disturbingly lifelike to bond with.
Bottom Line:
The perfect package. Satisfies all my needs.
On Lifelike Lover Realistic Torso with Dildo and Ass 388oz
Next Level Fun
Review by arry069 on 29 Dec 2020
review stating Next Level Fun
This is really taking it up a notch in our toys/play. We have never had anything like this before and were very excited for it to arrive.When it turned up it was much bigger than I imagined. Even the postie stated how heavy it was!It was packaged in two boxes so no issue with it breaking or exposing the contents and then inside it was secured by some foam and plastic bags.One thing you notice when you first open the bag and get it out is the smell. It's quite strong and it had an oily feel to it so we gave it a wash down and after that all was fine.Also picking it up is quite a challenge. Imagine picking up an 11kg Jelly and you'll get the picture.Once it was laid down on the bed I must say It's quite impressive. The finish to the torso is excellent and the dildo looks really good. The head is very squashy and the same material is used in the shaft but it has a bendable metal rod in it which firms everything up. You can also bend it to suit what you are doing and it stays in that position (upwards for cowgirl or bend it down slightly for reverse cowgirl etc.)We are getting very into simulated 3somes and DP so this is perfect for those activities. Our first session was with this on the floor and the wife sitting on it in Cowgirl position with me standing in front of her so she could suck me at the same time. We have done this a lot with suction cup dildos but this takes it to a new level. She can actually rest her hands on the chest of the toy and really get going in one of her favorite positions. The dildo feels fantastic and she was soon lost in her own world of servicing two cocks.When we tried a bit of DP we have found it is better to have this on the edge of the bed with her sitting on it doggy style. On the floor it was a bit too low for us. Again once she was on top of it I had access to either go for DP in Vagina or anal. As the toy is quite heavy it didn't move and felt great to both of us as I could also feel the dildo when it was inside of her. We are also going to try putting a vibrating cock ring on the dildo but that is for another time.Reverse cowgirl is also possible and you can sit on it like you would normally. This time the dildo was taken analy and I stood in front of her with access to her pussy for some more DP play. Again we found edge of the bed perfect for this. While in this position I also tried out the anus of the toy. I must say it felt fantastic. A bit of lube to get you going and then you are away. There are ridges inside and it's nice and tight and you can really get going as the toy doesn't move. Due to height of the toy I don't think you could do this on the floor without lifting the arse up or supporting it somehow. On the bed though it works great and it was a huge turn on for the wife to watch the action.This would be an excellent addition to any ones toy collection and will give both males and females a fantastic time in either solo or couples use. We have had to find somewhere proper to store it though. All our toys are securely stored in a bedside drawer but due to its size and weight this will take a little more thought on where you keep it. I would say it's definitely worth it. We are still in very early days with this toy but it has already given us both a great deal of pleasure and there is so much more we can do with it.It is expensive yes but you will have a great time, both using it, or watching your OH use it.
Pros:
The look, feel and all the possible things to do with it.
Cons:
Initially the smell, but a quick wash sorted it.
Bottom Line:
Fun times ahead.
On Lifelike Lover Realistic Torso with Dildo and Ass 388oz