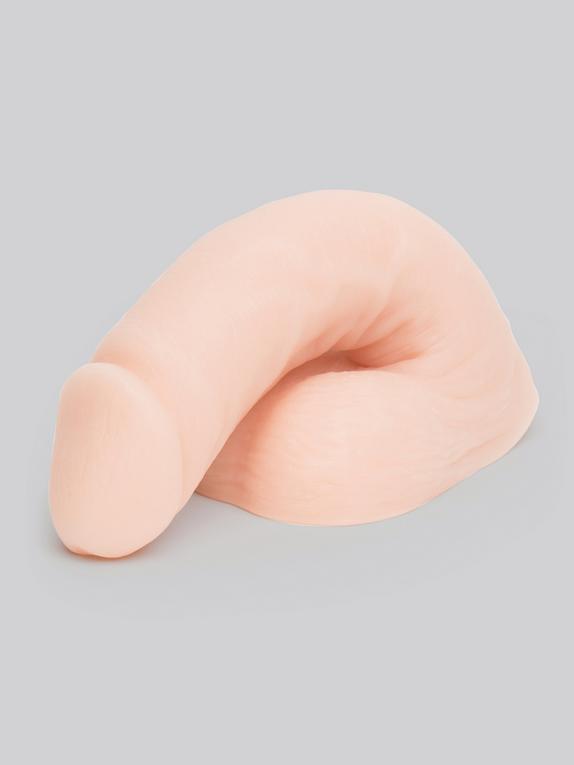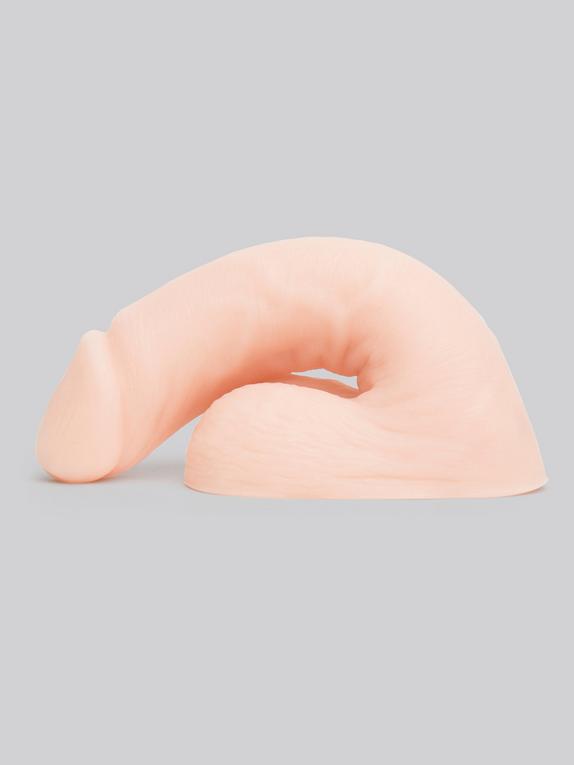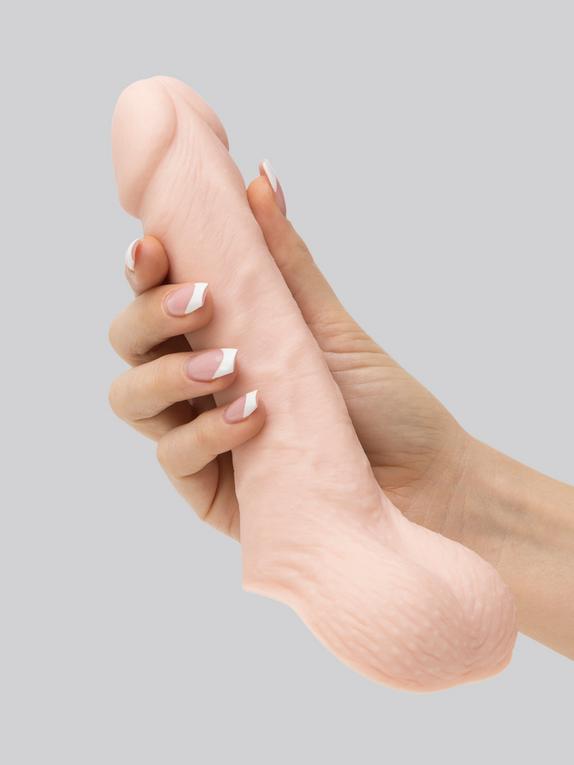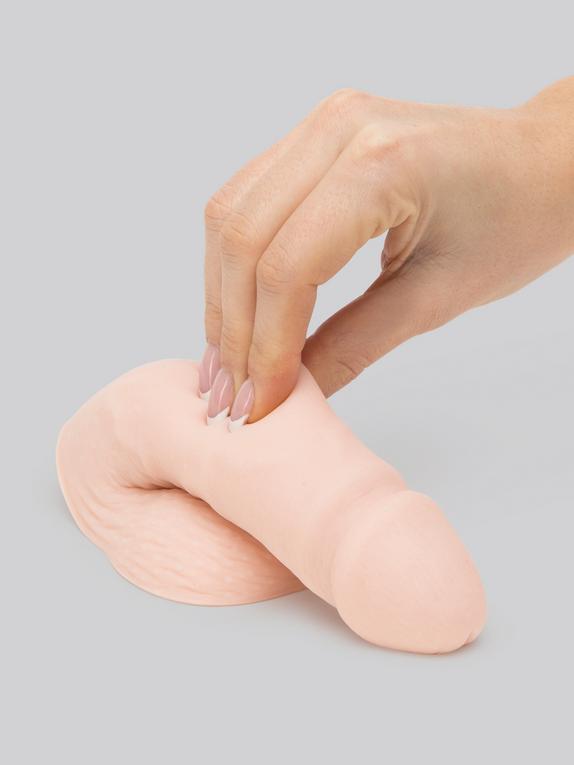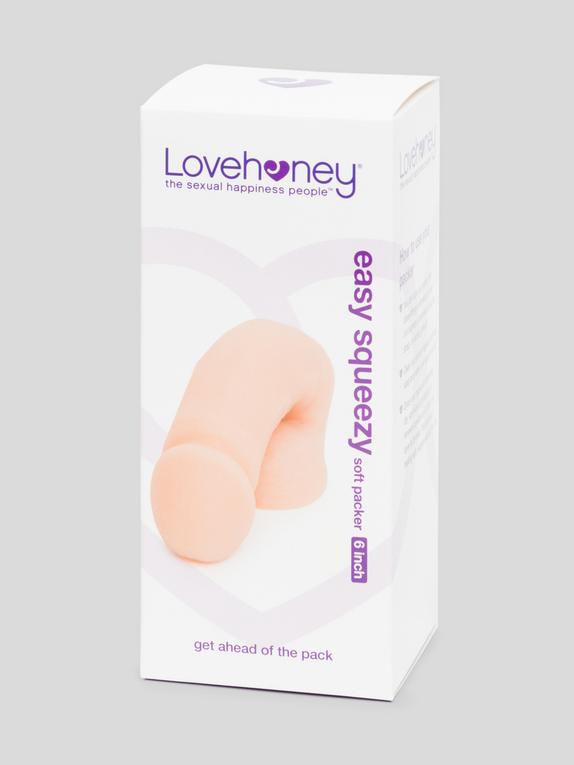 Lovehoney Easy Squeezy Soft Packer 6 Inch
Last chance! This product is not going to be re-stocked!
Soft packer made from ultra-realistic, soft, temperature-responsive TPE for a lifelike look and feel
Natural-looking head, shaft and balls for complete realism
Soft, flat base for comfortable prolonged wear
100% flexible to create a convincing bulge
Bin the socks and opt for a much more lifelike bulge under your clothes with a pecker that's perfect for packing. Incredibly realistic, with a lifelike head and testicles, this floppy fella adds an extra touch of realism to your everyday wear.

Measuring 6 inches in full length, this Easy Squeezy adds a noticeable bulge under your trousers. Once you've settled its flat base in place, the ultra-lifelike TPE will warm with your body, adding to the sensation of sporting a real penis.

Wear in close-fitting underwear, harness underwear, a packing strap or a packing pouch for fulfilling gender expression or to explore gender-based play.

Please note: Easy Squeezy is totally floppy and not suitable for penetration.
Essential Info

Allergens: Phthalate-Free
Features: Has Balls , Packing
Waterproof: Submersible

How it Measures Up

Circumference: 4 inches
Length: 6 inches

How it Feels

Flexibility: Floppy
Material: Soft Plastic
Product videos
Get an eye-catching bulge in your underwear that looks and feels almost indistinguishable from the real thing. An amazingly authentic flaccid dildo, Limpy cuts a convincing bulge and lets you discover the fun of a flaccid fondle.
Dildo Advice
If you're looking for a Dildo but aren't sure where to start, our handy guides will show you how to choose and use the best dildo for you.
Frequently bought together
Popular combos for more sexy fun
Customer reviews
4.7
4.7 star rating
82 Reviews
4.7
4.7 star rating
82 Reviews
Thank you for posting a review!
We really appreciate your opinion and hope to see you again soon.
Thank you for posting a review!
Your review was sent successfully and is now waiting for our staff to publish it.
Search reviews
5.0 star rating

4.0 star rating

3.0 star rating

2.0 star rating

1.0 star rating
What are you packin'?
Review by TheCoffeeRain on 7 Jul 2021
review stating What are you packin'?
It's incredible what a simple item can do to a man. On arrival, my partner and I, both trans FTMs, were initially reduced to a level of immaturity I can't describe. At first, we truly just regressed and giggled at how wibbly they were. When we got over the initial urge to swordfight, and tried them on, the tone changed to something truly emotional.

The material is super heat-receptive, and warms to your body temperature fairly quickly, which really does just add to the natural feel. It's a super soft silicone that really seems to mimic the feel of skin. It's also super stretchy, and really easy to adjust in a number of ways depending on what you're wearing. The tan colour is a darker tone and definitely quite orange pigmented, but honestly since it's probably not something most people will see, it's not the biggest issue in the world if it doesn't colour match your skintone completely.

It's incredible how much I noticed my posture and walking position changed even with the first wear. I was instantly adjusting the way I moved to adapt for that, without even really thinking about it. My confidence boosted tenfold, and even though it was so comfortable and unobtrusive that I often forgot I was wearing it, it still kept my baseline a lot higher as far as gender euphoria goes.

This range comes in a number of sizes, and I had the pleasure of trying out both the 6" and the 8", and it's a noticeable size difference for sure. I would definitely say the 6" is just big enough to make you feel (ahem) cocky, but not so bulky that it will make people stop in the street and drop jaw if you're wearing something that shows it off. The 8" however takes no prisoners. If you're taller or of a larger build you might find it will suit you better proportionally, but I'm 5'4" and a slighter build so it certainly was a noticeable addition! I'm not here to tell you how to dress, but just be aware, with either of these sizes, if you wear it with skinny jeans or leggings, you WILL put someone's eye out.

There are multiple ways to wear your packer and everyone has their own preference, and may find it changes depending on what you're wearing or the event. I personally just wore it inside my underwear against skin, as I found it didn't slip or shift as much. I also recommend you wear it specifically with mens underwear that either come down your thigh a little, or have an elastic around the leg holes just to stop it from… falling out, in any case. The same recommendation stands if you'd rather wear two pairs of underwear and wedge it in between. Lovehoney also has a number of harnesses for straps that will work just fine with this if you don't want to wear it inside your underwear all day, or have to double up. Or even just if you worry about it falling out if you tend to be more active.

Though a packer is by no means an essential for any transman, for me and many like me, it is a huge confidence booster. And these are amazing value for money, and I cannot recommend them enough.
Pros:
Amazingly natural material, huge confidence booster
Cons:
There was a tiny bit of a smell but it faded significantly after a few washes!
Bottom Line:
If you're looking for a packer, look no further!
On Lovehoney Easy Squeezy Soft Packer 6 Inch
A new type of sex toy for some kinky fun
Review by Cupc8kes on 1 Jul 2021
review stating A new type of sex toy for some kinky fun
I was looking forward to receiving this item - we have never used anything like it before so was happy to give it a whirl. It comes packaged in a fairly plain box, nothing fancy.

For the first use, I surprised my hubby and just pulled it out while we were getting down to business. He watched as I played with it in my hands and mouth - pretending it was real!
He must have enjoyed the show because soon enough, he took it from me and started to have his own fun - it was really hot watching him have his own fun with the soft packer.

The look and feel is pretty realistic which is what I love about it, its stretchy enough to be a little rough and give it a good handling.
The material is soft and easy to clean, I like to let it air dry for best results.

Next time, I may consider getting the 8inch - just because I'm greedy, but this is perfectly satisfying.

If you are considering purchasing, I would recommend - but remember that this is a non-isertable dildo.
Pros:
How realistic it looks and feels
Cons:
Nothing - although I might choose a bigger size next time
Bottom Line:
A nice, playful floppy to spice up the toy box
On Lovehoney Easy Squeezy Soft Packer 6 Inch
Nice and Squeezy
Review by Runner123 on 29 Jun 2021
review stating Nice and Squeezy
We decided to try this product out as it was a little different to our normal toys, and would add a little variety to our lives!

So, we weren't really sure of the exact uses of a packer-type toy, but we thought we might have some fun with it.

First up, the product is really realistic. Not only the look, but it really does feel like a flaccid penis. The veins and the head of the packer are life like and the testicles resemble, well, testicles! One thing which was noticeable, and certainly not realistic was the smell. It was not a smell associated with any other toys we have, but it did have a weird, plastic aroma!

As I'm not particularly big downstairs, I placed the packer inside my boxers when we were about to go out. My OH absolutely loved my added bulge. It wasn't overly noticeable but it definitely could be seen by her, and she couldn't resist it! I've never seen her want to get home so quickly!

We also used this toy for a bit of a BJ fantasy. The OH spent some time caressing the toy and then giving it some oral whilst I watched. Then she started on me, alternating with the toy, and then both of us. It was certainly easier than using a solid dildo.

We also tried using it for a bit of spit roast action. And finally, the OH also uses it as a stress release toy (but not for the office!).
Pros:
Realistic and very squeezy
Bottom Line:
A great toy which we're glad we've added to our collection for a little variety
On Lovehoney Easy Squeezy Soft Packer 6 Inch
Brilliant ! Ive included a few tips in reveiw also.
Review by Jonsey on 17 Jun 2021
review stating Brilliant ! Ive included a few tips in reveiw also.
This has been a huge support for my identity. I previously ordered one a month or two ago and there is a few points to make related to that but I will get to that point soon. It's very soft a bit more "jelly like" when you squeeze it so the reviews saying it feels realistic with a squeeze test confuse me a bit. Anyway it has alot of detial as described. DON'T wear with black boxers I did and it stained my previous packer of the same one as this purchase to a dark black to purplish colour after a few washes staining it permanently.. it had also started to deteriorate a tiny amount so I decided to replace it with this purchase.. I was very confused when I bought the exact same ones they are actually slightly different in size .. this one is about half a metre larger in width length and balls size when lined up with my previous. The previous was also slightly firmer when squeezed only by a very small amount. So that all confused me but over all am not to bothered about it. You don't realy need packing underwear depending how you would like to wear it I find standard boxers with a front opening pouch pocket you can pull it through the hole and it sits quite well with the balls part inside the member itself outside if placed right drops down quite natural like. But it does have a buldge even when I have it fully sitting fully inside tighter none pocket boxers. Also button front boxers if the buttons are close enough together you can have it sitting in the gap between the buttons and it will stay quite still. Still needs a repositioning every now and again but it isn't to bad. Especially if you are a larger size then most packing underwear that tends to only go up to XL. It is suitable to wear day and night I wear it day and when I sleep I wash It regularly in my daily morning shower it dries well with a towel if you do it very gently to help it from damage. Also huge tip ! Cornflour works very well if it is "sticky" from washing just make sure it is fully dry first it is also a skin friendly solution . Also this purchase came in a box when I bought the same exact one a month or so ago it didn't come in anything but a sealed plastic packaging bag this one also had the plastic sealed packaging but in the box as well.

Overall I've never had a day where I don't wear it yet. It is amazing. Definitely recomend if you don't have a budget for the premium packers !
Pros:
It helps so much for my identity.
Cons:
Not a "very very" realistic feel but more then good enough for the price
On Lovehoney Easy Squeezy Soft Packer 6 Inch
Really Impressed
Review by Verified-Customer on 30 May 2021
review stating Really Impressed
Bought for packing and was really impressed at the value and feel. It quickly adjusts to a nice body temperature, is comfortable and really good value for money.
On Lovehoney Easy Squeezy Soft Packer 6 Inch