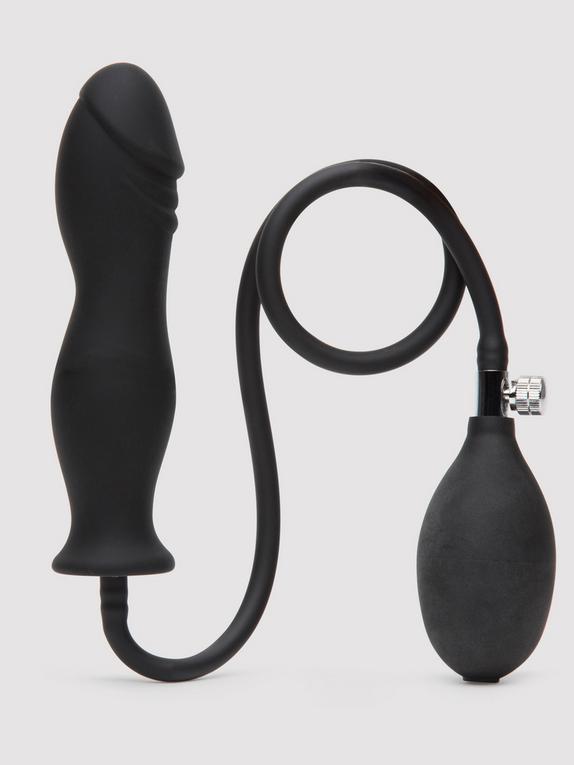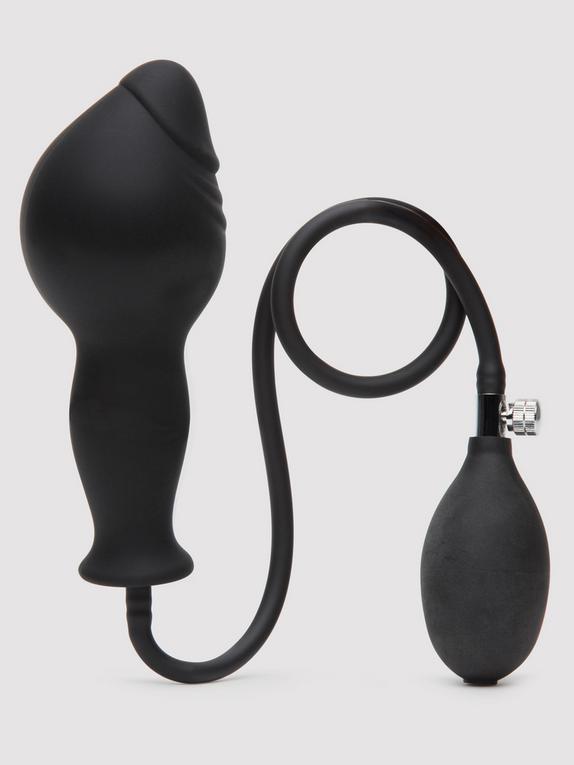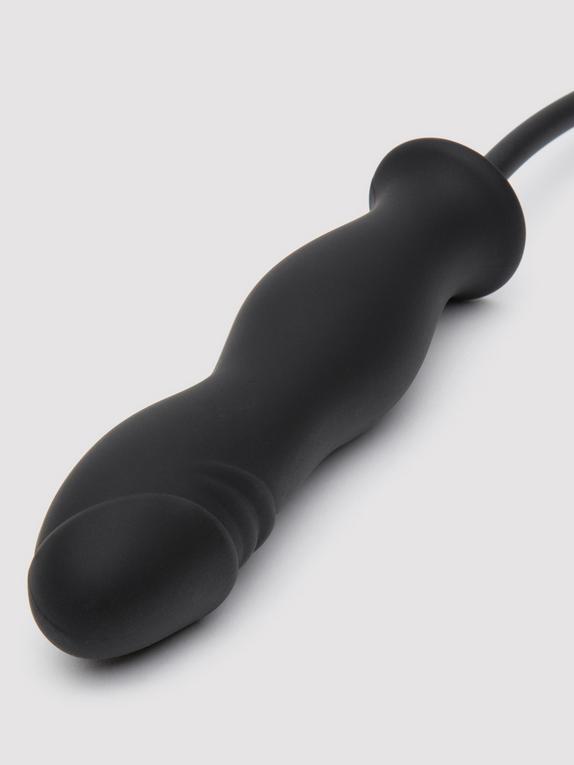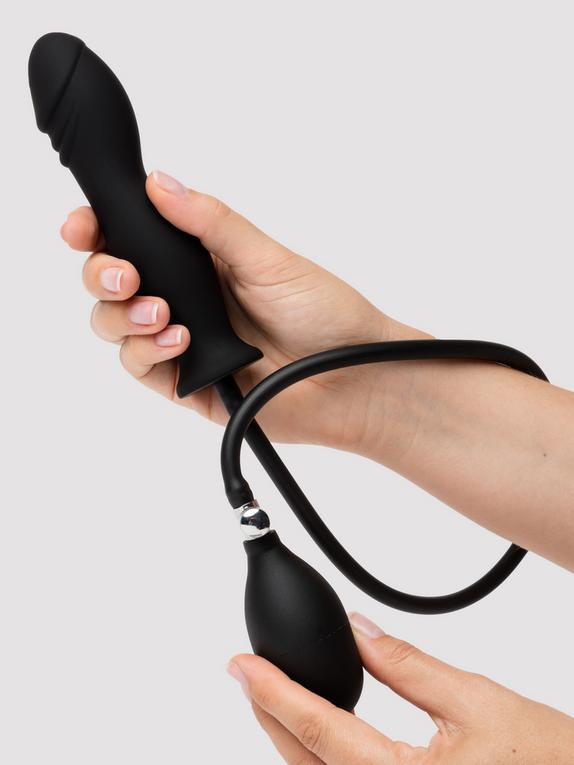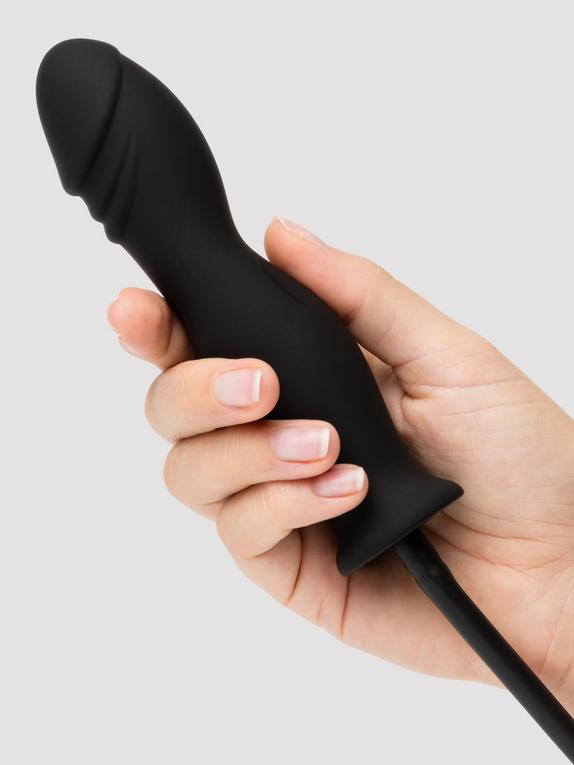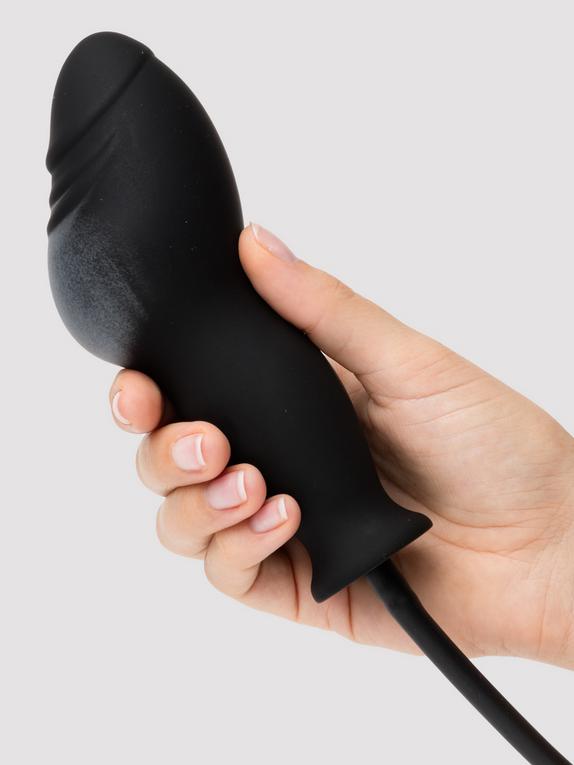 Lovingjoy Silicone Inflatable Dildo 6 Inch
Last chance! This product is not going to be re-stocked!
Inflatable silicone dildo with realistic head for thrilling inflation play
Best suited to people with some experience of large toys
Inflates up to a gigantic maximum girth of 11 inches for full-up feelings
No core makes it flexible, easy to insert and simple to store
Inflates using an easy-to-use hand pump with a quick-release valve for optimum safety
Get all pumped up with this sensational silicone inflatable dildo from Lovingjoy. Squeeze the attached hand pump and watch as it expands from a reasonable 4.75 inch girth to an eye-watering 11 inches, for the fullest feelings this side of Swellsville.

This dildo has been designed without a rigid internal core, so it's flexible and easy to insert. The insertable length blooms from 6 to 8 inches when fully inflated to help stimulate all your internal hotspots.

We recommend pumping slowly, and always using a water-based lubricant to aid insertion and stretch.

Simply press the quick-release valve to instantly deflate your toy when you're ready.
Essential Info

Allergens: Latex-Free , Phthalate-Free
Waterproof: Submersible

How it Measures Up

Circumference: 4.75 inches
Insertable Length: 6 inches
Length: 30 inches

How it Feels

Flexibility: Flexible
Material: Silicone
Product videos
Get pumped up with this sensational silicone inflatable dildo from Lovingjoy. Squeeze the attached hand pump and watch as it expands from a reasonable 4.75 inch girth to an eye-watering 11 inches, for the fullest feelings this side of Swellsville.
Dildo Advice
If you're looking for a Dildo but aren't sure where to start, our handy guides will show you how to choose and use the best dildo for you.
Frequently bought together
Popular combos for more sexy fun
Customer reviews
4.6
4.6 star rating
10 Reviews
4.6
4.6 star rating
10 Reviews
Thank you for posting a review!
We really appreciate your opinion and hope to see you again soon.
Thank you for posting a review!
Your review was sent successfully and is now waiting for our staff to publish it.
Search reviews
5.0 star rating

4.0 star rating

3.0 star rating

2.0 star rating

1.0 star rating
Enjoyable for couples
Review by Verified-Customer on 18 Jul 2021
review stating Enjoyable for couples
We both enjoy this new addition. It looked small, but fits just right. Easy to clean too.
On Lovingjoy Silicone Inflatable Dildo 6 Inch
Even better than I expected!
Review by Verified-Customer on 2 Jul 2021
review stating Even better than I expected!
Wow! So I first heard of inflatable toys a few months ago, and literally hadn't been able to get the idea off of my mind since, so I finally went ahead and got one for myself, and I'm SO glad I did.

As someone who loves the idea of more girthy toys but has trouble comfortably using them, this is absolutely the perfect toy for me. I was worried that it would be too uncomfortable to inflate, but the way that the material expands makes it amazing for people like myself who have a harder time stretching. It feels like the base stays more or less the same width, and it's the upper half of the toy that inflates, which is unexpectedly exactly what I was looking for. It makes it easy to insert, and I didn't experience any discomfort; I was able to inflate it a LOT on the first try.

The feeling of being unable to pull it out without releasing the air is so thrilling as well, and when you try to do so, it puts pressure on all the good spots while barely having to do any work. The actual releasing of the air feels so good too; I find myself inflating and deflating it multiple times in a session because the change in pressure is just mind blowing.

The only thing I think would be a nice addition would be a suction cup, although I understand that would be difficult to do since the air tube is connected to the base of the toy, and this toy is more than enough even without suction.

I was also concerned that the toy wouldn't feel long enough, but when you expand it, it fills you up so fully that if it was any longer, it might be uncomfortable, so I'm super happy with the length now that I've tried it.

All in all, would definitely recommend it for other 'wannabe' size-queens/kings who have trouble using bigger toys; this one let me live out those dreams without having to compromise my comfort or worry about hurting myself. Amazing toy.
Pros:
Comfortable and thrilling.
Bottom Line:
Exciting and unique sensations.
On Lovingjoy Silicone Inflatable Dildo 6 Inch
Awkward.
Review by Verified-Customer on 9 Jun 2021
review stating Awkward.
First time using anything inflatable.
The material has a nice feel to it,
but found it a little awkward to insert, so use plenty of lube. I thought it was ok for beginners like me, but need to start slowly, as only manage a few pumps before it gets uncomfortable. Not sure if it is a design fault, but the air tube tends to wiggle out of the dildo after two ore three pumps and releases all the air if you touch the base which makes it awkward when using solo. However, this may actually be useful as it's difficult to turn the release valve if your hands are even a little bit sticky.
Pros:
Silicone material is easy to clean up and soft to the touch.
Cons:
Awkward for solo play and the valve can be difficult to use.
Bottom Line:
Needs practice, or another set of hands.
On Lovingjoy Silicone Inflatable Dildo 6 Inch
I'm Knot Impressed
Review by Verified-Customer on 25 Feb 2021
review stating I'm Knot Impressed
I've always wanted to try one of these inflatables, but most of them are made from materials I don't like such as latex or soft plastic. Luckily, this silicone one came along to save the day. It feels soft to the touch and decent quality. The pump, tube and release valve are also pretty well made.

Each pump gives you some noticeable difference but not enough to be too much too quickly. Sometimes it can be hard to press in - like I need to really crush it. Maybe I just have a weak grip or the way I'm holding it? It's usually fine, though. The release valve shrinks it quickly with a Whoosh! Another way it will slowly deflate is by pressing the flat base of the dildo, but this seems to be more of an unintentional feature as it makes a deflating balloon squeak as it does. Not the most appealing noise, is it? There's not much to grab once the thing is inserted, so it's easy to touch the base this way. A bit of hand adjustment is needed to avoid it. My style with this is more of a tug than a thrust as it works better with a clit vibe, anyway. I didn't feel the length of the tube was too long or short either which is also good.

Well, I wanted girth and I definitely got it. However, the toy doesn't inflate equally and has a kind of knot effect with most of the air being in the top end. Does this ruin it? Hell no! For me, it enhances it. I actually love knots and this is the most knot-like toy I have now. Being able to insert it at first and then being near impossible to remove is super hot! Most knot shaped toys require you to insert it first which can be a challenge in itself. But this inflatable allows you to avoid this hurdle and enjoy the fullness from within. I would say this is a great toy for beginners and veterans alike as you can pump to a size that works for you. The air inside gives it a soft bounce that is comfortable to use, too. Quite a unique feeling of being light, soft and firm at the same time. Having it pumped up a lot while climaxing also feels amazing!

As the lump is in one half of the dildo, it gives you a bit more variety with the position than just a standard big dildo. Want to feel fullness just at your opening? Check. Want more deep within? Check. On your G-spot? Check. Pumping it up when it's inserted all the way isn't very noticeable until you try and take it out. You'll be surprised how big it can get! If you want to feel it "growing" then positioning the bulge at your opening is the way to go. While it's possible to thrust, I prefer to gently tug on it when its ballooned inside me - there's no way it's coming out, but I like the pressure there. Even when getting it to my comfortable size limits, I didn't feel there was a danger of it exploding.

It's easy to clean for the most part with some toy cleaner. However, the spot under the foreskin traps dirt so more attention is required there. I'm so glad it's silicone to make it extra hygienic. The tube and pump only require a basic wipe down. The whole set-up can be a bit fiddly to store away or air-dry, though.

As a girth lover, this satiates my appetite for all things that barely fit. It has completed the task and then some! It may not inflate evenly, but that's one of the main reasons I love it. None of my other toys give quite the same effect. Definitely a must if you're nuts for knots and gaga for girth.
Pros:
Knot effect. Choice of girth. Speedy release valve. Silicone material. Variety of positioning.
Cons:
Squeaky balloon noise if you touch the base. A bit fiddly to put away or air-dry due to set-up.
Bottom Line:
A unique new favourite that I keep using over and over. A must if you're nuts for knots.
On Lovingjoy Silicone Inflatable Dildo 6 Inch
Feeling full
Review by Verified-Customer on 3 Jan 2021
review stating Feeling full
Firstly, as always, delivery of this order was fast and discreet! Thank goodness... my neighbours would have a filed day from all of our deliveries! My partner and myself have recently been exploring and enjoying the feeling of making her full and gaping her holes. This said, huge toys don't necessarily do it for her - they actually quite scare her! The squeeze pump to inflate the toy, and twist the quick release valve to deflate, is Very simple and easy to use.With the dildo easily inserted, each squeeze makes a significant change in size but not too much to make it feel uncomfortable. This allows you to fully control the size and speed at which the toys grows. Just watch the smile on your partners face as you tease her all the way! She particularly liked it when I slowly teased it out of her and let it back in before pumping it more! A great toy for a beginner of this style of play and very well made. It was easy to clean after use and is easily stored in our play box.
Bottom Line:
Pumping perfection!
On Lovingjoy Silicone Inflatable Dildo 6 Inch