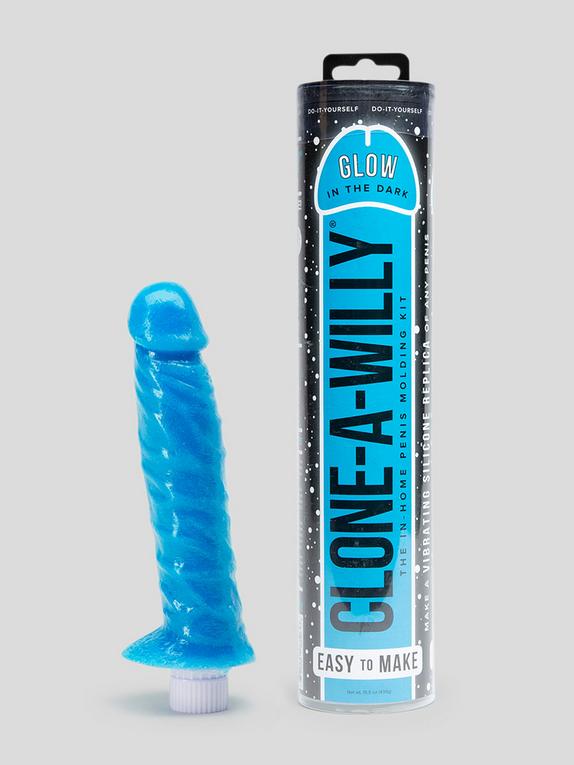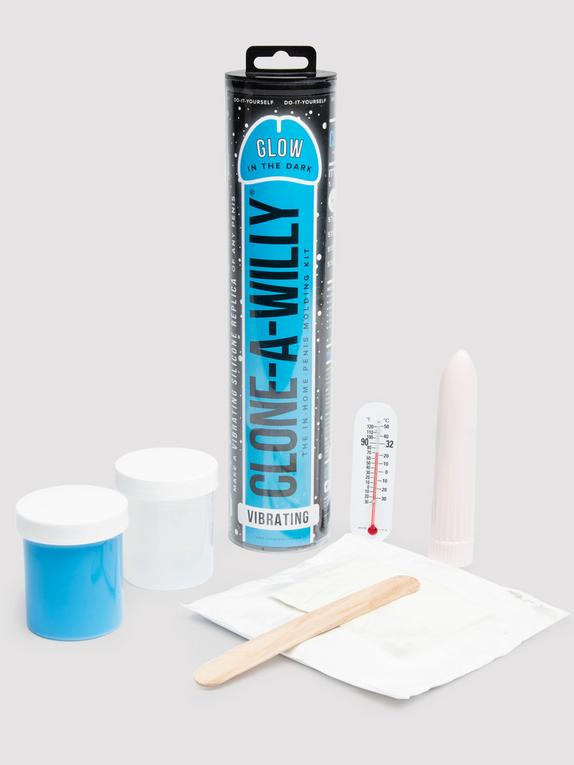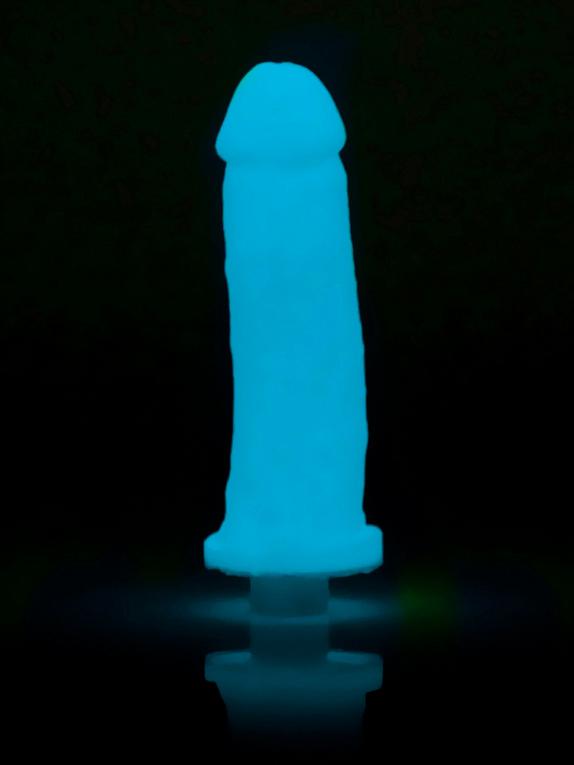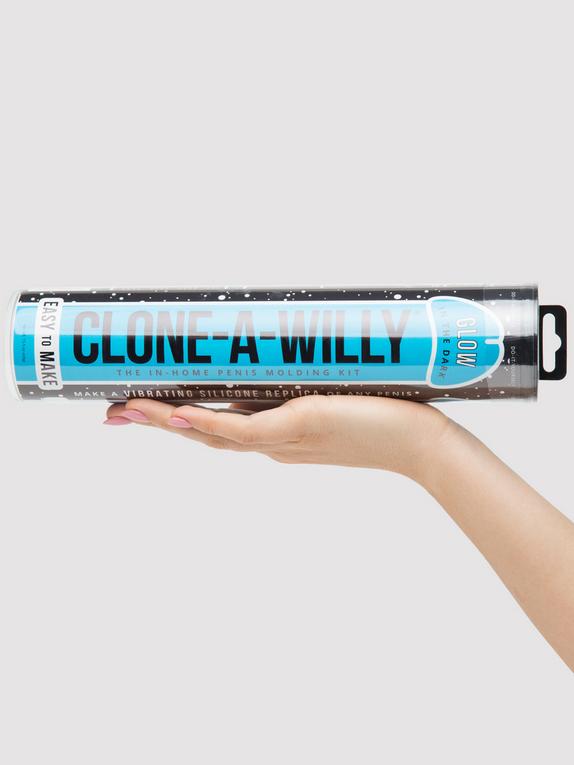 Clone-A-Willy Glow In The Dark Vibrator Molding Kit Blue
Last chance! This product is not going to be re-stocked!
Realistic molding kit to make a perfect replica of any penis - just add water
Creates a silicone dildo with the exact size and shape of you or your lover
Vibrating unit offers multispeed vibrations for added stimulation
Great as a sexy gift with a naughty difference - it glows in the dark!
Completely body-safe and hypoallergenic
Do a dildo double take with Clone-A-Willy, a giggle-a-minute kit to help you create the perfect erection replica. Featuring everything you need to clone your own (or your lover's) appendage, the finished duplication vibrates and glows in the dark too!

The special quick-drying algae-based molding powder captures every vein and bulge for maximum realism, while the platinum-cure silicone mix dries into a yielding and comfortable dildo that's as pleasurable as the real thing.

Insert the vibrating unit into the base of the dildo while drying to augment your enjoyment with vibrating stimulation.

The penis molding kit contains:
- Molding tube
- Specially timed molding powder
- Two-part platinum-cure silicone mix
- Single-speed vibrating unit
- Full instructions
- Thermometer
- Stirring stick

Just like all dildos, we recommend a generous serving of water-based lubricant to get the best from your toy.
Essential Info

Features: Set
Waterproof: Splashproof

Power and Speed

Battery Info: 1 x AA battery
Power Type: Batteries (not included)
Vibration speed: Single speed

How it Feels

Flexibility: Flexible
Material: Silicone
Dildo Advice
If you're looking for a Dildo but aren't sure where to start, our handy guides will show you how to choose and use the best dildo for you.
Frequently bought together
Popular combos for more sexy fun
Customer reviews
3.9
3.9 star rating
84 Reviews
3.9
3.9 star rating
84 Reviews
Thank you for posting a review!
We really appreciate your opinion and hope to see you again soon.
Thank you for posting a review!
Your review was sent successfully and is now waiting for our staff to publish it.
Search reviews
5.0 star rating

4.0 star rating

3.0 star rating

2.0 star rating

1.0 star rating
Excellent and fun!
Review by SSam on 23 Jul 2021
review stating Excellent and fun!
A very easy to use product. The end result is a splitting image of me. The material is good quality and has lasted well. For me there was plenty of material to get everything done.

The process itself can be complicated and I would suggest reading over twice and watching their youtube video on how to complete it. Id suggest wearing a Cock ring while making your cast as it can feel a bit weird and I felt found myself going soft near the end.

This was also a great "date" if you could call it that. Me and my partner really enjoyed the process and ended up with a fun toy for her to enjoy!

My word of warning is once you have created your new toy to either throw away the mould/cast or make sure it is thoroughly dry. We wanted to keep the cast but we found after a few days it had gotten very went and was starting to go bad.
Pros:
Made a splitting image of me.
Bottom Line:
A girls new best friend.
On Clone-A-Willy Glow In The Dark Vibrator Molding Kit Green
Papa Smurf Fuck fantasy
Review by Papa S. on 2 Jul 2021
review stating Papa Smurf Fuck fantasy
I sat down with my partner, we figured this would be a good bonding exercise for our relationship, but boy were we surprised with what was install for us. it was a little messy but after following the instructions we finally got the product, it got even better when the lights turned off, the Smurf penis calling to me like the sirens from the odyssey, this time I did not escape there its calling. The dazzling, hypnotizing, impenetrable force instigated a four day fuck fest, whereby I put the mold of myself into my partner and saw the pleasurable, and naturally got curious as to what all the fun was about. So I stuck it up my ass. No words can describe, the pain mixed with pleasure surprised my partner as I handled my penis so well. This lead to the unveiling of my previous gay experimentation, and has lead to an awakening of the acute kind. I love cock. Thank you clone a willy!!!!
Pros:
i was shocked by how much I love my dick. I dont like other men just me. It just fits so well
Cons:
Bit messy, and no long in my engagement with my fiancé.
Bottom Line:
bitter sweet would never go back i will always love my penis in me.
On Clone-A-Willy Glow In The Dark Vibrator Molding Kit Green
Clone a willy
Review by Alex on 16 May 2021
review stating Clone a willy
It failed the first time very messy and had to be very quick on second attempt its hard to keep erect but managed to it and the out come was good very impressed with it
Pros:
The entertainment while doing it very recommended it
Cons:
The mess of making it
Bottom Line:
7 out of 10 because leaves bubbles
On Clone-A-Willy Glow In The Dark Vibrator Molding Kit Green
Attack of the Clones has nothing on this
Review by Verified-Customer on 22 Apr 2021
review stating Attack of the Clones has nothing on this
Ok, to start with let me tell you the bad news. Our first effort at cloning was a failure. Ended up with a stumpy, slightly disfigured version of my member. Admittedly this was due to deciding not to put the vibrator into the clone (will explain more soon). If you are sitting comfortably I will begin the full story.
My partner and I decided we wanted to spice up our sex life with some fun and interesting purchases from Lovehoney. The Clone-A-Willy was one of the first items my partner wanted to try, (she had a sudden desire to have two of me to play with, although one would be a green glow in the dark version. Possible Hulk fantasy?). We also ordered the Doc Johnson The D Perfect D Realistic Girthy 8 inch Dildo (I will be mentioning this item again shortly). Our purchases arrived quickly in discreet packaging. Both excited to open up and check out our new toys. Not disappointed!
A few days later came the time to start cloning, after watching a few how to clone your Willy videos (worth watching for the comedy value alone), we set about preparing the cloning process. Now some reviews talk about the difficulty in keeping an erection during the cloning. I have to say if you are doing this alone I could understand how this might be difficult. I didn't have this problem as during the whole time of cloning my partner was pleasuring herself a few feet away from me with the aforementioned Doc Johnson Dildo. Trust me, this kept me as hard as I could be, or so I thought. After measuring myself against the cloning tube and cutting it to size (sharp scissors are a must, but please be very, very careful!) I set about getting the water ready for mixing (OMG it is very hard to get water to stay at exactly 90 degrees), the thermometer isn't the greatest but just about gets the job done, possibly will invest in a better one for next time. Set the timer and got to mixing. Poured the mould mixture into the tube and hit start on my timer. This is where I hit a snag. While I am between 6 - 6 1/2 inches long (not a problem for the tube, could easily fit someone around 10 inches I think), I am also 6 inches in girth. This made fitting my penis into the tube a little tricky with the moulding mixture in there. Tried to readjust but this isn't the easiest manoeuvre. Not at all helped by my partner at that exact moment really having the best time with her new dildo, letting out a very loud moan. Instantly causing my cock to get even harder. By this point the timer was ringing so I removed myself from the tube. Looking inside I could tell we hadn't quite got this right. Looked a little twisted and the moulding was off centre. Decided we weren't going to end up with the desired result but would still see how things would turn out. Left the mould to dry for 24 hrs (this is the point we decided to leave the vibrator out as we had quickly realised that the end result was not going to be a realistic version of me) then mixed and poured the silicone. This we left for 24 hrs also. The end result was, as I mentioned before a weird looking shorter version of me as without the vibrator the silicone doesn't rise to the top of the tube. Now for the upside of this. We used the silicone and the glow in the dark powder, now I wasn't quite expecting just how glow in the dark it would be. It is amazing, funny and a little disturbing to see your penis light up the room at night.
Although this effort didn't turn out how we wanted we both believe with a little tweak here and there this could be an amazingly fun toy for couples which is why we will be buying another one soon, will let you know how that turns out. Just hope we don't end up with a shelf full of weird and wonderful me's acting as erotic night lights before we get it right!
Pros:
Fun, fun, fun.
Glow in the dark doesn't do it justice
Cons:
End product wasn't as desired but that shouldn't put anyone off. Trial and error
Bottom Line:
Fun, fun, fun. Can't wait to try again. Wish us luck
On Clone-A-Willy Glow In The Dark Vibrator Molding Kit Green