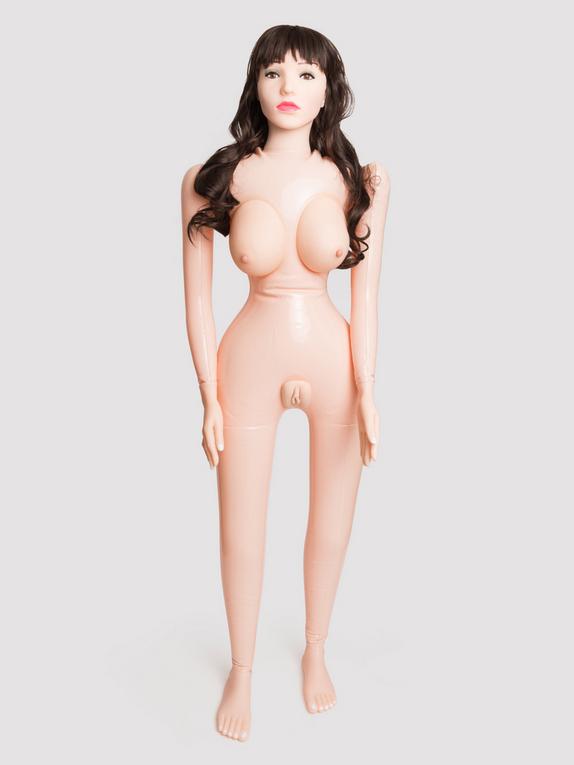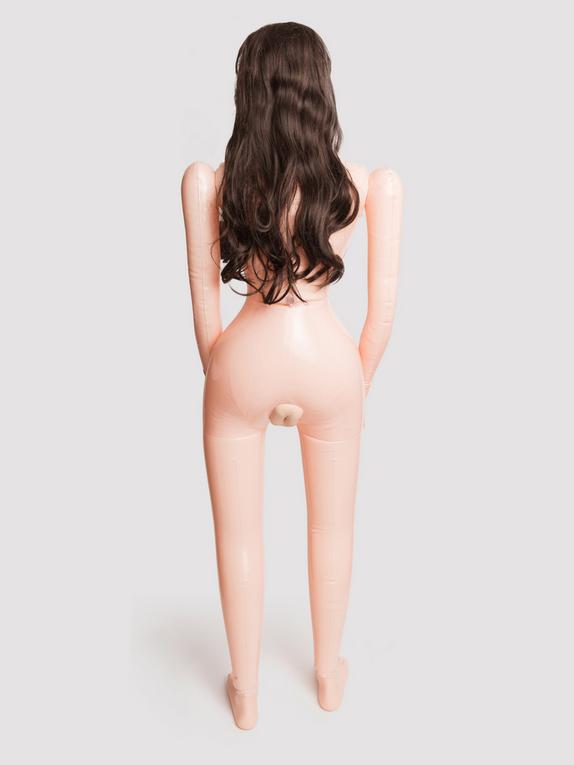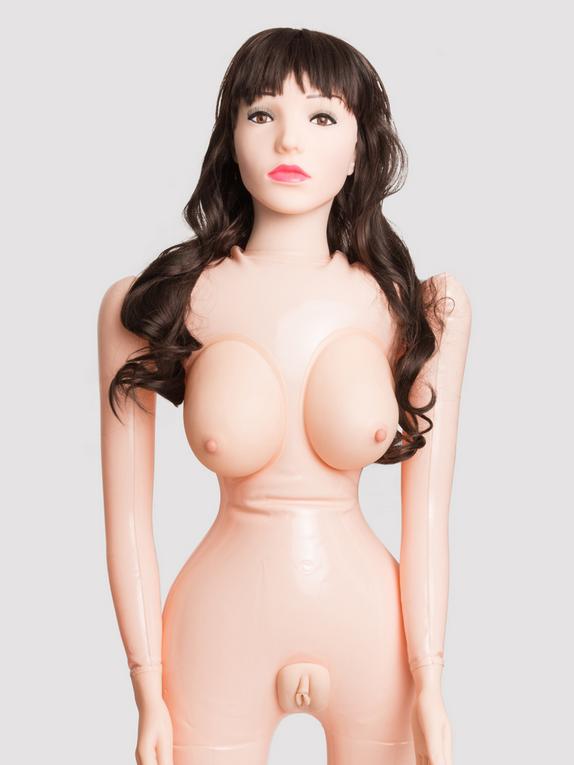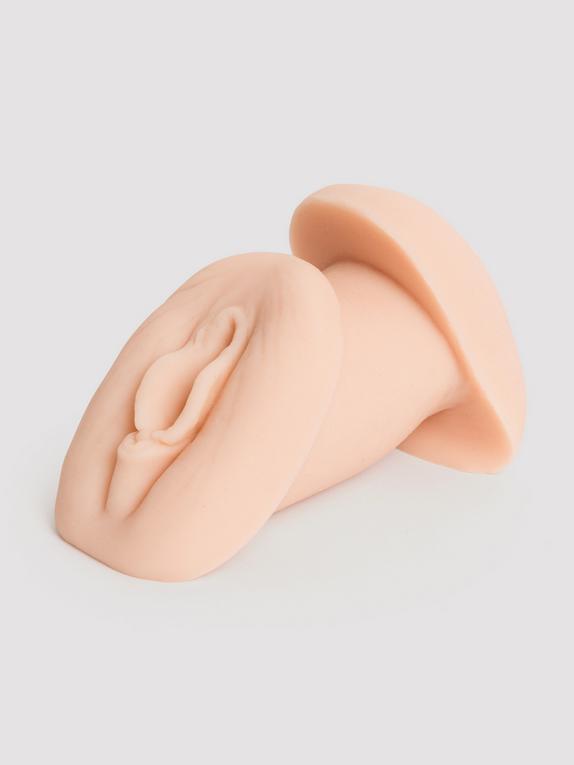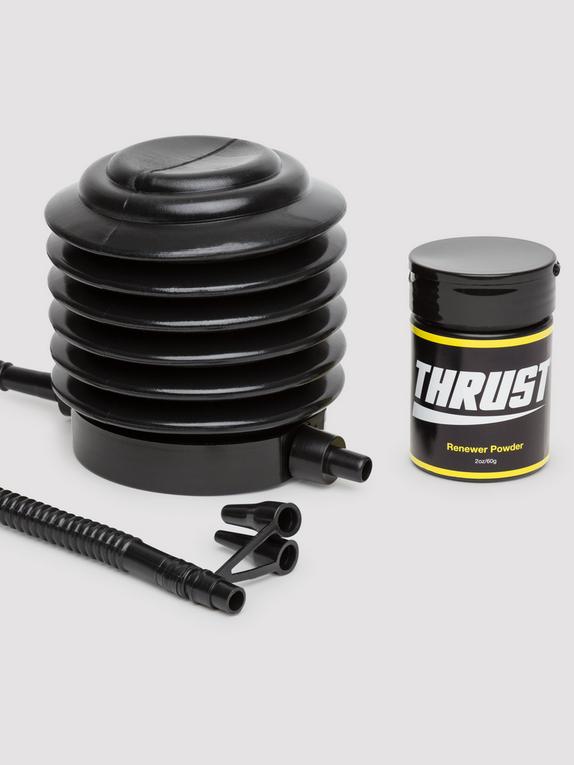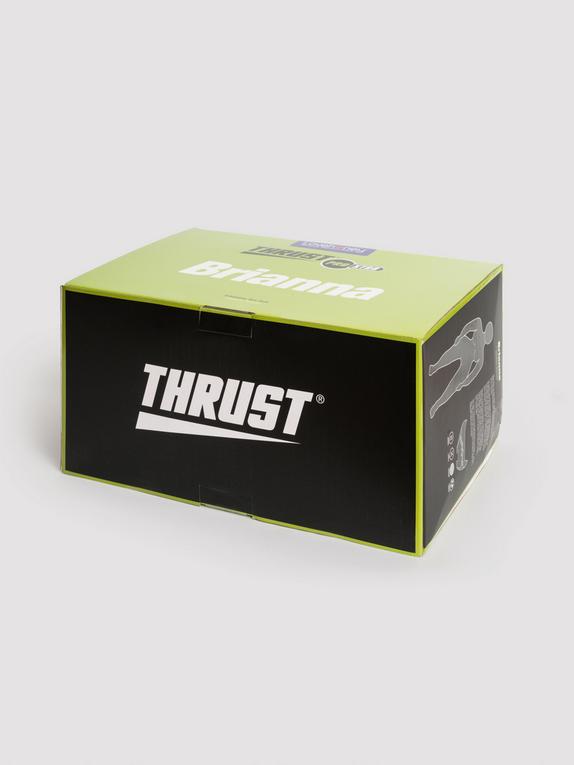 THRUST Pro Xtra Brianna Realistic Inflatable Sex Doll 127oz
Last chance! This product is not going to be re-stocked!
Lifelike inflatable sex doll with real-feel head, breasts, hands and feet for supreme fantasy fulfilment
Perfect for stamina training on your own, or adding a third to play with a partner
Choose between two entrances to her tight, textured canal
Realistic vagina, ass and breasts enhance the experience
Includes a foot pump so you can get going straight away
Get to know Brianna and you'll discover a beautiful brown-eyed brunette with long, slender legs, feathery eyelashes and tempting, bountiful breasts. Choose between her velvety vagina and exquisite ass, then revel in lifelike textures designed to please.

The epitome of sex appeal, Brianna has waves of lustrous brown hair that cascade over her shoulders, framing her ample, squeezable breasts.

Her tiny waist invites you to wrap your arm around her, while her hands and feet are tipped with delicate, sculpted fingers and toes.

With two tight entrances to explore, Brianna's vagina and ass lead to a deliciously textured canal that's ready and waiting to welcome you just as soon as she's been inflated.

After play, be sure to wash Brianna and give her a light dusting with renewer powder to ensure she feels amazing every time.

Treat your new lover to a lavish coat of water-based lubricant to enjoy maximum comfort and pleasure.
Essential Info

Allergens: Phthalate-Free

How it Measures Up

Internal Length: 3.5 inches
Opening: Vagina & Butt

How it Feels
Male Sex Toy Advice
Unlock unlimited pleasure by consulting our Male Sex Toys guides, written to help you choose and use the best Male Sex Toy for you.
Frequently bought together
Popular combos for more sexy fun
Customer reviews
4.3 star rating
4.2
4 Reviews
Thank you for posting a review!
We really appreciate your opinion and hope to see you again soon.
Thank you for posting a review!
Your review was sent successfully and is now waiting for our staff to publish it.
Design:
Ease of use:
Quality:
Orgasm rating:
Bearable, bordering on bad
Review by My O. on 17 May 2020
review stating Bearable, bordering on bad
Brianna's eyes are too wide apart, making her look slightly mongoloid. It was hard to get the arms into the shoulders. The vaginal insert's too short; had the same problem with Thrust Pro Xtra Naomi doll: the vaginal insert gets sucked into either end of the doll; the vaginal insert's not long enough. Although the Thrust insert's too short, it feels good; better ribbing/inner texture than the inserts that came with Hannah Harper, Horny Quella/Shy Camilla, BJ Betty, Madlin Moon, Cayenne Cleur, Back to 20's Semi-Solid and Deep Throat sitting and standing versions (that's every doll I've tried to enjoy apart from the 29kg Kimber Doll). Hair's good although the fringe's too long/almost covered the eyes so I shortened it with a pair of scissors
Pros:
The hair. The feeling of the Thrust vaginal insert.
Cons:
Vaginal insert's too short. Arms are hard to get into the shoulders.
Bottom Line:
Bearable, bordering on bad.
On THRUST Pro Xtra Brianna Realistic Inflatable Sex Doll 127oz
Design:
Ease of use:
Quality:
Orgasm rating:
Pro Ultra Quality
Review by Blind M. on 11 Apr 2020
review stating Pro Ultra Quality
I was concerned when the email notified me that my order was in the post, but as with every other order I've had with Lovehoney, the box was discreet and you'd have no idea of it's contents, top marks for this as always. I was so excited to try this new toy, upon opening the packaging the doll is contained in a very professional and refined box. There's no images or windows that you'd typically see on other doll packaging. There is a short description of the contents and instructions on preparations to take pre and post use. Contained is a small manual pump, like you'd have for an air bed, a pot of THRUST Re-newer Powder to look after the sleeve and of course, the doll and the sleeve. As soon as I picked up the doll, you can feel the quality of the materials used, it feels thick and durable, enough to withstand a rough time without having a puncture patch ready. The head and face is of great quality too, the hair of Brianna fits very well and is full, looking very realistic. Eager to try her out, I inserted the sleeve and begun to inflate her. Having a one way valve made this process easy. I've found with other products that it's difficult to keep the pressure in, the panic from taking out the pump to inserting the plug releases too much air. With Brianna, this is a thing of the past, you can inflate her to perfection with the one way valve. Just be sure not to put too much in for obvious reasons. Her legs are quite maneuverable to the position you'd like but they are fixed so spring back easily. Her arms on the other hand are fully mobile from the shoulder, allowing you to move them around you, adding to the realism and comfort of the doll. Before I inserted the sleeve I was a little dubious, it seemed really short and I was concerned that it would be nothing more than a cock ring. I was soon finding myself going as deep as I could after lubing her up with no worries of going all the way through. The inflation stretches the sleeve out which makes it feel so much tighter around you, this combined with the unbelievably realistic texture on the inside, I've not felt anything as nice as this for a long time from a toy and it really does feel like the real thing. After finishing I think I fell asleep for a little while, it was that good. Once I'd regained my energy I made a bit of a mistake, I tried removing the sleeve for cleaning while she was still inflated. I ended up ripping part of the sleeve. It's not caused too much damage that effects the performance but could do if I pulled any more or I were to repeat this again. I strongly suggest that you deflate the doll before removing the sleeve and inserting it again. Cleaning comes with the usual issues but doesn't really take too much effort, just warm water and gentle rubbing to remove any residue. Usually, once unpacked, you need a lifetime of origami experience to put products back in their box. But Brianna folds up really easily back into the box. The box is the perfect size for putting away in the back of your wardrobe or deep drawer. The quality of the box is as good as the doll, so it should withstand things being stacked on top of it too. Overall I would highly recommend this doll. The quality of the materials used really helps to the feel and durability of the product, made to last and made to pleasure!
Pros:
Superior quality of the materials.
Cons:
Having to deflate to remove/insert the sleeve without damaging it.
Bottom Line:
Super realistic feeling and worth the hassle of cleaning.
On THRUST Pro Xtra Brianna Realistic Inflatable Sex Doll 127oz
D
Delboy1991
5.0 star rating
Design:
Ease of use:
Quality:
Orgasm rating:
Boner Brianna
Review by Delboy1991 on 8 Apr 2020
review stating Boner Brianna
So I wont bore you with the delivery details because I know your all lovehoney loyal so probably ordered from here before. If not then fast discreet delivery is all that matters. The doll herself comes in a large box. It's more discreet that the last doll I had which has a huge picture and text all over it. This one however is quite modern looking really with the word thurst on it in big black letters. Once opened you could see how well packed she was. Wrapped in multiple see through bags. These are great for storing her in after so it's a good idea to open them carefully. First impressions where how amazing her boobs were. The last one I had were inflatable so that let it down. This however is very realistic, great If your a boob kind of person. The nipples are amazing to both look at and play with. It comes complete with a pump, but honestly dont waste your time, yeah it's somewhat easier but it makes a hell of a lot of noise. We gave up with the pump and blew her up by mouth which was a lot quicker. Once filled with air it did take a few attempts to put the plug in quick enough, before trying to fix her arms. There are detachable which is a brilliant idea so they can move her hands around your body, giving a more realistic touch, however, trying to get them back on is a job and a half! I couldnt do it and I'm usually determined to achieve what I set out. I had to get my hubby to do it and even he struggled. It's a push and twist kind of motion. If you cant open a jar you have no hope. This kinda loses the moment to I'd advise getting her prepared before hand. Also another good tip is to insert the sleeve before you blow her up, its impossible to do after due to the firmness and air pressure. Shes very lazy, she wants to receive all the pleasure and isnt willing to do a lot without physical guidance , so bare this in mind haha! Shes does however give you a good time and but a bit of a run for your money to get yourself in. Once shes filled your guaranteed to have a good time and she wont leave you waiting for to long without a huge orgasm. Her long silky smooth brown hair and realistic hands and feet make it even more exciting. Shes very well made and you can tell a lot of thought and detail have gone into making her, and it all pays off. Overall, shes so far our favourite. Would have been a winner If she had a open month too but she did the job required. Small downside was her arms being hard to attach but it's a minor problem. Shes easy to clean and enjoys joining you in the tub. I mean why not get the full experience? She deflates fairly quick and folds up relatively small for storage. We are a couple and really enjoyed the extra company without getting a real person / feelings involved. It felt very naughty!
Cons:
Arms was hard to attach.
Bottom Line:
Perfect for single or couple.
On THRUST Pro Xtra Brianna Realistic Inflatable Sex Doll 127oz
L
Lovetowank
4.0 star rating
Design:
Ease of use:
Quality:
Orgasm rating:
Brianna Brunette Inflatable
Review by Lovetowank on 30 Mar 2020
review stating Brianna Brunette Inflatable
I could immediately tell that this was a quality product. Taking her out of the packaging the long brunette hair looks great and the face looks quite realistic even if some of the other body parts are not quite so well defined. The head, breasts, hands and feet are made of a more solid material than the vinyl body. This is a two hole doll and does not have a mouth opening. The mouth is a closed one which looks and feels good, you may find yourself wanting to kiss those lips. The breasts are a good size, not too large, not too small and they have nipples again made of a more durable material so are nice to play with and feel great when you suck on them. The hands and feet have painted nails and also look and feel good although the white nail polish on the fingers on my doll was flaking off on one of her thumbs. The vagina/anal sleeve is not the easiest to insert but was manageable, this needs to be done before inflation, just be careful that you don't over inflate her, only use a hand pump, do not be tempted to use an electric pump which would over inflate and cause damage. Her arms are detached but linked to the main body by a tube for inflating so after inflation the arms are then locked into place but this did seem to be quite awkward and they kept coming apart. Always make sure that you use plenty of lube and I mean plenty, lots! Since the vagina and anal openings are different ends of the same sleeve you might want to place something under the doll like a towel to catch spills. Both of the openings are very tight and I did find that I had great difficulty in entering her, maybe that's just me, it really was very difficult and I didn't find that with other dolls so you may well find this to be an issue too. Using both holes is very comfortable once you have managed to penetrate her and as with most dolls it is extremely satisfying to use. The vagina material used for the sleeve is a quality silicone and has a great feel about it even though very tight. Positioning the doll in a variety of positions is possible as she is extremely flexible. I liked sitting her on the edge of the bed and entering her while I was standing but you can experiment with this as that's part of the fun. The anal hole being the opposite end of the same sleeve feels pretty much the same as the vagina hole but the positions are naturally different so doggy style or just a rear entry feels good, again it's very tight. The doll is sufficiently heavy to provide enough resistance to your thrusts. I managed some strong ejaculations which some toys don't always provide. It is nice to find a toy that is beautiful to look at and ultimately gives you what you want and I have to say that sex with this doll does feel very natural and her face represents exactly my type of girl. I felt that you could put your full weight on her without fear of causing any damage and she seems fairly robust so I expect her to be durable enough to last for a long time, more than I can say for myself! Cleaning any spill from the vinyl skin just needs some soapy water and a gentle cloth such as a microfibre cloth. Cleaning the insert means running water through it; patting it dry and I would always recommend using a sex toy cleaner for hygiene. Also in the box you will find some renew powder to restore the anal/vaginal sleeve to its best condition after use. So is Brianna worth having? - Yes! Would I recommend you buy this doll and spend lots of time having fun with her? - Yes! If you have never used a doll before then this is a great first introduction to dolls which will help you discover the joys of using one, just take your time as having sex with a doll for the very first time does seem strange at first but it doesn't take very long for you to feel that it is the most natural thing in the world to be doing and you start to wonder why you haven't been doing it for a long time. When she is new out of the box she has that vinyl plastic smell which can be off-putting and this one had a stronger smell than most for some reason. I think all guys should own a sex doll, the sooner you get one the longer you will use it, I wish I had one when I was 18. If you are a regular user of dolls and want a new one to add to your collection then you won't be disappointed with Brianna either. I guess if there are any negatives, and there aren't many, then the extremely tight holes was the biggest issue for me and it did spoil the fun as naturally you want to enter the doll quickly and easily and start enjoying yourself not spend a frustratingly long time trying to enter. For this reason I was not able to give the doll a 10 only 8 and the only other thing It would be nice if she had a mouth opening which would appeal to those looking for a doll to simulate a blowjob but overall she is a beautiful inflatable doll.
Pros:
The face and hair are beautiful.
Cons:
The holes are far too tight for me and made entry difficult, spoiling the fun.
Bottom Line:
Nice to look at. If you can enter her tight holes then great to use.
On THRUST Pro Xtra Brianna Realistic Inflatable Sex Doll 127oz