Squirting has been around for centuries, and yet female ejaculation remains an enigma. Porn offers us glorified (and, frankly, unrealistic) portrayals of gushing from orgasmic bliss, endless magazine columns debate the topic, and that one friend in college insists that "spraying the wall" was a coming of age ritual in many cultures. But how do you get there if you've never experienced the so called 'ultimate female orgasm'?
Let's break it all down, from dispelling the myths on how to squirt, to addressing the real truth behind the science of why some of us can and some of us can't. We'll tell you everything we know, sharing our expert tips on how to make yourself squirt, the best ways to enjoy the experience of squirting during sex with a partner, ways to relax into the experience, and even the toys that can help you become a squirting pro.
Learn how to make yourself squirt: 4 Expert Tips
Now that you know more about what it is, it's only natural to think about how to do it! Well, squirting isn't for everyone - some will and some won't, but if it's something you're keen to explore and try in the bedroom, there are a few key tips that might help in driving you to orgasmic rush of the gush.
1. Relax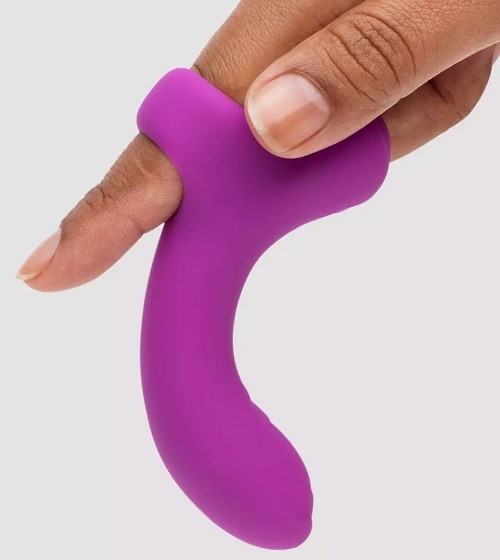 Although female ejaculation is entirely natural and completely normal, it's worth bearing in mind that once this skill has been mastered it's much easier to trigger (and can even start happening involuntarily). Until then, practice and relax are essential.
Sensual products like massage rocks or a body massager can help with this. So can good communication with your partner, or yourself, about why you're interested in squirting. You may uncover desires that can be explored regardless of whether you squirt on the first, or hundredth try. Putting pressure on yourself to squirt will only serve to heighten your anxiety and inhibitions.
It can also be helpful to have a toy on hand that allows you to explore the range of sensations that you already enjoy and that help you to relax. Versatile sex toys are a perfect companion to squirting. The Ignite G-Spot Finger Vibrator can be used to warm the body up, build arousal with external stimulation, followed by targeted g-spot stimulation.
2. Prepare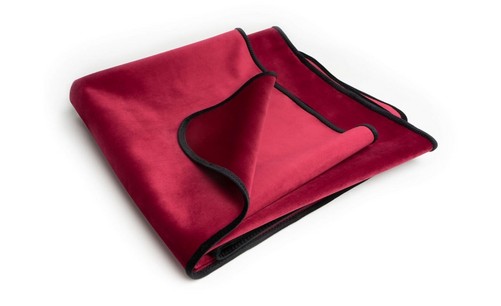 It's easier said than done to relax when you're trying squirting for the first time and even the most little things can be enough to cause anxiety.
If you're worried about peeing during the big moment, it's a good idea to factor in a bathroom trip ahead, and if the sheets getting wet is something that might put you off - lay down some towels or invest in a waterproof bedsheet.
We recommend a Liberator Fascinator Throw for total peace of mind.
3. Test What You're Working With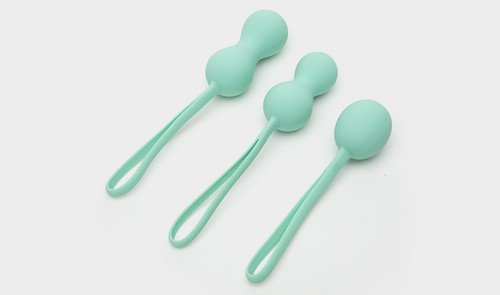 Your PC muscles play a big role in female ejaculation. We often think of tightening our PC muscles, but in fact, being able to fully relax these muscles is just as important to our orgasmic response. Afterall, orgasms involve both the contraction and release of the muscles in our genitals.
When it comes to squirting, building the muscle memory of fully relaxing the PC muscles can be very helpful. When we practice our kegels, we do the same type of release of the muscles that is needed to release female ejaculate. Working your PC muscles with kegel balls helps you to isolate the sensation of the bear down. A training set, like the Lovehoney Health Silicone Kegel Toning Set is the perfect training tool for anyone interested in squirting. They come with graduated kegel balls that increase in weight which helps you build more control over your PC muscles as you level up. They also allow you to practice the "bearing down" motion that helps with the release associated with squirting.
You can do a simple test of your PC muscle strength by inserting two fingers into the vagina. If you cannot comfortably insert two of your own fingers into your vaginal canal, your PC muscles are likely overextended, in which case learning to fully relax these muscles is particularly important and should be your area of focus when working these muscles. If you are able to squeeze snugly around two of your own fingers - your PC muscle strength is in good shape. If you're not able to snugly squeeze two of your own fingers, your PC muscles need toning.
4. Aim for the G-spot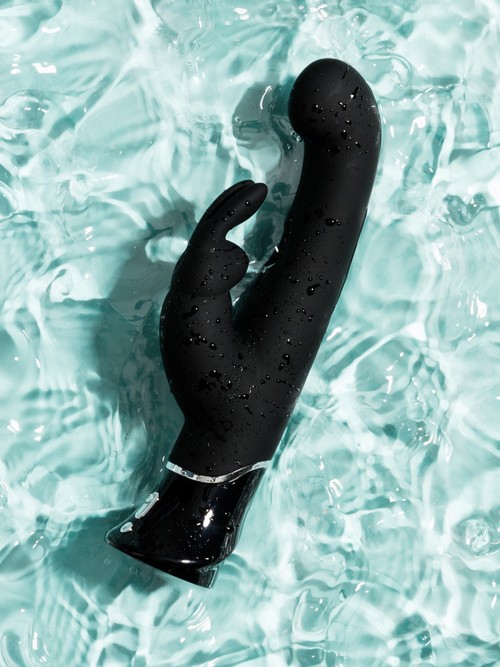 Some women orgasm through clitoral and external stimulation alone, but for many, the most powerful squirting comes through stimulation of the G-spot, where the fluid is thought to build up in the process of arousal. Find that sweet pleasure zone, and the orgasm is all yours for the taking.
Various toys like the Fifty Shades of Grey Greedy Girl G-Spot Rabbit Vibrator, give targeted stimulation to the g-spot. Paired with deep, rhythmic "milking" motions, a g-spot vibrator can help to release the fluid into a pleasurable gush. Squirting is a marathon, not a sprint. You will stimulate your g-spot for some time before the fluid builds up enough to release it. That's why a dual stimulation toy or using an additional vibrator externally can be helpful to keep arousal high as you massage the g-spot.
You will know that you are close to squirting when begin to feel tingles that run down your thighs and the intensity of the targeted massage feels like it's pressing against a build up of pressure in the g-spot area.
Check out all of our favorite toys for squirting next.
The Best Sex Toys for Squirting
Sex toys - not to boast or blow our own trumpet here, but we know a thing or two about which ones are worth stocking up on. If you're newer to the experience that sex toys can initiate, then you might be wondering which ones are best for stimulating the G-spot and thus, helping you squirt.
G-spot Sex Toys
G-spot sex toys come in many shapes, sizes, and textures, but most will share one common design factor - a specially curved tip. It is the slight curvature that helps these toys reach and please the G-spot, which is the erogenous zone most likely to result in squirting when properly stimulated.
Some G-spot toys vibrate or pulse, while others like dildos have no motor at all. You can find G-spot vibrators with clit-stimulating functions like suction or rabbit ears, too. Whichever toys you choose to introduce into your play time, be sure to always pair them with a slick water-based lubricant to enhance comfort and pleasure.
The Best Sex Toys for Squirting
Interested in this topic?
Sign Up for our newsletter to receive expert advice, sale alerts, and exclusive offers straight to your inbox. Plus, receive 15% off your first order.
A Fan Favorite Squirting Tool
njoy Pure Wand Stainless Steel Dildo
$142.49
$149.99
You save:
$7.50 (5%)
The dual-ended njoy Pure Wand is a go-to squirting recommendation from many sexperts. While the Pure Wand does not vibrate, both ends of the stainless steel dildo feature the ideal curve for G-spot stimulation. The famous toy's weighted nature lets users apply the firm pressure needed for g-spot play with little effort. Its lengthy body makes for easy wielding in the hands of G-spot owners and their partners alike.
What customers say: "I never found my G-spot. Well, the NJoy wand sure did and it was amazing."
How to Squirt During Sex with a Partner
Squirting through masturbation can feel incredible, but it's natural to want to explore this intimate experience with a partner too. If you're reading this as the partner, you might even be wondering how you can entice your lover to squirt. If so, here are a few considerations to think about.
Take your time, build arousal and stay steady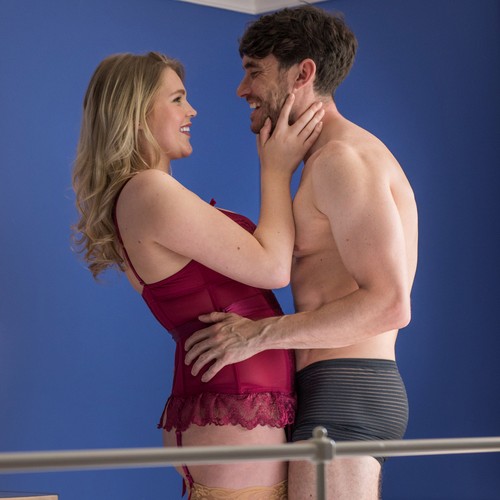 Let's face it - orgasms simply don't feel great when they're rushed and it's not realistic to expect that any type of orgasm that requires a high level of arousal is going to happen quickly. Squirting often takes time because the build up of the fluid in the body increases with arousal. Masturbation and foreplay are absolutely key in any squirting quest.
This gives you and your partner the opportunity to explore the whole body. Enjoy a long, hot make out session. Fondle, caress, spank, and squeeze one another. Partners - pay special attention to your partner's breasts and nipples, or any erogenous zone on their body that really turns up the heat for them. Zone in on the clitoris and coax an orgasm with fingers, a tongue or indeed a vibrator before focusing in on the g-spot.
When ready, use lots of lubricant and with a well-curved g-spot massager or your hand target the g-spot with deep, rhythmic motions. With broad strokes reaching from the back of the g-spot to front or from side to side steadily massage the g-spot area with firm massage. Some receivers will need continuous vibration externally to handle the targeted internal massage, which is why it is good to have a vibrator on hand.
Squirting can happen through traditional penetrative sex with a penis or dildo. However, targeted g-spot stimulation is the most effective way to get there so make sure you're in a position that allows shallow thrusts and the right angle for hitting the g-spot.
Top Sex Positions to get squirting
So, we've linked you to the toys, now what about the position? If you've ever whipped out the Kama Sutra, you'll know there's quite a few to get through, so we've rounded up 3 of the very best.
Do It Doggy Style: Doggy Style position allows for a penetrating partner to control the depth and angle of each thrust, maneuvering so that the g-spot receives targeted pressure and massage. A c-shaped couples vibrator intensifies the massage to the g-spot area.
Riding on Top: Some may find this position more comfortable for squirting during sex is it allows the receiving partner to really control the depth, angle and pace of penetration. Feel it out as you ride yourself toward that much-anticipated climax. You could even try sharing the vibes from a vibrating cock ring while you get there.
Good 'ole fashioned missionary: Some people find it easiest to relax when on their back. Missionary position can allow for targeted g-spot stimulation when you throw a position pillow, like the Liberator Wedge into the mix. The wedge lifts the receiver's hips up, providing the right angle for accessing the g-spot with every thrust.
Best Squirting Toys for Couples
Our Final Word on How to Squirt
If it happens and you love it - great, keep on doing what you love doing! If you've tried and it wasn't for you, that's fine too.
As with any orgasm, squirting or reaching climax doesn't have to always be the conclusion to an intimate sexual encounter, so just enjoy the moment of being physically connected, exploring your body, discovering yourself and the rush of endorphins that come hand-in-hand with sexual pleasure. You may find as you explore squirting that the sensations are quite intense and that transitioning to orgasming in a more familiar way is your preference. If you do find that you like the intensity of the targeted massage, you will come to get to know sensations that your own body gives as clues that you are close to squirting. If you being to apply the "bear down" technique with your PC muscles when your body gives you these clues, you may be able to expand squirting into other kinds of play that do not involve targeted g-spot massage. Either way, happy exploring!
Additional Squirting Questions?
Now that you know the basics on how make yourself squirt and how to squirt with a partner, you can become a fountain of squirting knowledge with these additional guides focused on female ejaculation.