How to Upgrade Your Solo Play
Jacking off, rubbing one out, self love… whatever you like to call it; masturbation feels good and it's so good for you
Masturbation is a great way to connect with yourself, enhance your pleasure, and improve your health, if you can believe it. Not only is masturbation very enjoyable, but it actually comes with a number benefits for your physical and mental health, as well as working wonders for your sex life.
Whether solo play is part of your daily routine, or you enjoy an occasional solo tryst, these tips, tricks and masturbation benefits will encourage you to make the most of your self-love sessions.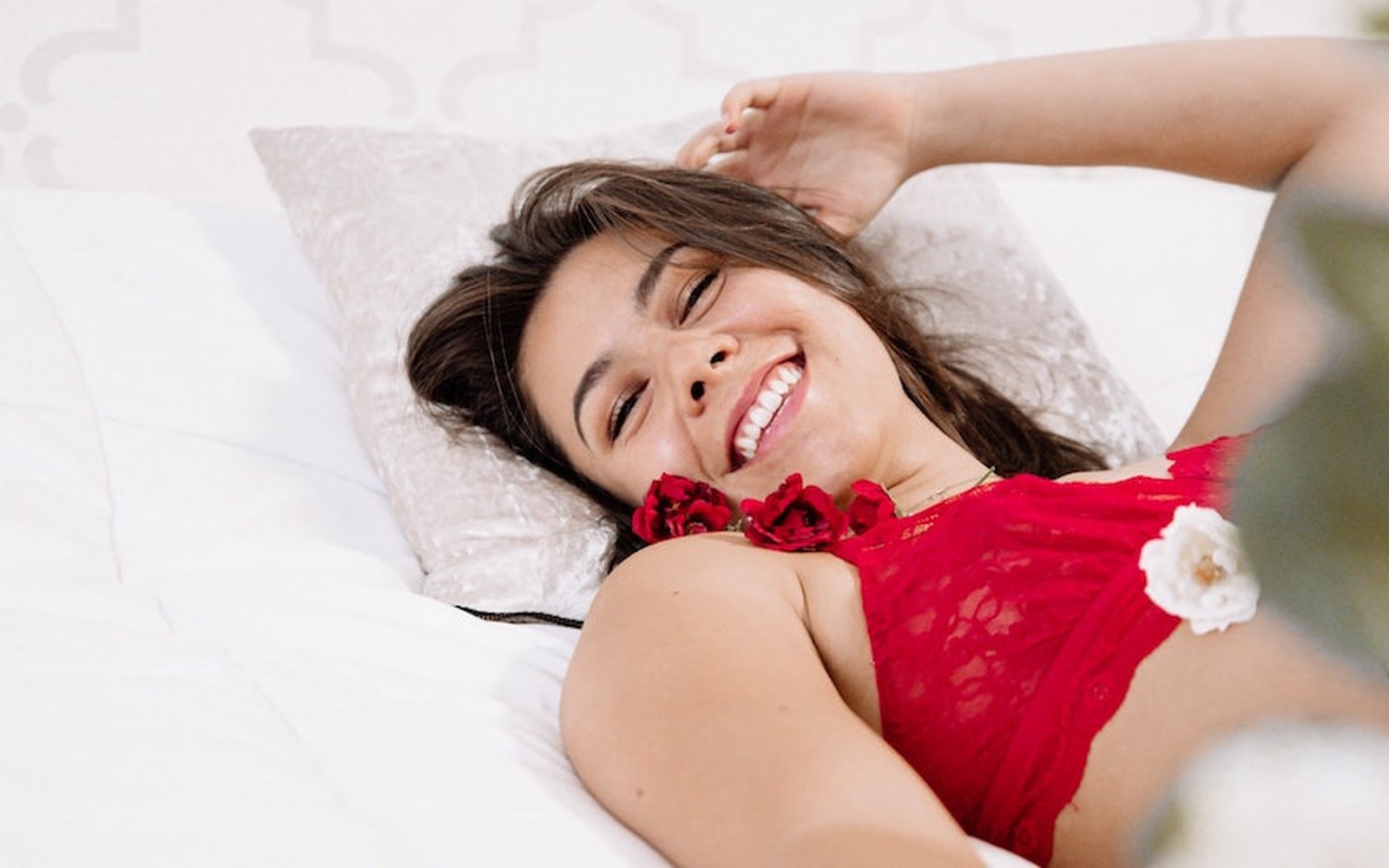 What are the Top 5 Benefits of Masturbation?
Scientists have proven that masturbation - and climaxing in particular - causes your brain to release lots of different hormones that have a range of positive effects.
"Masturbation is a cocktail of neurotransmitters/endorphins, all of the feel good ones, including dopamine and serotonin plus the attachment/cuddle hormone of oxytocin. This is self-love on steroids, not only does it feel good in the moment, the physiological changes of arousal and orgasm are just plain good for your body, health and overall wellbeing." - Dr. Megan Fleming
1. Relieves Tension
By their very nature, orgasms are a release of tension. Physiologically, the muscles in your genitals contract and release as you build arousal in the body. Climax is a build-up followed by a release; your muscles relax and that overpowering pleasurable feeling takes over.
As well as a profound physical release, your mind also benefits from the hormones released during climax. Dopamine and oxytocin (the happiness and love hormones) help to elevate your mood, making you feel calmer and happier. Just like a good workout or a massage, a solo session can be an outlet to release built up tension in your body and ease stress. Similarly, the relaxation you experience post-orgasm, helps prepare your body and your mind for a restful sleep. If you're someone who has a hard time "shutting off" or needs support winding down from the day, solo play may be just what you need. If this isn't a great reason to masturbate, we don't know what is.
2. Improves Sex
Despite what some may fear, masturbation actually makes sex with your partner much better. Knowing your personal erogenous zones, where you like to be touched and how, makes your partner's job much easier. You may struggle communicating what you enjoy to your partner and if this is the case, check out our Guide on Communicating Your Desires.
Not only does masturbation teach you what you enjoy (which you can then share with your partner), but it also helps strengthen your pelvic muscles. This can lead to more powerful orgasms, and for penis owners, stronger, longer-lasting erections. Like with any healthy routine, there's also a benefit in regularly taking part in your sexual practices. The more sex and orgasms you experience, the more attuned your body is to the process of arousal and climax. Rather than detract from your partner play, masturbation can actually make you more inclined to want to connect physically with your partner and it can make it more pleasurable when you do.
3. Helps You Last Longer
This practical side effect of masturbation is particularly relevant for penis owners who have issues with finishing too quickly.
According to sex therapists, people who struggle with premature ejaculation helped improve their stamina by masturbating around two hours before they had sex.
Masturbating regularly and trying techniques such as edging has also been proven to aid with climax control and improve stamina over time.
4. Boosts Confidence
Many of us have negative associations with masturbation due to shameful messaging from our families, religious institutions, and the like. When we can move past these negative thoughts and associations, research has shown that the chemicals released from pleasuring yourself activate the pleasure reward system in the brain and actually make you feel pretty good about yourself.
In addition to the other benefits we've highlighted, masturbation lifts your mood with the release of oxytocin, dopamine and endorphins. You also get a boost of adrenaline, which improves self esteem. This delightful cocktail of chemicals and hormones, paired with the act of being in physical contact with your own body and doing something nice for yourself can enhance how you feel about and in your body.
5. Relieves Pain
As if the first 4 benefits were not enough, orgasms can reduce pain. Endorphins are the bodies natural painkiller, and endocannabinoids reduce inflammation - both are released in the body when experiencing sexual pleasure. Studies have even shown a link between masturbation and reduced pain from headaches and migraines.
Researchers are beginning to support the idea that masturbation can ease menstrual cramps and soothe headaches. Who would have thought that jacking off just might be our best medicine.
1. Add Lube
Lube reduces friction and increases glide. No matter what kind of play you are exploring, lube makes it better because less friction is more pleasurable. Stimulation that might feel like a dry match against your skin without lubricant, can transform into sensual touch with a high quality lubricant.
Water-based lubes are the catch-all because they can be used for any kind of play and for all toys.
Silicone lube is often preferred for sex acts that require long lasting, super slick glide, like anal play for instance. Silicone lubricant does not dry out because the molecules do not absorb in the skin like water soluble lubes. The downside is you have to wash it off, it can stain the sheets and it's not compatible with silicone toys.
Hybrid lube is a formulation that has both silicone and water soluble ingredients and a consistency like lotion. It gives the longer lasting slickness of silicone with a realistic look and feel.
2. Set the Mood
We often romance our partners and rarely consider doing so for ourselves. Setting the mood with things like lighting and music can go a long way in upping our solo play game.
Think about things that turn you on. It can be anything from that pair of shoes you feel hot in, to porn or erotica. Bring those elements into your masturbation routines to help you get grounded and aroused. The more thought and care you put into your masturbation, the hotter it will be.
3. Switch it Up
We can get into ruts with any routine. Using your solo play time as the time you set aside to explore and try new things can be super fun.
When we introduce new sex acts or erogenous zones into couple's play there is built in pressure. Everyone wants to climax and wants their partner to have a good time too. Trying out new sensations on your own first takes the pressure out of the equation. You can always bring your learnings back to your partner for a little "show and tell."
4. Massage the Pubic Mound
In the spirit of exploring erogenous zones, let us introduce you to the pubic mound. The pubic mound is the area at the top of the genitals where the pubic bone protrudes out. (Think above the clit and the base of the penis).
Have you ever grinded against your partner or a pillow to get off? Or have you noticed during sex that close contact with this area enhances your orgasm? Well, the pubic mound is a hidden gem in the pleasure network. Massage in this area indirectly stimulates all of the juicy nerve endings in your bits. In fact, both the shaft of the clit and the penis extends inside the body. The only way to access that internal portion of the shaft is by massaging the pubic mound.
Applying pressure to the pubic mound with your hand, grinding on something (or someone) or with a toy is a great way to warm up or send your orgasm over the edge. Because the nerves there aren't right on the surface, you can stimulate the pubic mound to build arousal. A lot of people struggle with getting turned on solo. If I am describing you, make friends with your pubic mound.
5. Try a Toy
Our hands are great! Our partners are wonderful. But guess what? No limb or person can go hard or deep for 3 hours without losing steam. Toys come in handy (pun intended) when we crave that sweet spot that's just out of our reach or we require a type of stimulation or a level of intensity that we can't create on our own.
Toys enhance masturbation by engaging new erogenous zones, creating unique sensations or when we need to get the job done. Keep reading for our faves for all your solo play needs.
Interested in this topic?
Sign Up for our newsletter to receive expert advice, sale alerts, and exclusive offers straight to your inbox. Plus, receive 15% off your first order.
Hand Held Powerhouse
We-Vibe Touch X Rechargeable Clitoral Vibrator
This Ergonomic, stone-shaped vibrator can be used over your entire body - for anything from massage to targeted vibration. The shape is designed for applying broad genital or pubic mound massage followed by more pinpointed stimulation to the clitoris, perineum or even the testicles.
What customers say: "This is the best vibrator I have ever tried! It is so strong but so smooth and gentle. The settings allow you to start really slow and the soft silicone feels really nice! Once you are warmed up, the vibrations can get really powerful! I usually prefer wands for their power, but this thing is just as powerful and way less bulky!"
Blooming Beauty
Lovehoney Rose Clitoral Suction Stimulator
$34.99
$49.99
You save:
$15.00 (30%)
Pleasure Air is designed to stimulate the sensitive nerve endings in the clitoris with air waves that create a concert of pulsating & massaging sensations that are unlike anything you've ever experienced. The Rose packs the power of pleasure air into a beautiful and discreet package.
What customers say: "The earth moved and angels sang. This is the best solo orgasm I have ever had, ever!"
Intuitive Stroker
Arcwave Pow Silicone Dual-Entrance Suction Control Male Masturbator
The suction valve on the Pow will have you wishing you had never just relied on your hand. This easy to use toy tightens intuitively and you can control the suction to create new and intense sensations.
What customers say: "The simple suction works well. Honestly, I will be using this so much more than the fleshlight as everything is so much more streamlined, user friendly and sleek! Treat yourself. You know you deserve it."
Bootylicious
ROMP Bass Rechargeable Silicone Vibrating Butt Plug 3.5 Inches
Anal play is often overlooked in masturbation. A vibrating plug adds pressure to the bottom of the pelvic floor, and a satisfying feeling of fullness. Plugs engage the sensitive anal nerve endings hands-free and can give a big pleasure boost to any solo play routines you already love.
What customers say: "Got this to try anal for the first time and it was amazing. Perfect size and easy to clean after as well. Don't forget to use lube though!"
Best Selling Sex Toys for Masturbation
Explore More Masturbation Advice