Best Pocket Pussy: 18 Best Pocket Vaginas
If you are looking for the ultimate in realism, then a pocket pussy may be just what your body is craving. These ultra-soft, uber-realistic male sex toys offer an exciting tactile experience on the inside with ribs and bumps and super textures for a sensual solo pleasure experience.
Enjoy the realism of a pocket pussy for men and penis owners, for intense, amazingly lifelike sensations that will take your masturbation experience to a whole new level of sexual satisfaction.
Read on to find the best pocket pussy toys for a variety of fantasies, desires, and pleasures, based on customer ratings and reviews, best materials, features, and price ranges. Pocket vaginas are the quintessential masturbation toy for penis owners, with a wide range of options and features to stimulate your favorite erogenous zones. So many pleasures… so little time!
What Is a Pocket Pussy?
A pocket pussy is a male masturbation device that mimics the sensation of a vagina, anus or mouth. They are similar to a masturbation sleeve, but much thicker, and made from a flesh-like material that simulates oral, vaginal, and anal sex for the user.
A realistic pocket pussy can be warmed to skin temperature for the most authentic experience, and offer suction as well as a tight satisfying grip, massaging the entire length of the penis for ultimate pleasure and orgasms.
A pocket pussy for men creates a sensual lifelike feeling to help you indulge your wildest imagination. Whether you dream of oral delights, anal adventures, or a wet slippery vagina to plunge deep inside, there is a pocket pussy to fulfill your unique fantasy.
Why Buy a Pocket Pussy?
A pocket pussy or male masturbator sleeve takes your ordinary solo session to a whole new level of play, adding extra texture, stimulation, pleasure, and natural sensations.
While your own hand can work fine in a pinch, adding a pocket vagina, ass, or oral masturbator into the mix aids in creating a thrilling fantasy for the best stroking pleasure. These toys offer an unusual variation of sensations, and as we already know, variety is the spice of life.
Aside from giving your hand a break, they also deliver unique sensations, suction, and firm, full-length tightness that would be otherwise impossible without the use of a masturbation sleeve.
How to Choose a Pocket Pussy
Pocket pussies come in many different varieties, from Fleshlights to THRUST masturbation sleeves, so choosing the right one for you may be a bit of a challenge. Never fear, as we've put together this awesome guide on the best pocket pussies, to help you find the perfect pocket vagina for your desires.
What's Your Fantasy?
To help you decide which pocket pussy is right for you, first decide what type of fantasy you want to fulfill.
Pocket vaginas come in a variety of designs for various desires, including:
Oral sex simulators: Ones with lips to simulate oral pleasure.

Anal sex simulators: Ones with life-like anal openings to mimic anal sex.

Vagina sex simulators: The original pocket pussy for men type of masturbator that looks and feels like real vaginal sex.
Materials
Most pocket pussy toys are made from ultra-realistic soft materials like Fanta Flesh, TPE, and CyberSkin, to name a few. These materials are body-safe and phthalate free and offer the most realistic experiences with a male masturbator sex toy possible.
Internal Textures
Pocket pussies offer a wide range of internal textures to suit every desire and sensation. Many include ribs, nubs, bumps, swirls, and ripples to offer a variety of stimulation, to satisfy every inch of your penis from the glans to the entire shaft.
Open or Closed Ended?
Open-ended pocket vaginas have the advantage of giving the user more room, especially for larger-sized penis owners. They also offer a unique sensation of pushing out through the end opening to stimulate the head of the penis.
Closed-ended pocket pussies create more suction which feels more like oral pleasure during masturbation. These are perfect for medium-sized penis owners and smaller ones.
Size
Pocket pussies are very stretchy so can accommodate most size penises. However, if you are not sure, be sure to check the manufacturer's internal length, which we always have detailed in the description of the toy.
Sleeve or Cup?
Many realistic pocket pussy toys come with a cup or flashlight type of case that holds your toy. While they are not necessary, they do have the advantage of creating extra suction and are convenient for storage purposes.
An ordinary pussy pocket sleeve has the advantage of being able to apply pressure to the penis for a tighter squeeze just where you want to stimulate yourself the most.
Sleeves can be removed from their cases for masturbation and cleaning. Either way, each offers different advantages, but if you get one in a case, you can use it both ways.
Quality and Price
Pocket pussies come in a wide range of styles and designs. Usually, the higher the price, the more quality there is in the design of the toy and the material. This usually relates to how long the toys will last, and how many uses you will get from the product.
Some realistic pocket pussy sleeves are made for one-time use, whereas others, made of higher quality, and longer-lasting materials, are good for multiple uses.
When determining which toys are best for you keep in mind the quality and price range you want. One-time-use sleeves are a great idea if you want to try out multiple types of textures inside the sleeve, to see which types you like best, before making a major purchase.
Many beginners start with less expensive sleeves to begin with, then slowly graduate up to higher quality, longer lasting toys once they know the type of texture, materials, and designs they enjoy best.
Color and Design
Color and design are other options to keep in mind. Pocket vaginas come in several flesh-tone varieties, depending on your preference. Many are also molded from real porn stars' vaginas and anal openings, for the most realistic look and feel.
Some of our top sellers include the Riley Reid Utopia for various satisfying sensations, the Stoya Destroya with pronounced bumps for extreme stimulation,Autumn Falls, Ana Foxxx, and many other Fleshlight Girls molded from real porn stars' pussies. Bring your porn star dreams to life with these seductive pocket pussies from your favorite adult performers.
If you prefer anal adventures,  we have the Fleshlight Girl's butt Autumn Falls' peachy butt, Fleshlight Butt Mia Malkova, Riley Reid's Euphoria, and Else Jean treat treasure. These Fleshlight Girl's butts are the ultimate anal fantasies for your sexy solo pleasures.
Our Fleshjack Boys selection includes Colby Keller Lumberjack Butt, Levi Karter Explosive Butt, and Diego Sans Sex Machine Butt, for amazing male-to-male sex fantasies.
No matter what your pleasure in design, style, or porn star fantasy is, we've got you covered!
Best Pocket Pussy for Realism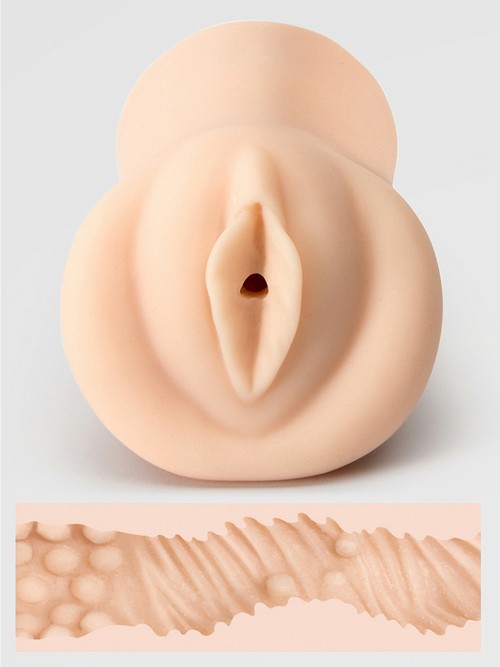 THRUST Pro Mini Lea Super Ribbed and Bumps Pocket Pussy
The THRUST Pro Mini Lea Pocket Pussy is one of our most realistic vagina masturbators with arousing internal textures, ribs, and bumps to caress your penis with every stroke. Lea's detailed lifelike vagina lips and tight opening looks and feels like the real thing, for the ultimate trip to pleasure island. There is even a built-in slot to add a vibrator for the most thrilling pleasure.
"Nice and tight, add a little lube to slide in easy and it grabs around the cock and strokes it so good with the bumpy texture inside for a great release. Feels realistic and easy to clean."—Verified Customer
Best Pocket Pussy for Simulated Oral Sex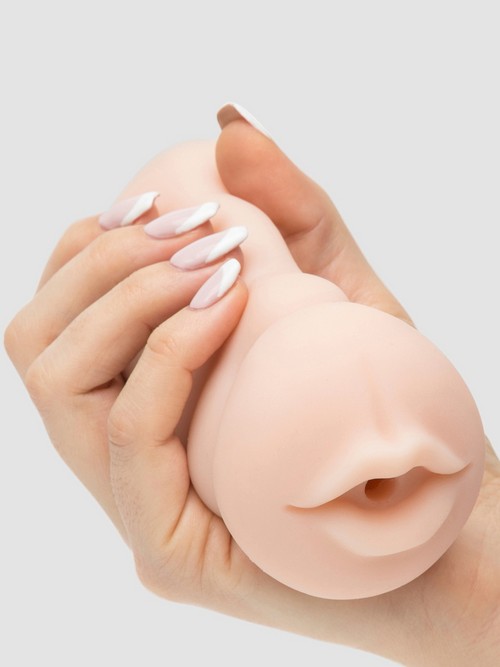 THRUST Pro Mini Ruby Textured Blow Job Mouth
The THRUST Pro Mini Ruby Blow Job Mouth is an oral sex simulator and stroker with soft, luscious lips ready to give you the ultimate BJ every time. Enjoy full immersion in the textured canal for deep-throat sensations that will bring you to climax again and again. The Mini Ruby is an open-ended blow job stroker with a tight textured sleeve for amazing oral sex stimulation and blow job fantasies. Extra ribbing and internal textures resemble real-life oral sex, with the ability to squeeze and please you to orgasm.
"Well worth the money, feels amazing when you are inside it."—Verified Customer
Best Anal Pocket Pussy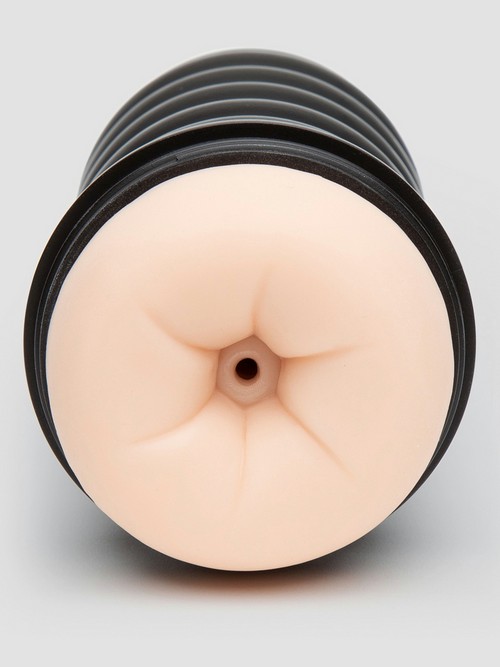 THRUST Pro Ultra Coco Ribbed and Dotted Ass Cup
The THRUST Pro Ultra Coco Ass is sure to make your backdoor bliss a sensual experience to remember. This realistic anus masturbator with a tight entrance and adjustable suction control for tailored shaft stimulation will pleasure you to the max with explosive orgasms. The discreet flashlight-type case is ideal for easy storage and pleasure on demand, anytime you feel the need for some solo pampering and sexual self-care. Inside the soft canal, pleasure ribs and dots thrill every thrust for your ultimate satisfaction. Make your anal adventures a reality with the best anal pleasure masturbation sleeve.
"Ass-tounding! The ease of use, the ability to control suction, it's amazing! Feels fantastic!"—Verified Customer
Best Discreet Pocket Pussy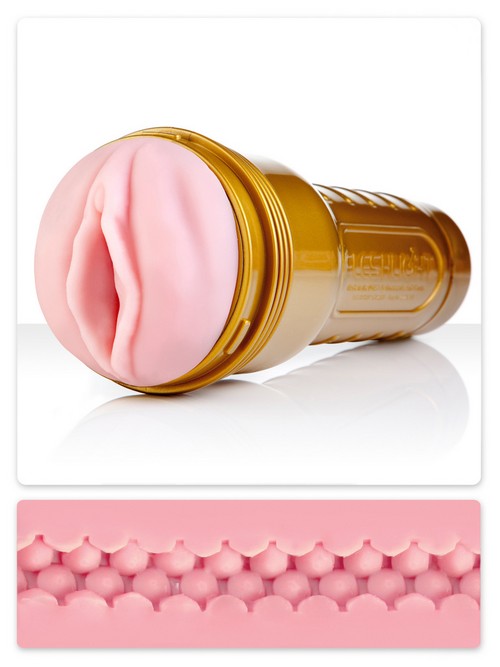 Fleshlight Pink Lady Stamina Training Unit STU
The Fleshlight Pink Lady Stamina Training Unit is our number 1 top seller with a tightly ribbed inner canal that offers the most lifelike stimulation. This lifelike vagina male masturbator is soft, pink, and offers intense stimulation due to the tight interior ribbed texture. Tighter than the average Fleshlight, this lovely lady offers unique sensations that mimics real sex.
The Pink Lady is also the perfect toy to improve your stamina or use for edging, to provide long-lasting pleasure and more explosive orgasmic climaxes. Learn how to last longer in the bedroom and become a better lover at the same time. Whether for pleasure or stamina training, the Pink Lady is a Win, win, win! Plus, she comes in a discreet case that you can hide in plain sight.
"The material feels great. Inside and outside textures are soft and very realistic. I love it."—Verified Customer
Best Pocket Vagina for Vibration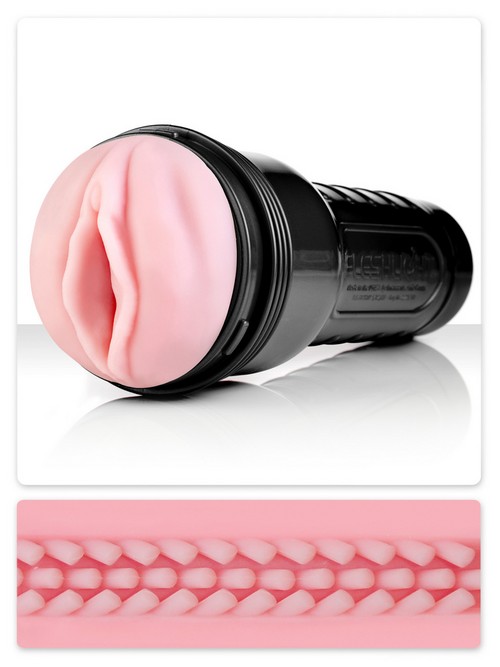 Fleshlight Vibro Pink Lady Touch Vibrating Male Masturbator
The Fleshlight Vibro Pink Lady Touch Vibrating Male Masturbator is the ultimate in male masturbator toys, with added vibration of three bullet vibrators, and real-feel SuperSkin material for delicious sensations and a whole lotta buzz! Combine that with the amazing textures, stimulating nubs, and pleasure nodules inside for breath-taking stimulation for your erection. Like other Fleshlights, the Vibro has suction base control for out-of-this-world suction pleasure.
"Awesome! Boy was I blown away... The soft squeezable material is encased in a hard plastic case with a removable lid, and a rotating end that allows you to increase or decrease the suction as you pump your penis in and out of the Fleshlight. There is more than enough room for my erect 9" cock, and when you get those bullets buzzing, an orgasm doesn't take long. I haven't tried stamina training yet, just totally enjoying the amazing experience that is the Fleshlight Vibro Pink Lady Touch Vibrating Fleshlight."—Verified Customer
Best Overall Pocket Pussy Kit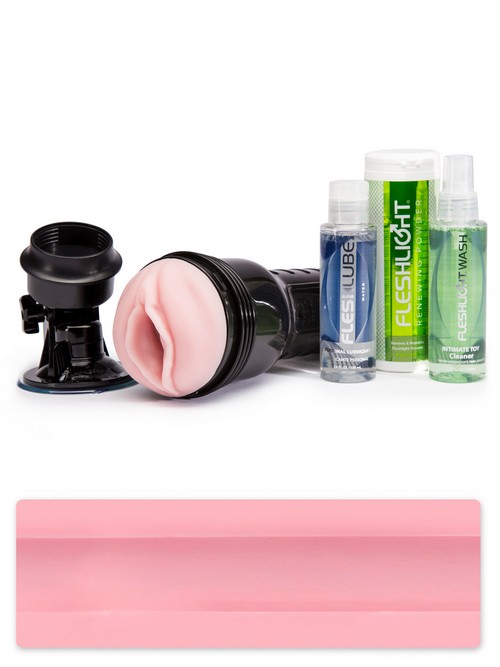 Fleshlight Pink Lady Value Pack (5 Piece)
The Fleshlight Pink Lady Value Pack has everything you need for a self-pleasure party in this 5-piece kit, featuring the Pink Lady, shower mount, adaptor, toy cleaner, renewing powder, and lube. The Pink Lady is Fleshlights classic pocket pussy masturbator with a smooth interior surface that feels just like a real vagina, perfect for beginners. Best of all, the removal sleeve means you can level up and replace it with a new one to build your collection. Best value!
"This was my first purchase of any kind of Fleshlight. What a great experience it is. Comes with everything you need to get started. Lube, cleaner, renewing powder, shower mount, and of course the Fleshlight itself. The overall feel of it is fantastic. Very realistic and pretty much like the real thing. I've used it a few times since purchasing it, solo and with my partner who loves both watching me use it and using it on me. The shower mount sticks well to the shower walls and also a few other surfaces I've tried it on… All in all, I would recommend this for any starter as it contains all you need at a great bargain price. Will definitely be exploring more from the range."—Verified Customer
Frequently Asked Questions (FAQs)
If you've got questions, we've got the answers! Here are our FAQS from customers about pocket pussies.
What Does a Pocket Pussy Feel Like?
Good question! Here is one customer's very detailed review of the Thrust Pro Ultra Coco Ass and what it feels like:
"The material in which the stroker is made out of feels great. Immediately on first use I was shocked with how tight the opening was and also how great the interior canal felt. The tightness of the toy is further amplified by a second opening, roughly around 1.5 inches inside the canal, giving it a fairly realistic feel. Due to the toys' tightness, it is essential that you use a good quality lubricant and plenty of it but this is always recommended for the best experience with any form of stroker.
This toy also allows you to add a bullet vibrator into the end of the stroker to add vibrations to further intensify the sensations. The vibrations can be felt throughout the toy and gets stronger as you enter further due to where the bullet is positioned. As if this wasn't enough already you can also create suction by covering the small hole at the top of the cup. By completely covering the hole with your finger the toy creates an impressive amount of suction that makes it very hard to completely withdraw yourself from the toy and really does change how the toy feels.
One of my favorite things about this stroker is how amazing it feels to use it slow and build up to a more powerful orgasm. In the past when masturbating solo, I had a tendency to simply rush to the finish line however this toy makes me want to do the complete opposite. For this reason, I would highly recommend this toy for stamina training or anyone looking to prolong their masturbation."
While everyone's experience using a realistic pocket pussy for men will be different, the above review gives you a good idea of how a particular masturbation sleeve may feel. Lovehoney has many customer reviews of all our toys, so make sure to check them out when choosing your pocket vagina, to see how the product worked for others. This will ensure you find the best pocket pussy to fulfill your unique needs and desires.
Another great way to get advice is to ask around in our forums, where customers share their experiences and are free to ask questions. Here is a good thread to get you started all about male toy advice. And if you are really not sure and need expert advice, feel free to contact us on our support page!
You may also like to read these articles on Beginner's Guide to THRUST Male Masturbators, How to Use a Male Masturbator, How to Use a Fleshlight, and the Beginner's Guide to Male Sex Toys for more information.
Can I Warm Up a Pocket Pussy?
Yes, absolutely! Immerse your pocket pussy in warm water until it reaches the desired temperature you want to use. Lovehoney also sells a warming rod for male masturbators as well, to warm your masturbation sleeve in less than 10-25 minutes.
Are Pocket Pussies Easy to Clean?
Yes. Cleaning your pocket pussy is a breeze. Simply remove it from the cup, spray it with sex toy cleaner, and rinse thoroughly with hot water, both inside and out. Pat dry with a lint-free cloth and allow to air dry overnight.
Do not use soap on pocket pussies and other soft toy materials. Instead, use a special sex toy cleaner, like Lovehoney Fresh Sex Toy Cleaner. Make sure the sleeve is completely dry before putting it back in its case.
Lovehoney customers recommend:
"Although it is not necessary, I would recommend using a refresh powder on the toy to keep it feeling like new."
We recommend sprinkling it with Fleshlight Renewer Powder to restore its silky-smooth feel. This helps the toy from getting tacky after multiple uses and washes.
How to Store a Pocket Pussy
Store your pocket pussy in its own case for safekeeping. If it doesn't come with a case, you can wrap it in a small towel, or use a plastic zip lock bag to store your toy to keep it lint-free and clean. If you have an old shoe box, they make great sex toy storage boxes. Alternatively, you can purchase a sex toy storage box here, to make sure your toy is kept safe and lasts a long time.
Store in a dark cool place, away from heat. Don't store with other toys in the same bag, as the materials can chemically interact making your toys melt together and ruin them.
How to Make a Pocket Pussy Tighter
Pocket pussies that come with a cup have a hole that you can cover to create more suction, which makes it feel tighter. You can use your grip on the fleshy sleeve to increase the feeling of intensity of the pocket pussy to your desired level of tightness.
What Lube Should I Use?
Only use water-based lubricants with pocket pussy toys. Other lubes may melt your toys.
Can I Use a Pocket Pussy If I Have Erectile Dysfunction?
Yes, a pocket pussy may even help with ED, as it aids in stamina training, to help you learn how to last longer. Also, the unique sensations these toys provide offer novelty, which can help stimulate an erection.
You can also use a pocket pussy with a vibrator for added stimulation and in combination with a penis pump, which will assist with erection strength, as well as gaining and maintaining erections.
Best Tips for Using a Pocket Pussy
Holding your toy in the palm of your hand is the typical way that most people use their pocket pussy toys.
However, you can use your toy hands-free as well. How? Try some of these ideas:
Place your pocket pussy under a pillow and hump it missionary style.
Slip it in between your couch cushion and the base of the couch and ram it doggy style. You can do this with your bed as well, by placing it beneath the mattress, and box spring.
Use it in the shower with a Fleshlight Shower Mount.
Other Tips:
Add in vibration for an extra-stimulating experience.
Use with your partner during blow jobs with open-ended masturbators.
Enjoy mutual masturbation sessions with your lover.
· Use with a butt plug or prostate massage for extra stimulation and double your pleasure.
How We Select Products for Round Ups
Our best pocket pussy selections are based on popularity, customer reviews, unique features, materials, and price ranges. This way, we can make an unbiased decision on which toys are the best pocket pussies for specific uses.
Looking for where to buy a realistic pussy pocket? Check out our full line of male masturbator toys and pocket pussies for all your solo pleasures from Lovehoney US!
More Sexual Happiness Advice
You can never know enough about sex, right? Join us on our sexploration journey via the thriving Lovehoney forum, our weekly Sexual Happiness podcast and our blog.