How to Use a Penis Pump
A penis pump is a vacuum device that is used for erectile dysfunction (ED) and penis enlargement. Learn all about how to use a penis pump safely and effectively in Lovehoney's ultimate guide to penis pumps.
What is a Penis Pump?
A penis pump - also known as a vacuum pump - is a non-medical device used in erectile dysfunction (ED) for men to aid in maintaining erections so penis owners can enjoy penetrative sex with their partners.
They can also be used to temporarily make the penis appear larger in both length and girth, and thus penis pumping is a popular sexual activity that many individuals with penises enjoy.
"Bought this as an experiment just to see the potential difference it could make. And wow, what a feeling!" - BPMW, Lovehoney customer and Forum member.
Penis suction pumps consist of:
A clear plastic cylinder that fits over the penis.

A handheld or battery-powered pump that allows users to pump out the air, thereby creating a vacuum effect.

A quick-release valve for safe, controlled pressure management.

A constriction ring that fits at the base of the penis to constrict blood flow.
Why do people use Vacuum Pumps?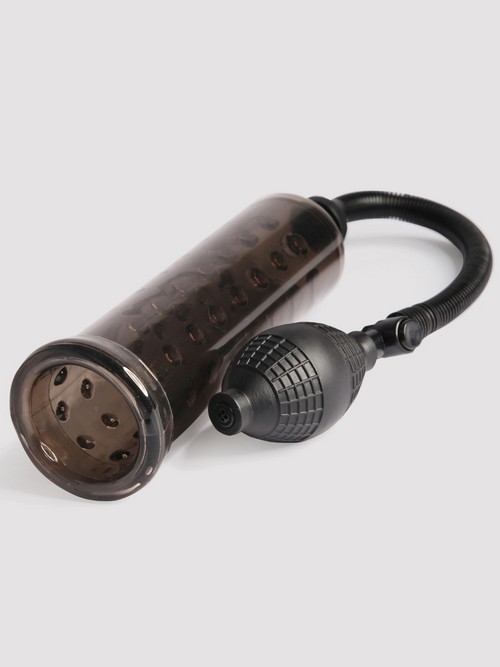 Historically, penis pumps were invented way back in the 1870s to treat ED in "suffering" men, promising to aid in virility for "wonder vital action [and] positive results".
While penis owners still do use vacuum devices today for that very reason, during the 1960s men realised these devices had other beneficial sexual uses, including temporary enlargement of the penis due to the pump increasing blood flow, as well as self-pleasure. Thus penis pumps have been used for purposes of masturbation as well as enhancing sexual satisfaction, by allowing the user to maintain a harder, fuller, longer-lasting erection.
The emotional and psychological benefits of using a penis pump are obvious as well, as they help increase pleasure and temporarily boost penis size, giving the user more confidence in the bedroom.
How does a Penis Pump work?
Penis suction pumps work to create negative pressure inside the plastic cylinder, thus creating a vacuum when pumped, enabling enhanced blood flow into the penis. Once the penis becomes engorged with blood, it becomes larger, forming an erection.
As a bonus, the penis also becomes more sensitive, allowing for increased pleasure, stamina and sexual satisfaction.
To maintain the erection after the pump is removed, an erection ring, or cock ring, is positioned at the base of the penis to maintain blood flow, thus allowing the user to enjoy penetrative sex for up to 30 minutes after removal of the pump.
While sex toys for penis owners have evolved greatly since the 1870s, and there are many different types of penis vacuum devices on the market today, the basic design and principle remains the same.
Are Penis Pumps safe?
Absolutely! Penis pumps are often recommended by medical professionals as an effective treatment option for erectile dysfunction, and when used correctly there are very few risks. It is best to obtain an FDA-approved device to ensure your pump has been manufactured in line with the proper regulations.
Many penis owners use penis pumps several times a day as a regular routine treatment that can eventually help them achieve more consistent erections on their own over time.
How to use a Penis Pump safely
Penis pumps are fairly straightforward and easy to use. Many come with user manuals as well to aid in correct use.
Here are Lovehoney's quick "how to" tips on how to use a penis pump safely and effectively for the best, desired results.
Step 1. Lubrication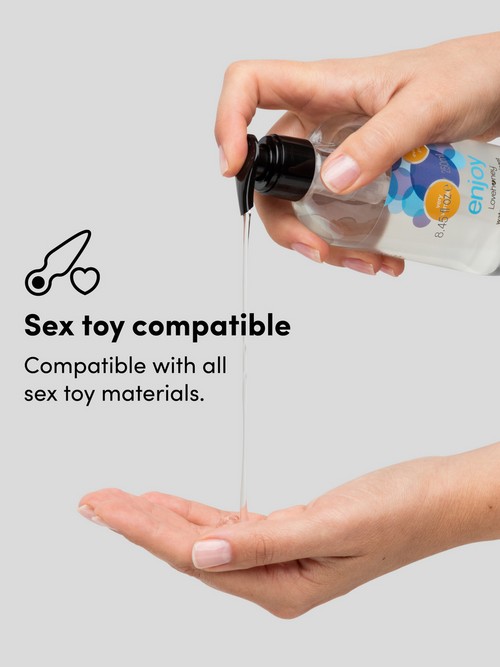 First, apply personal lubricant around the base of the penis where the bottom of the cylinder will be placed. This will ensure a tighter seal and better vacuum pressure. Pro Tip: Shave the pubic hair around the base of the penis to create a stronger seal.
Step 2. Place pump over the penis
Slide the cylinder over the shaft of your penis, with the base firmly pressed against your skin to create an airtight seal. Note: You don't need to have an erection at this point, and the device can be placed over a flaccid or semi-hard penis.
Step 3. Slowly pump the device
Following the manufacturer's instructions, begin to slowly pump the hand-held pistol-grip or bulb to increase vacuum pressure in the cylinder, and create suction. Alternatively, if you have a battery-powered device or hydraulic pump, pump as directed. It may take anywhere from 30 seconds to a few minutes to pump for desired results. Safety Tip: Make sure to pump slowly and not over pump. If you experience any discomfort or pain, use the quick-release to discharge the pressure immediately.
Step 4. Carefully remove the pump
Once you have achieved an erection, you can carefully remove the cylinder by pressing the quick-release valve, which lets the air back into the device, releasing the vacuum pressure. Pro Tip: You may want to turn the cylinder at the base to release the seal, then slip your penis from the device.
Step 5. (Optional) Using a Cock Ring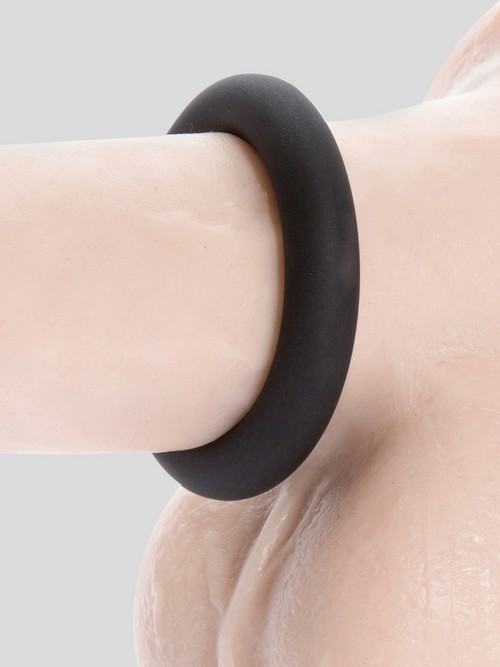 It is recommended to use a cock ring to maintain the erection for a longer period of time. Slide the restriction ring onto the base of the penis after removing the pump. Many penis suction pumps have erection rings at the base of the device that can easily be slipped on the penis just before you remove the pump. Alternatively, you can add the cock ring before you begin pumping.
Safety Tip: Cock rings should only be worn for a maximum of 20 minutes to avoid injury and swelling. If you experience pain or discomfort, remove it right away.
What are the benefits of using a Penis Pump?
Improves erection strength
ED affects up to 50% of penis owners at some point in their lives, so is a major concern for many. Fortunately, using a penis pump is an effective treatment option for those who suffer from ED as it allows them to get and maintain an erection.
In fact, studies show that using a penis pump to aid in ED is largely effective for the majority of users, and it's a cheaper and safer alternative to ED medications without all the side effects, and it's non-invasive compared to penile implants and surgery.
They can boost confidence
One of the biggest benefits penis pump owners report is the confidence boost it gives, as well as enhanced self-esteem, allowing the user to maintain an erection longer for greater sexual satisfaction.
Cost-effective and easy to find
Penis pumps are the most cost-effective treatment option for ED and are readily available for purchase at sex toy shops, including here at Lovehoney. You only have to invest in a penis pump once and then can enjoy years of use if it's properly maintained, whereas with ED medication and other treatments there is a recurring cost.
Can be used with supplements, medications or toys
If you do choose to use penis pumps with other ED medications like Viagra, or erection aids, they can be used safely and effectively to enhance other treatments without additional risks to the user.
Are there any side effects of using a Penis Pump?
When used correctly, following the manufacturer's directions, there is minimal risk or side effects of using a penis pump. However, here are a few things to be aware of for safe use.
Discomfort or bruising
Some penis owners become overly enthusiastic with pumping and may pump too hard or too long, which can lead to discomfort or bruising of the penis tissue.
Burst blood vessels
Very rarely, improper use can cause burst blood vessels and blood blisters on the penis which can be painful. So, make sure not to pump too hard or fast, or over-pump to the point of discomfort or pain. Listen to your body and follow common sense when using a penis pump.
Types of Penis Pumps
Air Pumps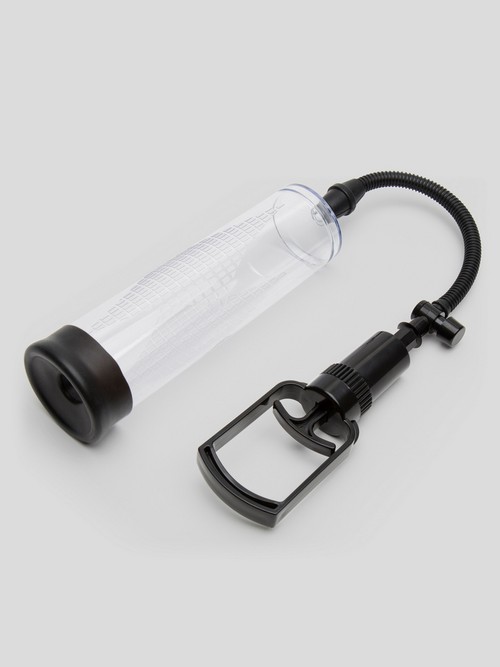 Air pumps are the most common type of penis pump available. These types of vacuum pumps are easy to use and the most affordable.
Air pumps suck air from the cylinder chamber creating a vacuum, drawing blood into the penis, thus creating an erection.
The difference between air pumps and water pumps is that they can be used anywhere and don't require water to use.
Water Pumps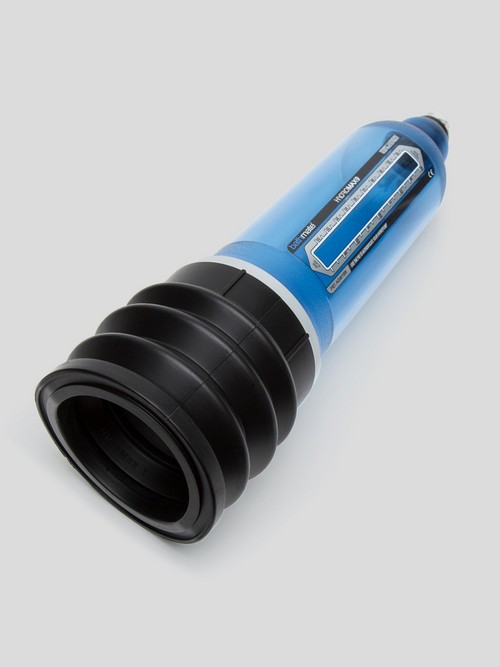 Water pumps, also known as hydro pumps or hydraulic penis pumps, such as Bathmates, pump water into the cylinder to create pressure to assist in penile engorgement. These pumps are rather unique and more expensive than regular air pumps.
People like water pumps because the water helps create a cushion effect so it's more comfortable for the user. The downside is they need to be used in the bath or shower.
Manual Pumps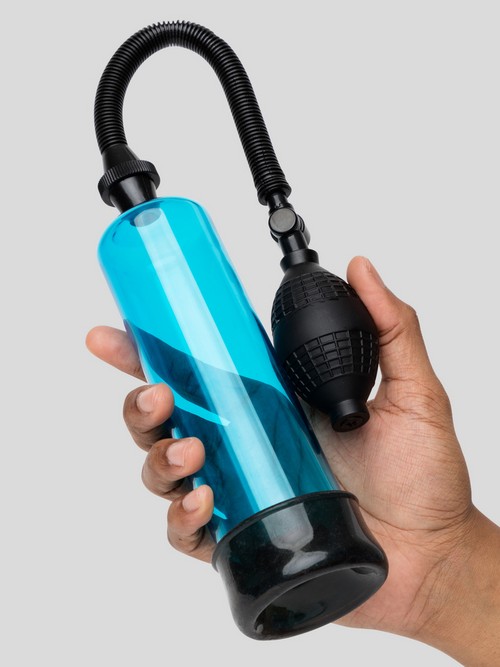 Manual pumps feature a squeeze bulb or hand-held pistol-grip trigger to pump the air from the cylinder. These require manual operation and can be harder on the hands. However, they are much more affordable than electric pumps and have fewer breaking parts.
Electric Pumps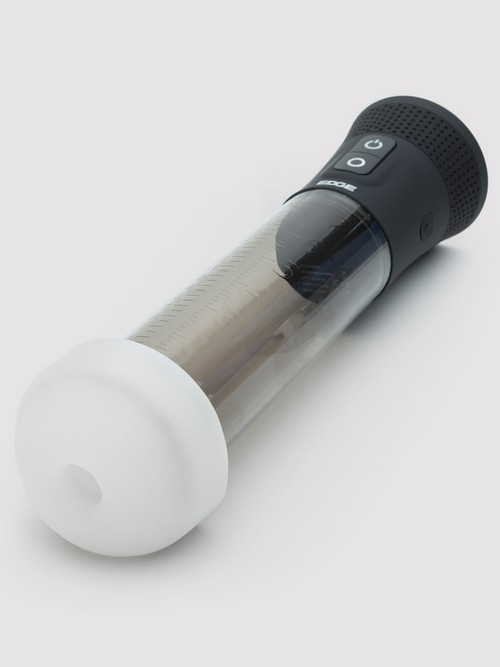 Electric pumps use automatic suction with the press of a button to boost erections and stamina. These pumps either plug in, are battery-operated or are rechargeable using a USB charging cable.
These pumps are much easier on the hands, for almost hands-free pumping and stimulation, but require a larger investment.
How to choose a Penis Pump
Features
When choosing your first penis pump it is important to look at the quality of materials to ensure you get a high-performance device. We suggest finding a product with medical grade materials that are body-safe and non-toxic. Most pumps are made of clear plastic tubing and feature silicone bases for comfort and rubber squeeze bulbs.
Be sure to take into consideration toy reviews and other features when choosing the best pump for you. All pumps should come with a quick-release valve for safety reasons, and some even feature precision pressure gauges so you can see how much pressure there is inside of the cylinder.
Some higher-priced penis pumps are considered "medical" devices, which are FDA approved and require a doctor's prescription to purchase.
At Lovehoney, we carry a large variety of different penis pumps for every need and use.
Manual vs. battery-powered pumps
The main difference between manual and battery-powered penis pumps is the ease of use. Electrical pumps are much easier on the hands, especially for men who have arthritis or manual dexterity issues.
Measuring for size
Before you purchase your first penis pump, it is important to measure to get the correct size cylinder.
Use a string to measure the circumference, which is the circular distance around the penis, to determine what size cylinder you will need. Make sure to measure the thickest part of the penis, while in an erect state. This will let you know what size you will need for a perfect fit.
Best Penis Pumps for first-time users
Here are the best pumps for beginners new to penis pumps and pumping pleasure from Lovehoney.
Tracey Cox EDGE Ultimate Performance Stamina Penis Pump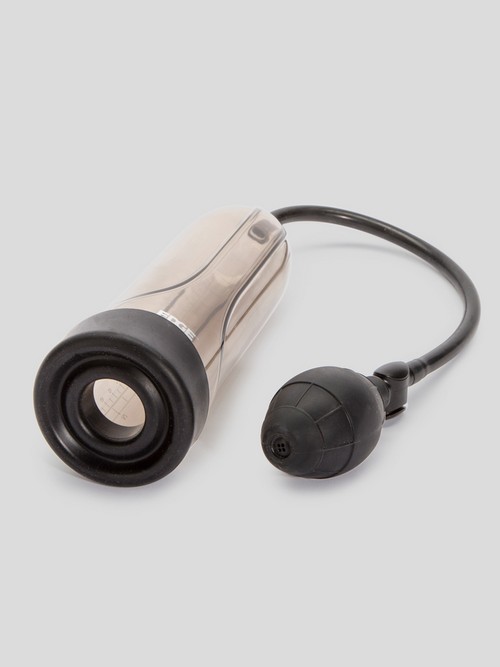 The Tracy Cox Edge Penis Pump is our bestselling erection toy here at Lovehoney and for good reason. Value-priced, easy to use, with step-by-step directions to enhance your pumping experience, this penis pump is sure to please.
Features quality, body-safe materials, a hand-held bulb and quick-release valve, plus transparent cylinder so you can see the results as you pump. Comes with Tracey Cox EDGE Stamina App that you can download for free to give you the edge in the bedroom.
Bathmate HYDROMAX7 Penis Pump Clear 5-7 Inches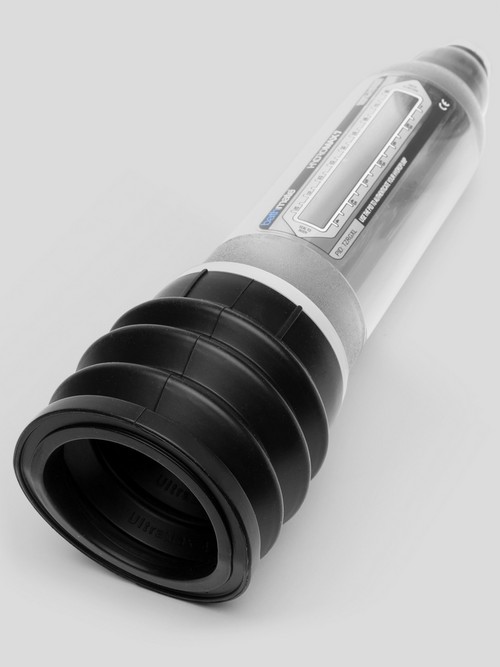 The Bathmate Hydromax7 is a hydraulic penis pump and a fan favourite. This mid-to-high-priced pump has 35% more suction power than the original model for men 7-inches in length and under.
Feel the difference of cushiony warm water immersing your genitals and ease of use as you pull the toy against you and thrust into its depths. Quality designed with vigorously tested body-safe plastic in a clear design so you can watch as you grow to new lengths. Use with the Bathmate Penis Pump Shower Strap to hold the pump in place while using it in the shower.
THRUST Pro Tech Realistic Vagina Automatic Pump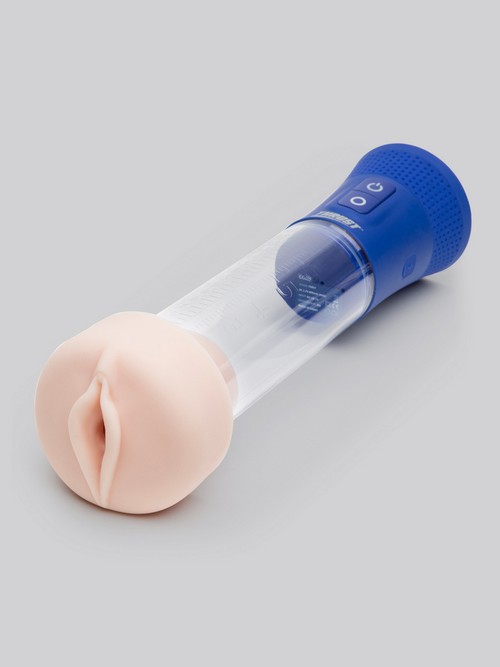 The Thrust Pro Tech automatic penis pump with 3 levels of suction will turbocharge your stamina and orgasmic intensity. Featuring 2 interchangeable base attachments to plunge into, including a lifelike vagina opening to ignite your fantasies.
This pump lets you lay back and relax as it does all the work, sucking and plumping your penis to its maximum potential. Coming with a USB charger so it is ready when you are, this mid-priced pump puts the pleasure into pumping.
Final thoughts: Always put safety first
Penis pumps are an excellent way to maximise erections and temporarily increase penis size. Used over time they can help increase stamina with daily use.
Always remember, it's safety first when using any type of pumping device on your genitals, and use common sense. Don't over-pump. Take it slow. And always stop if you experience any discomfort or pain.
While penis pumps can be used multiple times a day for the best results, do not pump longer than 15 minutes at a time, to avoid damaging the blood vessels in your penis.
Penis pumps are absolutely safe to use for most penis owners. If you take blood-thinning medication or have a history of blood disorders, make sure to consult your physician first to avoid complications.
If you happen to develop an erection that won't go away, seek emergency treatment immediately.
Penis pumping is not rocket science, but to be on the safe side, watch your body for any signs of bruising, pain, or overuse.
Pump safely!
Find more male enhancement products here to help increase stamina and erections.
More Sexual Happiness Advice
You can never know enough about sex, right? Why not join us on our sexploration journey? Stay up to date with the latest advice on our blog, the Lovehoney forum and the weekly Sexual Happiness podcast.