How to Use a Rabbit Vibrator: A Beginner's Guide
Perhaps one of the most widely recognized modern sex toys, rabbit vibrators have been a go-to choice for hundreds of thousands of vulva owners since they graced the small screen of HBO's Sex and the City. Depicted as a pleasure tool so powerful it could transfix the hit show's most sexually repressed main character, it's understandable that rabbit vibes were soon flying off the shelves after the now iconic episode's debut.
This classic vibrator style has done far more than make its mark on pop culture, though, maintaining its reputation as a tried-and-true pleasure provider for the masses decades after the Sex and the City craze died down.
Let's go further down the rabbit hole.
What Is a Rabbit Vibrator?
Rabbit vibrators are dual-stimulation vibrating sex toys that consist of a shaft (for stimulation of the G-spot and the sensitive vaginal opening) and a protruding arm (for clitoral stimulation). Anyone can use a rabbit when employing a bit of creativity, but the iconic vibrator style was designed with clit owners in mind.
Our Hottest-Selling Rabbit Vibes
How Does a Rabbit Vibrator Work?
Rabbit vibes work by simultaneously stimulating (at minimum) the clitoris and G-spot, providing an avenue for blended orgasms (ones achieved via the stimulation of multiple erogenous zones as opposed to only one). One or more motors power up rabbits, making the toy vibrate against users' hot spots.
Common Rabbit Vibrator Features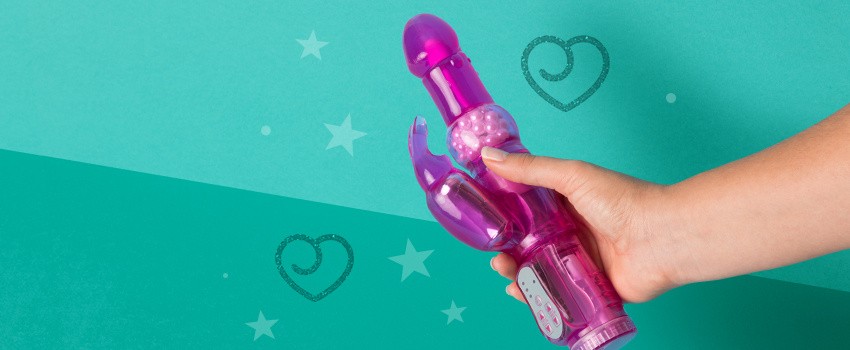 Clit-Stimulating Arm
All rabbit vibes feature an arm towards the toy's base (for maximum insertable length) with some form of clitoral stimulator on it. Many of these clit stimulators have a little extra ~pizazz~, typically offering a bit more than a standalone smooth bullet-style feature.
There are versions with protruding, clit-hugging ears, some with the arm and ears even shaped like a bunny, as seen in the toy's prototypical design. Some styles move about in a windshield-wiper motion, effectively rubbing your clit for you. Others may feature a suction-based stimulator. And then there are the minimalist clitoral arms, relying on good old-fashioned vibration to get the job done.
No matter how high-tech or simple, each rabbit vibrator has an attached clitoral stimulator. If it doesn't have a clit tickler, it's simply not a rabbit!
Best Rabbit for Constant Clitoral Stimulation
We-Vibe Nova 2 App Controlled Rechargeable Rabbit Vibrator
If crazy-good clit stimulation is a non-negotiable for the contents of your toy box, then the We-Vibe Nova 2 is the rabbit for you. The vibrator's flexible curved clitoral arm bends with each thrust to ensure constant clitoral contact, no matter what part of the action you're at.
What customers say: "This rabbit vibrator is fantastic! The silicone feels lovely and the vibrations are perfect for me. It's super easy to charge and the App control is very intuitive. Thanks to the design of the clitoral stimulator it means there is constant vibrations on my clitoris - something which I can struggle with when it comes to rabbit vibrators!"
Shaft
Another key component in rabbit vibrators? An insertable shaft for internal delights. Just as the case is with rabbits' clit stimulators, there's a vast world of shaft features to explore. One common shaft design, as seen in the first-ever rabbit sex toy, is a portion with rotating beads for extra stimulation. Another popular feature is automatic thrusting, making your rabbit do allllll the work for you. Essentially, if a shaft function is available in classic insertable vibrators, you can probably find a version of it for rabbits.
Best Rabbit for Satiating Shaft Action
Happy Rabbit Curve Thrusting Rechargeable Rabbit Vibrator
The Happy Rabbit Curve lets you work smarter, not harder, with a shaft that produces thrusting sensations without you having to move it in and out. A thrusting vibrator like no other, the Happy Rabbit Curve utilizes a unique internal thrusting mechanism that gives your G-spot the oomph it's looking for without changing the toy's length.
What customers say: "Great quality. Size is perfect for solo play. Thrusting is a game changer. Tickles, pulses, thrusts - add all the options and possible combinations and there is a lot of fun to be had. Very very happy with my purchase. Plus it's quiet!"
Dual Motors
Most rabbits boast a motor in the vibrator's shaft and clit stimulator, respectively. Oftentimes these motors can operate independently, letting users tailor vibration intensity and patterns to their hot spots' individual desires. Double the motors also equals double the power, making dual-motored rabbits a perfect match for lovers of intense vibration.
How to Use a Rabbit Vibrator for Masturbation
Using a rabbit vibrator for solo play is fairly intuitive, but no judgment here if you need a little guidance to figure out how to use a rabbit sex toy. After all, helping you achieve erotic bliss with ease is what we're here for!
1. Get lube-happy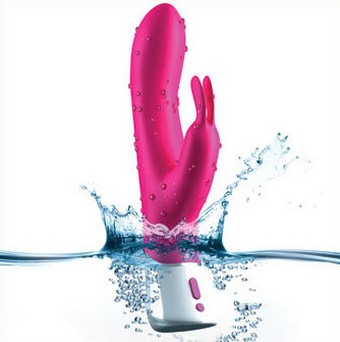 It's a good rule of thumb to use lubricant with any type of insertable sex toy, and rabbits are no exception. In fact, lubrication, whether manufactured or natural, is a necessity for vaginal or anal play. Give your love hole a helping hand by coating your vaginal opening and your rabbit vibrator's shaft with a generous supply of lube.
Bed bunnies can also lube up their toy's clit tickler and the clit itself if they enjoy slick sensations on their vulva.
Just make sure to check that your chosen lubricant is compatible with your rabbit vibrator's materials before getting wet and wild to prevent sex toy degradation. Water-based lube like Lovehoney Enjoy is generally a good call when playing with pleasure products, as their formulas are safe for all sex toy materials.
2. Start with the clit stimulator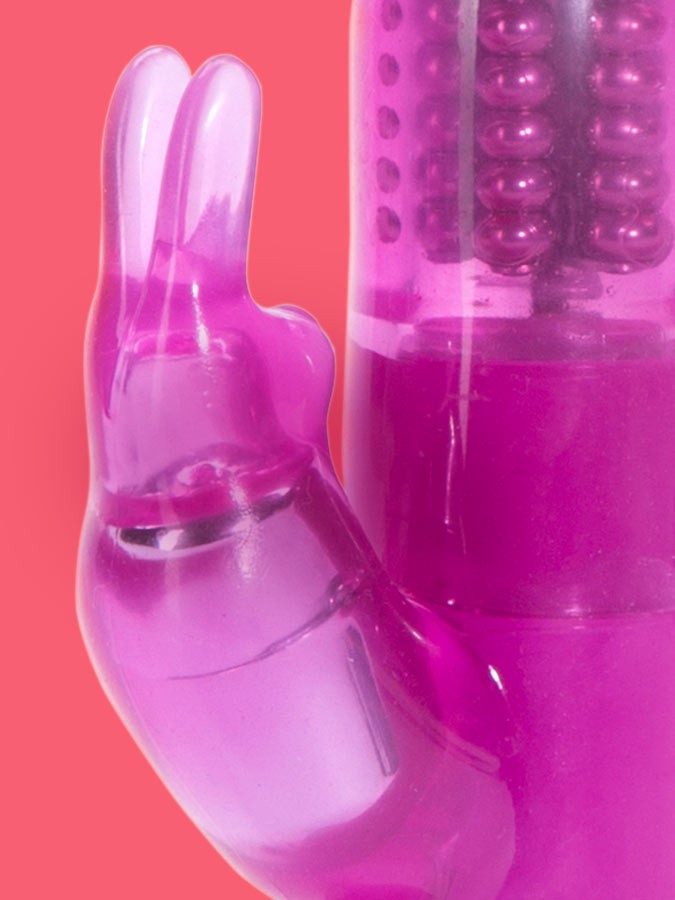 Begin your bunny hop by experimenting with your rabbit sex toy's external arm; explore the different patterns and vibration levels until you find a combination that makes your clit happy. Figuring out exactly which settings you love before using the entirety of your rabbit will make it easy to operate once you do take the full plunge.
You might even want to delay shaft insertion for a while, diddling yourself with the clit tickler alone to build arousal for a bit of self-foreplay.
Once you know what your clit's into and you're highly aroused, turn your rabbit's external vibe off before proceeding to the next step (don't worry - you'll get back to that delicious clit stimulation soon!)
3. Insert the shaft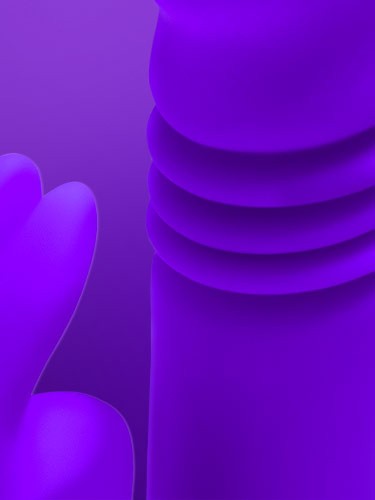 Place the rabbit vibrator's head at your vaginal entrance, ensuring it's in position so that the clitoral arm is at the front of your body; then, insert the toy's length into your canal. Once inside you, you may need to adjust the clit stimulator's position so that it's in contact with your love button.
4. Enjoy!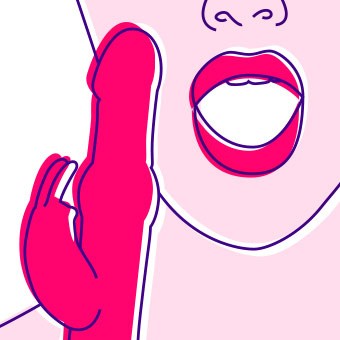 After your toy is in that just-right spot for your specific anatomy, turn on both motors and explore pattern combos to your heart's content. You can either thrust your bunny in and out or leave it be, enjoying uninterrupted clit stimulation as you delight in the shaft's fullness and G-spot gratification.
While these rabbit vibrator tips are a helpful starting place for beginners, keep in mind that these steps aren't rules to live by. The best advice we can give on how to use a rabbit vibrator is simply to do what feels good for YOU!
Can Couples Use Rabbit Vibrators?
Now that you've hopped on the rabbit train, you may be eager to share your new-found bunny love with a partner. If so, we've got good news! Any type of sex toy, rabbit vibes included, can be used for couples' play - it just may take a little more creativity than when using pleasure products specifically designed for couples.
Try the following play ideas to engage your rabbit and lover simultaneously.
Enhanced Oral
Use a rabbit vibe on yourself as you go down on your partner to get while you give. As a bonus, the moans you're sure to make thanks to your bunny friend will vibrate against your partner's bits, providing them with even further stimulation.
A Titillating Show
Pick up your rabbit and put down your inhibitions for a sultry exhibitionist act starring you and your trusty vibrating pal. Let your lover watch as you lose yourself in bliss for a performance they'll never forget. Feeling kinky? Add some power play to the mix by making your partner wear a chastity device during the show for exquisite torture.
Double-Stuffed Love
Get your rocks off anally AND vaginally by pairing butt sex with rabbit vibe play. Not only will the DP (double penetration) action be intensely sensational for you, but it will also bring added stimulation to your partner. The rabbit's shaft will stretch against your posterior vaginal wall, making your rectum feel tighter, and your boo will be able to feel any of its fancy functions through that shared wall, too.
Double Trouble Rabbits
If you and your partner both have vaginas, you might opt for a double-ended rabbit like the Together Toy, so everybody has a bunny! Another couple-focused rabbit variation to explore is bunny-eared strap-ons like the Desire Luxury Strapless Strap-On Dildo Vibrator.
Ways to Get More Out of Your Rabbit
Try Using It with a Partner
Have you already fallen in love with your rabbit? Share that passion with your boo! Use the above rabbit vibrator tips for couples to inspire your partnered play time.
Explore Triple Stimulation
What could be better than simultaneous stimulation of two of your hot spots? Simultaneous stimulation of THREE of your hot spots! Pair your blended G-spot/clitoral bliss with the pleasing of another favored erogenous zone like the breasts or booty. You could enlist the help of a separate sex toy like nipple clamps or stay true to your rabbit path with a tri-stimulation rabbit vibrator like the Lovehoney Jessica Rabbit 10 Function Triple Rabbit Vibrator.
Experiment with Different Positions
Sex position exploration isn't just for partnered sessions! Try using your rabbit while lying on your back, seated, on your stomach, standing, and on all fours. You can even enjoy squatting positions when using a suction-cup rabbit vibrator. You never know what buttons your toy will press in different positions until you try them, and what an orgasmic journey to take!
How to Choose a Rabbit Vibrator
Choosing the right rabbit vibrator (or any other type of sex toy) is all about knowing your body and stimulation preferences. Simply ask yourself a few relevant questions, think about what kinds of toys you currently enjoy, and apply your sexual self-awareness to the features of the rabbits you're interested in to find your perfect match.
For instance, are you always skipping to your vibe's highest power level? Try a rabbit with a hella strong motor. Or perhaps your genitals lean towards the sensitive side. In that case, choose rabbit vibrators that have a wider range of intensity settings.
Consider the Clit
What kind of touches does your clit positively respond to? If you need constant clitoral contact to get off, choose a rabbit with a curved, bendable arm like the We-Vibe Nova 2 or one with automatic thrusting like the Lovehoney Dream Rabbit Rechargeable Silicone Thrusting Rabbit Vibrator that you can leave in place. Are you way into oral? Then pick a rabbit that mimics skilled mouths like the Lovehoney Indulge or Lovehoney Whirl. If your clitoris prefers a light tickle, go for something with soft, flexible ears like the Lovehoney Dream Rabbit Rechargeable Silicone G-Spot Rabbit Vibrator. Your clit already knows what it wants - you just have to listen to it.
Think Inside Your Box
Contemplate what your favorite aspects are of penetration. Is it the delectable sensations that accompany a come-hither movement from a good fingering sesh? Do you love the feeling of a lover thrusting in and out? Do you get off on the warmth of your body intertwining with another's? Or maybe you're all about a big stretch. Whatever it is your love tunnel is into, you can likely find a rabbit vibrator with functions that simulate your fav sensations.
Recommended Rabbit Vibrators
More Sexual Happiness Advice
You can never know enough about sex, right? Why not join us on our sexploration journey? Stay up to date with the latest advice on our blog, the Lovehoney forum and the weekly Sexual Happiness podcast.