How to Choose a Strap-On Harness
Strap ons are a great sex toy for couples. They allow you to penetrate your partner, while keeping your hands free for other fun… We've come a long way since dildos on a piece of elastic, so now when people speak about a strap-on, they usually mean a strap-on harness.
A strap-on harness lets the wearer have more comfort and control, ensuring they can give the most pleasure to their partner. Most of the time, you can also switch dildos in and out of a harness so you can experiment with a whole range of toys.
Product featured: Sportsheets Newcomers Strap-On Starter Kit
How to Choose a Strap-On Harness
To help you choose the best strap-on, it's important to understand how a harness is put together.
A strap-on harness is made up of three main parts:

1. Harness

The strap-on harness itself, which usually has a padded front section and a series of adjustable straps that you step into and then adjust at the waist and/or the legs.

2. O-ring

Either a fixed hole to put dildos through, or an O-ring that attaches to the harness.

3. Dildo

A harness dildo that fits the hole or O-ring (a harness usually comes with at least one dildo to get you started).

If you're new to strap-on sex, we suggest buying a kit from our Dildo Harnesses & Kits section that will give you a harness and a compatible dildo - everything you need to get started!
Above: Watch Sammi Cole tell you all you need to know about strap-on harnesses.
O-Rings Explained
You'll probably have an idea of the sort of size dildo you want to use in your harness. The diameter of the hole or O-ring dictates how big or small a dildo your harness will hold.
The bigger the O-ring, the bigger the dildo it will fit (and vice versa)!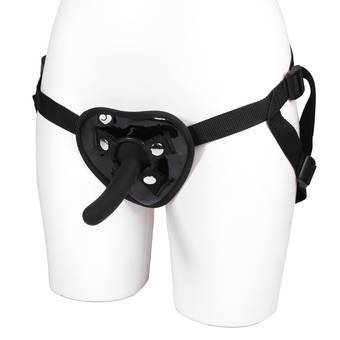 A beginner to 'pegging' (a man being anally penetrated by a woman) might like to start with a very slimline dildo to get used to the sensations. If that's the case, go for a harness with a 1.25 inch O-ring like the Sportsheets Newcomers Strap-On Starter Kit.
However, if you think you will quickly progress to something bigger, choose one with interchangeable O-rings, like the Lovehoney Beginner's Strap On Harness Kit. This will give you the flexibility to move up in size without having to buy a new harness.
Someone more experienced at being penetrated, vaginally or anally, might like to go for more of a challenge - so choose a harness with either a 1.5 inch, 1.75 inch or 2.0 inch diameter O-ring.
The Lovehoney Advanced Strap On Harness Kit is a great choice for the intermediate to experienced player - it comes with a 7 inch G-spot dildo, but the beauty of this harness is that it has an interchangeable O-ring, so you can go as big (or small) as you like.
If you go for a harness with an interchangeable O-ring, you'll get even more versatility.
If you choose a harness that doesn't have an interchangeable O-ring you can only use dildos that fit snugly in the ring supplied. If you want to go bigger or smaller you will have to buy a whole new harness rather than just changing the O-ring and the dildo.
So, if you plan on using lots of different dildos and accessories with your harness, choose one where the O-ring (as well as the dildo) can be changed. Although the up-front cost may be a little more, you're giving yourself a lot more choice.
If you've already got a harness and want to buy a compatible dildo, check out our Harness Dildos section and give our guide: How to Choose a Dildo to Fit Your Harness.
Strap-On Harness and O-Ring Size Chart
Use our handy at-a-glance chart to choose a harness with the right type of O-ring for you.
Strapless Strap Ons?!
If you're more experienced, there's also the strapless strap-on to bear in mind. With one of these, you can get a greater sense of closeness as there are no straps to get in the way.
The larger bulbous end is worn in the vagina and the longer end is used to penetrate the other partner. A strapless strap on is great for vaginal penetration, or for those experienced in anal play, as they're often quite large in length and circumference.
Strapless strap-ons can be found in our Strapless Strap Ons section.
Need more help?
You can Contact Customer Care, who will be able to help you find the perfect harness. You can email, telephone or live chat to an experienced advisor 24 hours a day, 7 days a week.
---
You may also like