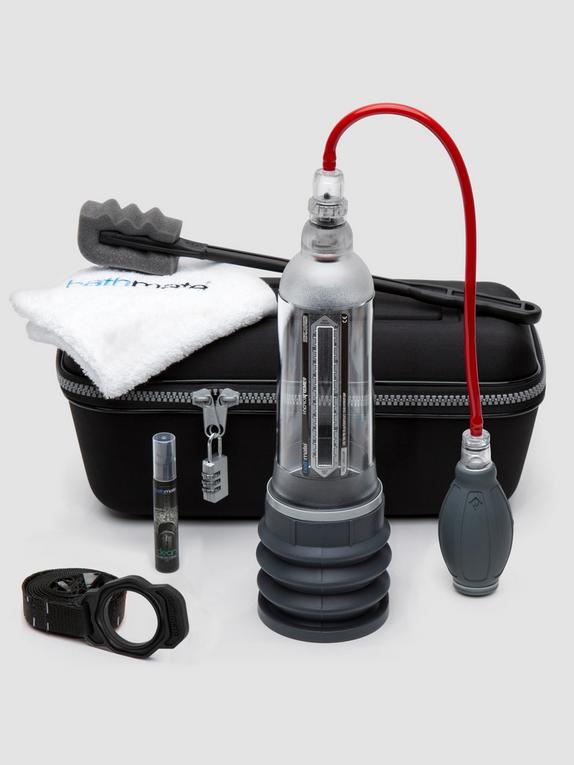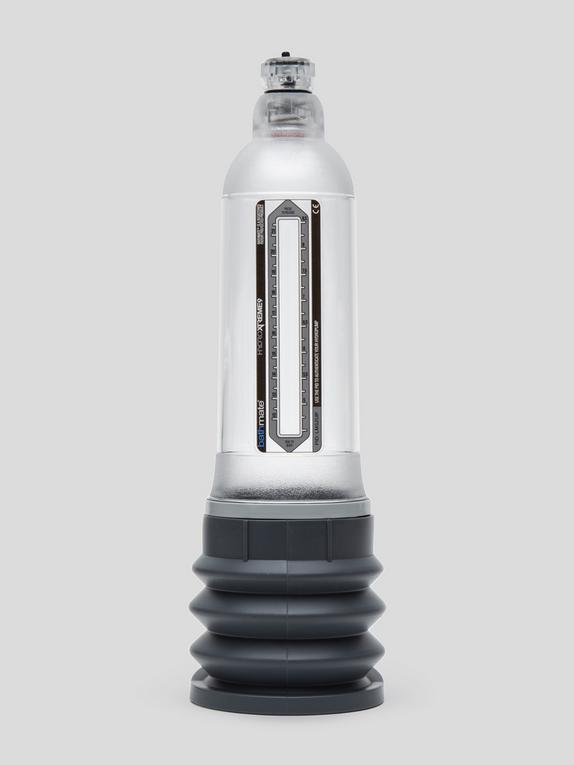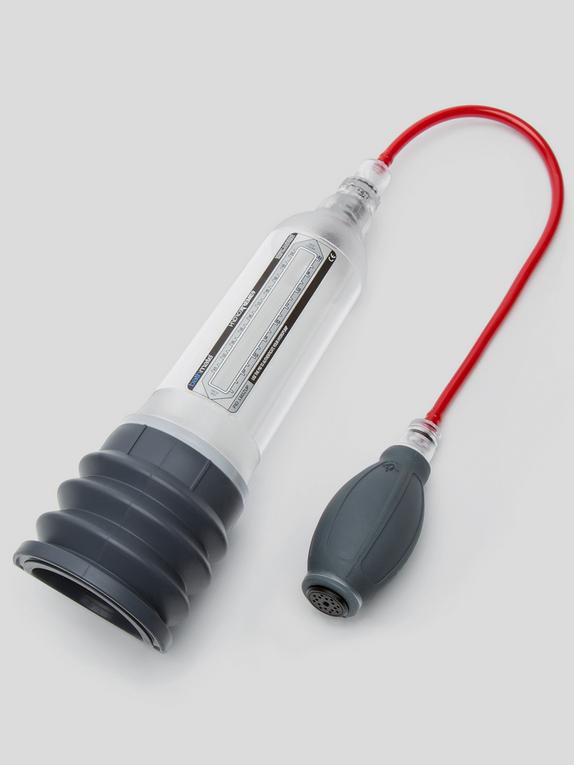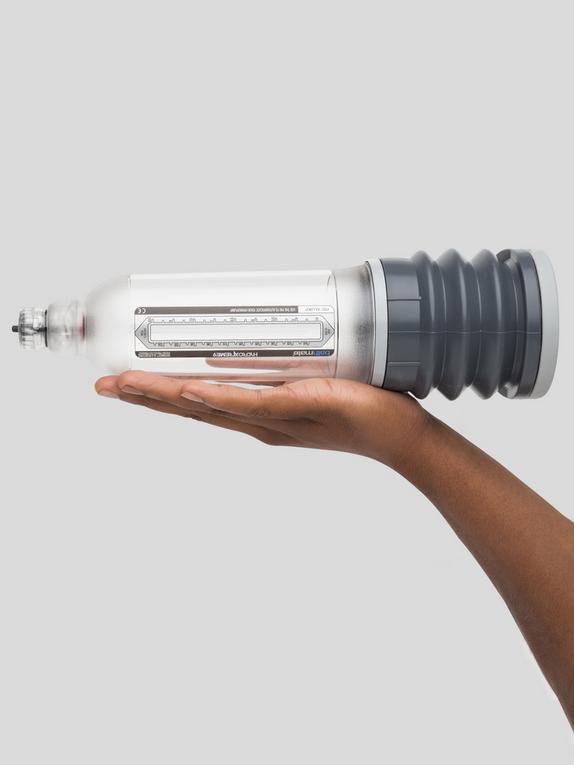 Bathmate HYDROXTREME 9 Penis Pump Clear 7-9 Inches
Last chance! This product is not going to be re-stocked!
Penis pump that uses hydraulic pressure to potentially enhance erection size and stamina
For men with pre-pumped erection length of 7-9 inches and maximum girth of 7.5 inches
Measurement gauge on cylinder so you can track your gains
Hand-held ball pump for alternative pumping motion
Swivel function allows 360° pivoting for use in any position
Pump it up with one of Bathmate's most powerful penis pumps. Using the power of water, the HYDROXTREME9 pump creates a vacuum around your penis that can increase its length and girth. Includes 11 different accessories for optimum results.

Designed for use in the bath or shower, the Bathmate HYDROXTREME9 penis pump uses water, rather than air, to create optimum safe pressure around your penis which can enhance your erection strength and penis size.

Monitor your growth with ease thanks to the transparent finish and measuring gauge on the side of the pump.

The included comfort pad and lubricant offer pure comfort during pumping – just one session a day involving up to 3 reps of 5-6 minutes can help to deliver impressive results.

Please note: The HYDROXTREME9 is the same product as the original HYDROMAX XTREME X40.

For best results, Bathmate recommends a maximum of 3 x 5-minute sessions, 5 days a week. If pumping regularly, we recommend moisturizing after every use to avoid dryness.

Results may vary.
Essential Info

Allergens: Latex-Free , Phthalate-Free
Features: Set
Waterproof: Submersible

How it Measures Up

Canal diameter: 2.5 inches
Internal Length: 11.5 inches
Opening: Neutral

How it Feels
Product videos
Pump it up with one of Bathmate's most powerful penis pumps. Using the power of water, the HYDROXTREME9 pump creates a vacuum around your penis that can increase its length and girth. Includes 11 different accessories for optimum results.
Male Sex Toy Advice
Unlock unlimited pleasure by consulting our Male Sex Toys guides, written to help you choose and use the best Male Sex Toy for you.
Frequently bought together
Popular combos for more sexy fun
Customer reviews
4.2
4.2 star rating
5 Reviews
4.2
4.2 star rating
5 Reviews
Thank you for posting a review!
We really appreciate your opinion and hope to see you again soon.
Thank you for posting a review!
Your review was sent successfully and is now waiting for our staff to publish it.
Search reviews
5.0 star rating

4.0 star rating

3.0 star rating

2.0 star rating

1.0 star rating
Broke on first use
Review by Verified-Customer on 11 Feb 2021
review stating Broke on first use
Bought this on a whim one day thinking I'd give it a shot and this one appeared to be the best. I was wrong. This thing is a finicky mess. There is a tiny black piece of plastic at the top that controls opening and closing the valve. Well that piece is only held in with a pressure fitting and can just fly out. On my very first use, I was struggling and the shower strap pulled that whole end assembly apart when I took it off. It looks simple enough to put back together but I have tried every orientation for these parts and it now leaks and doesn't work at all. They have a video online showing how to put this together but it is either missing details or this version is designed totally different. Anyway, if you are thinking about buying this, don't. You will regret it.
Cons:
The easy with which plastic parts and gaskets can come flying out.
Bottom Line:
Terrible purchase.
On Bathmate HYDROXTREME 9 Penis Pump Clear 7-9 Inches
Yeah, this shit goes hard
Review by Verified-Customer on 25 Oct 2020
review stating Yeah, this shit goes hard
It fit my huge 9 inch hammer perfectly and just went to town. Like I can't explain the satisfaction. It did a better job than my bf for sure. Like that man can not pump my penis like this thing. Hopefully he learns but until then this thing is my new bf
Cons:
Its white elephantness.
On Bathmate HYDROXTREME 9 Penis Pump Clear 7-9 Inches
Hydro Extreme9
Review by Verified-Customer on 26 Jan 2019
review stating Hydro Extreme9
Recently purchased this from another site. I am 57 yrs old but genetically blessed (thanks dad). Muscular physique, don't look 57 and my cock is very large 8 and 3/4 inches long and 6 inches in girth. Only been using for one week but have been using stretching and jelqing techniques for a year or so. This thing really does work, followed the routine 3 x 5/10 mins everyday. My cock length is now 9 inch and girth is 6.5 inches, awesome stuff. The gains are temporary to start with, last about 10 hrs ish. But with persistence, its a marathon not a sprint, the gains will be permanent. There is no reason why i shouldnt get to 10 inches in length and 7 inchs in girth..... late porn career awaits lol, seriously get one, it really does work!
Bottom Line:
Brilliant PE product.
Pros:
Easy to use, well made quality product.
On Bathmate HYDROXTREME 9 Penis Pump Clear 7-9 Inches
The best a man can get
Review by Verified-Customer on 20 Sep 2015
review stating The best a man can get
The product came triple wrapped. The actual Bathmate logo'd box was inside a taped up anonymous white cardboard box, which then is inside the first brown postal one. This was impressive as no one could have opened it and 'accidentally' learnt what it was without you knowing they intentionally were trying to. Good move there as customers value their privacy. The supplied case was very nicely made, and came with additional 'extra' parts such as a cleaning tool and a little towel to dry it off after use (useful). So although expensive, I felt the 'full user experience' with this product, was better than lesser models due to it coming with everything you need and if you look after it, it will last years. I ordered the X40 Extreme due to becoming temporarily 'stuck' in the X30 for a few moments! This hair-raising experience called for an upgrade to the X40 Extreme and laid to rest my own skepticism if these pumps work over time or not - they do. Using the X40 Extreme for the first time, what immediately satisfied me was after use, the pump did not produce the sore 'gaitor bites' (the wider diameter X40 prevents this) where the rubber base digs into the base of the organ and pinches it, as you expand inside. Thus it was nice to be able to use the product and not worry about being squashed at the sides and it felt able to accommodate me, without being massive. I had read online some people commenting that it was hard to get pressure in the X40 due to it's large diameter. Well I had no such problem myself, in fact the pressure in the X40 (without using the optional hand pump to further increase pressure) blew the X30 away, perhaps as they have redesigned the valve at the top of the cylinder with a locking feature - which I will discuss in a moment. Also I noted, despite impressive pressure levels, the X40 Extreme didn't cause the usual donut effect where lymph fluid is pulled into the skin that is hard to avoid - or so I thought, as this product doesn't do it! Instantly I used it, I knew it was a worthwhile investment and the best product I have ever used for this purpose, without question. A small niggle for an otherwise perfect product: The hand pump attachment (optional) irrespective if I place the red hose into the top of the cylinder when it is 'locked' or 'unlocked' I got immediate depressurisation when doing this until I figured out you have to place the connector in very gently. Also, when storing everything away I found the hand pump ball, was still full of water, so I had to remember to squeeze and shake this all out carefully. When disconnected from the cylinder, when squeezing it (to expel excess water) it makes a loud high pitched squawking noise rather like a fire alarm test 'peep'. So don't do this if you want to use it quietly with other people in the house as they'll ask what the noise is! Also there are no markers on the valve at the top of the Bathmate cylinder that you turn to lock and unlock the unit (not the black 'pip'), so you have to remember if the cylinder status is locked or not when letting water out by pressing the top of the unit down, or you can't remove it from your body! Hopefully in future versions the manufacturer can have an etched coloured indicator (green and red) to show when the unit is locked to avoid confusion. Other than this, I can see no negative points, it's a great product and definitely produces results better than anything else I have ever used, including my old X30, this is far superior.
Pros:
Quality of construction, very powerful, nice bag with lock.
Bottom Line:
You won't be disappointed. The best on the market.
On Bathmate HYDROXTREME 9 Penis Pump Clear 7-9 Inches
The Best Penis Pump Available
Review by Verified-Customer on 25 Jul 2014
review stating The Best Penis Pump Available
The Hydromax X40 Xtreme is the 4th penis pump in our collection, but after viewing this product recently at a trade show and witnessing a demonstration on the effectiveness of the hand pump attachment, we were super excited about trying this pump. Product Information: The Hydromax Xtreme X40 is actually a penis pump set. It comes with a discreet, black, zip up carry case that can be used for long term storage (This case even comes with a combination padlock, to keep people out) and inside this case, you will find everything needed to begin your penis pumping routine. Included in the set, you will find the following items: The Hydromax X40 Xtreme Penis Pump: The pump itself, including gaiter, comfort pad and valve, measures 13.25 inches in length. The entire length of the chamber, with its gaiter compressed, is 10.5 inches and this is roughly the length that the X40 Xtreme pump will allow you to expand to, before you need to consider a longer/bigger pump. The pumps chamber measures 9.25 inches in circumference around the base (Just after the gaiter) and 8.25 inches around the top (the part of the chamber just below the valve). As you can see, this is a large penis pump, designed for men who are larger than approximately 7 inches in length and 5 inches in circumference (girth) before starting. If you are smaller than this, you may also consider the X30 Xtreme, which is a smaller pump overall, but the X40 can still be used by smaller men too, with the confidence that it should never need to be upgraded. This means that the vast majority of men should benefit from the X40 Xtreme penis pump. Aside from the stickers and the valve design on the top of the X40 penis pumps (the x40 and the x40 Xtreme), both pumps are the same. The Hand Pump Attachment: This is a high quality, solidly designed hand pump attachment with a valve at the end. This valve does not release pressure like the valve on the pump does. Instead, this valve simply helps build the vacuum while allowing water, or air, to pass through. To release the vacuum within the chamber, you need to press down on the valve system on the pump, not the hand pump. The hand pump attachment comes with a 15.5 inch long hose and the ball, or pump, measures 4 inches in length and 6.75 inches in circumference. The Comfort Pad: The comfort pad is a cushioned pad, made from a rubber material and designed to slot inside the gaiter to provide more cushioning and comfort during pumping. This material is softer than the material used to create the gaiter, so it does help increase comfort. Measuring Gauge: This penis pump set comes with a measuring ruler that allows you to measure both the length and girth of your penis. This helps you to track your progress as you continue throughout the weeks and months to come. Shower Strap: This strap allows you to wear the X40 Xtreme, hands free. Simply attach the strap to the pump and put the strap around the back of your neck. It will comfortably hold the pump in place for you. Cleaning Instruments: Contained in this set are a long handled cleaning sponge, for getting the inside of the pumps chamber clean between uses and a high quality, thick flannel/small towel which contains the Bathmate logo. Extras: You will also find a small bottle of water based lubricant and a manual packed with tips and instructions for using this penis pump. Our Experience using the Hydromax X40 Xtreme: We discovered that the Hydromax Xtreme X40 pump could be used as a hydro-pump, or as a standard air pump. We did notice however, that it felt more comfortable and functioned better as a hydro-pump. The water seems to create a better vacuum, a better seal and felt more comfortable overall. If you do decide to use it as an air pump, we found that applying water-based lubricant to the comfort pad before use, created a better seal. The Hydromax Xtreme X40 can also be used in the exact same way as the standard Hydromax X30 and X40 pumps, in that you can compress the gaiter and create a vacuum by manually pulling the pump into your body. However, the difference between the Xtreme X40 and the standard pumps is that the Xtreme also comes with a hand pump attachment. This allows you to create a vacuum by compressing the hand bulb instead of pulling the device into the body. The hand pump may seem like an after-thought or an extra addition for those who prefer variety, but in our experience it was so much more than that. One of the main benefits to using the hand pump and the reason why it became my partner's preferred method of use is because it removed the need to compress the gaiter manually into the body. Not having to do this reduces the uncomfortable bruising/pressure sensation that he felt around his pubic area during use. It also took a lot of effort out of pumping his penis. He could lay back, relax and simply squeeze the bulb when needed, instead of forcing the gaiter into his body. This feature could be a huge benefit to those suffering from a weakness or disability, especially in the arms, wrists or hands. Another amazing benefit to using the hand pump, is that it allowed him to use the Hydromax Xtreme to maximum affect. He was able to pump out another few squirts of water/air using the hand pump, than he could achieve by compressing the gaiter into his body. This meant he could go that extra few percent further than he could manage without the hand pump. For those who demand perfection, or wish to get maximum benefit from their penis pump, I believe the Xtreme, with its hand pump attachment, would be the right choice. Of course, the hand pump attachment is not perfect. We discovered that the connection between the hose and chamber could be temperamental before the vacuum was created. The slightest knock would cause the hose to fall off. Mind you, this was a minor fault, because as soon as we created a vacuum, the hose would remain attached. As a side note, you don't have to have the hose attached to the bulb or the chamber if you don't want to. The bulb itself can be connected to the chamber directly if you wished. The results: Just as with our experience with the Hydromax X30 and the Hydromax X40, the results using the X40 Xtreme were incredibly impressive. While I do not personally believe that there is a permanent way to increase the size of your penis (aside from surgery maybe), we were both extremely pleased with the results overall. The most noticeable results occurred for the first hour after pumping, when there was a noticeable increase in both the length and the girth of his penis. These results would gradually recede and by the next day, his penis would have returned to its normal size. With regular, consistent use, we noticed the results stayed for longer and I have no doubt that if he keeps to a regular schedule, the changes would stay for longer still. However, I also think that if he stopped using the pump, his penis would eventually return to normal. Bathmate liken the pumping process to working out at the gym and I believe that analogy describes the results perfectly. You need to commit to see/keep results. Summary: The Hydromax x40 Xtreme is THE best penis pump that we have had the pleasure to use (and we have tried a few, including two other Bathmate products). I believe the reason we loved it so much is because it is just so versatile, functioning both in and out of the water and offering you two different options for creating a vacuum. With regards to comfort and function, it was very similar to our experiences with previous Bathmate penis pumps, in that you could tell you were using a high quality, well designed product. The additional extras that come with the Xtreme are just the icing on the cake and will help to complete your experience and keep track of your results, which is great. We felt that the Hydromax Xtreme set comes with everything you need to begin a penis pumping schedule and I cannot see it ever needing to be upgraded, unless you manage to outgrow the chamber, which would be unlikely for the vast majority of males (but not all). Because the X40 Xtreme is so versatile, yet simple to use, I would be happy to recommend it to the vast majority of males, from complete beginners, right through to those advanced users who demand perfection from their enlargement products. This is my partner's 4th penis pump and is his favourite by far. It is pricey, but we felt it was worth the cost. If money is an issue though, we recommend the Hydromax X40, which is also a fabulous pump, but it lacks the versatility and that extra few percent performance that can be achieved with the Xtreme.
Bottom Line:
The best penis pump we have tried to date.
Pros:
Versatile, comfortable, high build quality and excellent results.
On Bathmate HYDROXTREME 9 Penis Pump Clear 7-9 Inches