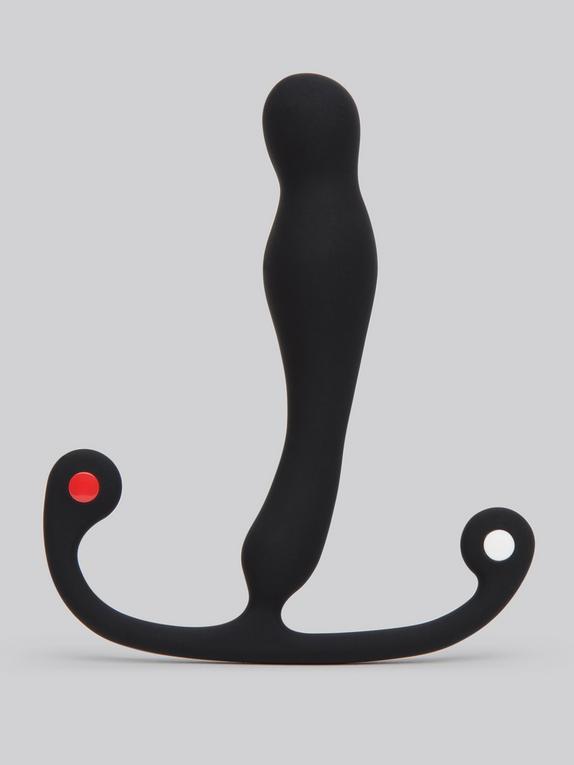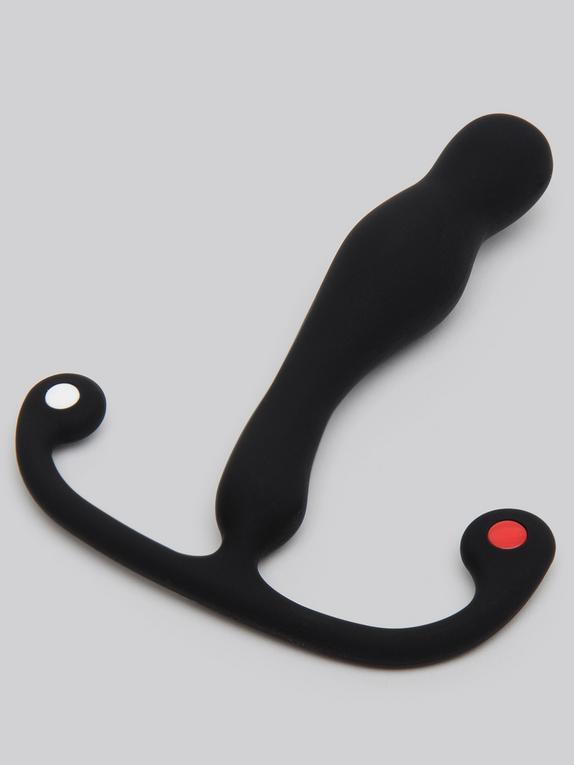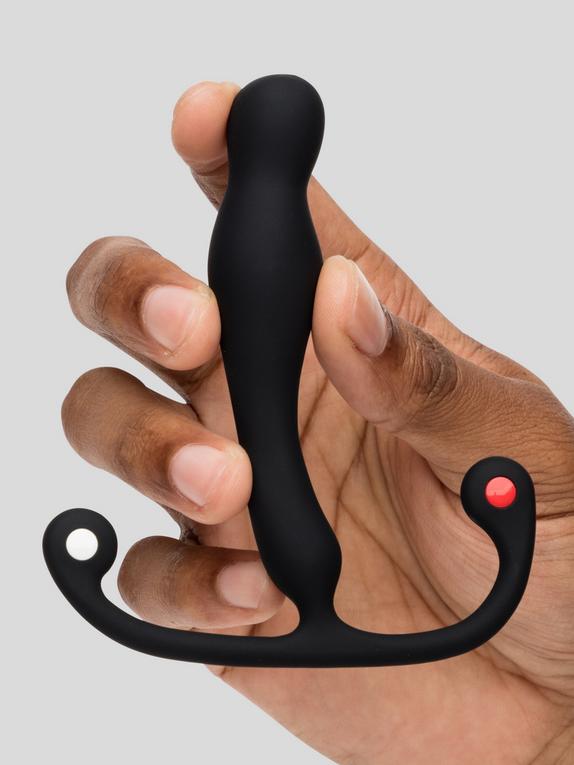 Aneros Eupho Syn Trident Prostate Massager
Last chance! This product is not going to be re-stocked!
Ergonomically designed Aneros prostate massager for gorgeous P-spot stimulation
Recommended for those with anal play experience
Enhance oral play by adding this booty beauty into the mix
Pair with water-based anal lubricant for effortless insertion
Euphoric adventures are yours with this slim, specifically curved prostate massager with sweet spot targeting bulbs. The streamline stem offers precise control and movement for experienced users looking for subtler sensations during sex and solo play.

The contoured stem is perfect for reaching your internal hotspots and measures a slim 2.75 inches at the widest part.

The arms of the base provide ample opportunity for external stimulation and ease of use.

Enjoy easy P-spot, anus, perineum and Kundalini spot massages alone or with a partner.

Always use with a good quality anal lubricant for the most pleasurable sensations.

Part of the Trident Series, comprising the newest design innovations including redesigned arms for enhanced stimulation and uniquely balanced body contours for internal movement.
Essential Info

How it Measures Up

Circumference: 2.75 inches
Insertable Length: 4 inches
Length: 4.5 inches

How it Feels

Flexibility: Rigid
Material: Silicone
Male Sex Toy Advice
Unlock unlimited pleasure by consulting our Male Sex Toys guides, written to help you choose and use the best Male Sex Toy for you.
Frequently bought together
Popular combos for more sexy fun
Customer reviews
4.4
4.4 star rating
14 Reviews
4.4
4.4 star rating
14 Reviews
Thank you for posting a review!
We really appreciate your opinion and hope to see you again soon.
Thank you for posting a review!
Your review was sent successfully and is now waiting for our staff to publish it.
Search reviews
5.0 star rating

4.0 star rating

3.0 star rating

2.0 star rating

1.0 star rating
P-spot
Review by Jackson69 on 28 Jun 2020
review stating P-spot
Didn't give it a 5 star because it wasn't long enough nor was the curve big enough. Easy clean up. Not as good as the Progasm Good for beginners But not for me. It doesn't move as much as the helix and isn't as filling as the vice. I'd star with the Progasm Jr
On Aneros Eupho Syn Trident Prostate Massager
It's the one
Review by Sammysandwich1984 on 27 Jun 2020
review stating It's the one
If anyone has seen any of my reviews, you'll know ive a collection of prostate massagers, which have been unsuccessful in giving me what we are all chasing. The elusive prostate orgasm or super O. I have pretty much all the aneros massagers as well as vibrating ones like the loki. Bigger is what ive always gone with without any success. So i thought id change tact and opt for the thinner longer Eupo. Boy im glad i did! Easy to insert with LH water based lube, i could tell it was different straight away. Its light and the outstanding quality of the trident range. It hit my prostate straight away. Due to it being light it moves about really as you lie and enjoy the sensations. After a while pins and needles started to happen in my feet and legs........my body and heart beat went mental, feeling like i was having an out of body experience the massager hammered my prostate like none of the others. Pre cum everywhere and the most instense 5-10 minutes of multiple orgasms over and over. Finally achieving the impossibel!! Ive never felt anything like it. This one for me is hands down the best one ive ever tried. Smaller is better!
Bottom Line:
100% incredible.
On Aneros Eupho Syn Trident Prostate Massager
Best one found so far
Review by Sammysandwich1984 on 19 Jun 2020
review stating Best one found so far
Having a few years of experience in prostate play with toys in the Aneros range, but with the ever elusive super o not wanting to come out and play i decided a change of tact was due. Previously I had tried the helix syn ( good) the MGX (too short and not enough curve) and the Lelo loki (vibrations do nothing for me) I thought i'd give this slimmer, longer toy a try. As always, delivered quick and discreet by LH to my door the next day. The trident range is so much better than the original plastic version. As soon as you open the box you can see and feel the upgraded quality. i couldnt wait for some alone time as the OH went to work and i locked the dogs out for some "me" time. After relaxing on the bed and putting on some erotic audio only porn, lubed up with LH water based gel lube, I was ready to go! Being slimmer it slides in with ease with no pain or slow push (something you may consider if this is your first toy!) Instantly i felt the tingle that normally takes a good 30 mins to achieve, as this is slightly longer and slimmer it hit my p-spot instantly and due to the lightness of the toy, moved freely inside me. As i lay relaxing the warm fuzzy feeling came over me as the toy rocked all by itself against my prostate, a magical feeling that with the other toys seemed to come and go and mainly due to me making it happen. Now I still havent had a super o with this after many many goes, but the feelings i get from this toy put it up there as my go to, as the intensity and feeling given out when truly relaxed is something ive never felt before, made all the better when used with the OH to edge me to completion. Overall, great build, perfect size (for me) and does everything i want except the elusive super o, however, the feelings i get after a session, i dont mind as much!
On Aneros Eupho Syn Trident Prostate Massager
Watch and learn
Review by Soul D. on 18 Jun 2020
review stating Watch and learn
I'm sure for all you beginners out there your wondering what Aneros to purchase first or even next? So what I'm about to tell you may hopefully make things clearer. Using a Aneros is like juggling, once you master the technique you can literally juggle with anything. And the same applys to prostate play. Once you master the technique you can use any Aneros.Granted each model will feel different as would juggling with oranges feel different from juggling with golf balls. But ultimately the technique that underlies juggling always remains, and is simply muscle memory and repetition,as it is once you find the pleasure prostate play has to offer. Whatever Aneros you choose it will be a learning curve but one things is for sure once you "get it" you will know and never forget it! To start its so important your relaxed and turned on. Watch porn or whatever rocks your world to get horny.Before i insert the Aneros I use a Lovehoney lubricant applicator to apply lube but you can just simply apply a good amount of Lovehoney Discover anal gel to the Aneros Trident Eupho.I lay on my side one knee up to chest and insert the Aneros gently. Now my advice is simple just relax do nothing for the next 15 mins no touching yourself just shut your eyes and focus (like a detective) on the Aneros watch for any sensations muscle twitches or other feelings in the anus that arise. Now as you get more tuned in just clench your anus once ever 20 seconds very very gently thou and watch for what this does and the sensation's it creates, and slowly but surely the pleasure of prostate play will begin to reveal itself . Before you know it you will have mastered the technique maybe for the first time with your new Aneros Trident Eupho! But when you finally master it get ready to ride the waves of pleasure this toy can deliver because it is trully a spectacular device. What do these feelings feel like you may ask ? My simple answer is it feels like the sensation just at the point before cumming ,but this exquisite feeling can roll on for minutes at a time. This feeling generates deep contractions in the anus that generate from behind your cock through the prostate radiating outwards making the Aneros move and stimulate the anal walls and prostate further. Remember just focus on the Aneros Trident Euhpho in your anus just like ya would focus on the technique when learning to juggle and before you know it you will be juggling with pleasure you never imagined possible! Enjoy the ride!
Bottom Line:
Orgasmic heaven.
On Aneros Eupho Syn Trident Prostate Massager
First timer, but wow
Review by Johnnygoodboy on 30 May 2020
review stating First timer, but wow
First thing I did when the Aneros trident Eupho Massager arrived, was to check the web site for tips, on how to use the toy I tried various ways of using the toy, but found the best way, was to relax and allow plenty of time, for the orgasm to happen So I contracted my kegel muscles, and it was pleasurable, not quite what I was looking for, but knew it was doing something right, plenty of pre-cum One night, just decided to relax, and do nothing at all, so more or less was aiming ti get to sleep, and breathing in and out. Suddenly it hit me, the convulsions hit me, just for a few seconds, at a time. Never felt anything like it, and most night just before bed time, I insert the toy, and relax
Cons:
Could do with more directions, like what way to insert the toy.
Pros:
Easy to use, and hands free.
Bottom Line:
Worthy of a purchase, and would buy another one.
On Aneros Eupho Syn Trident Prostate Massager