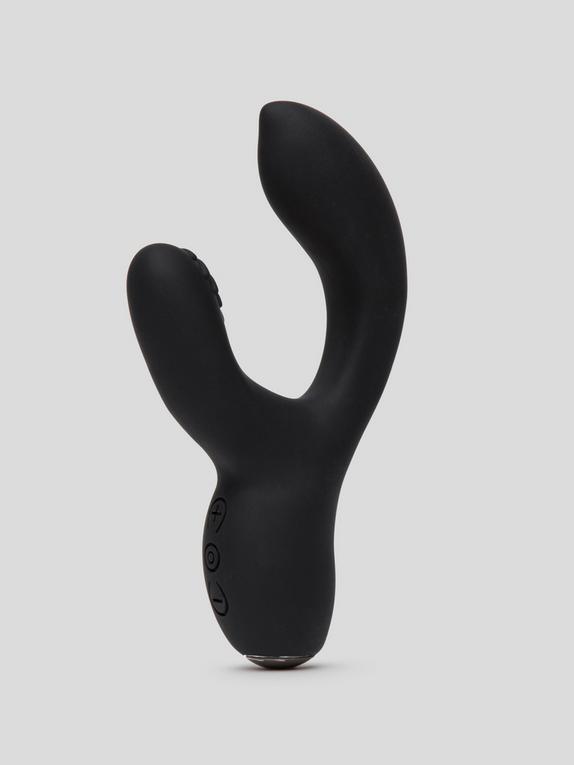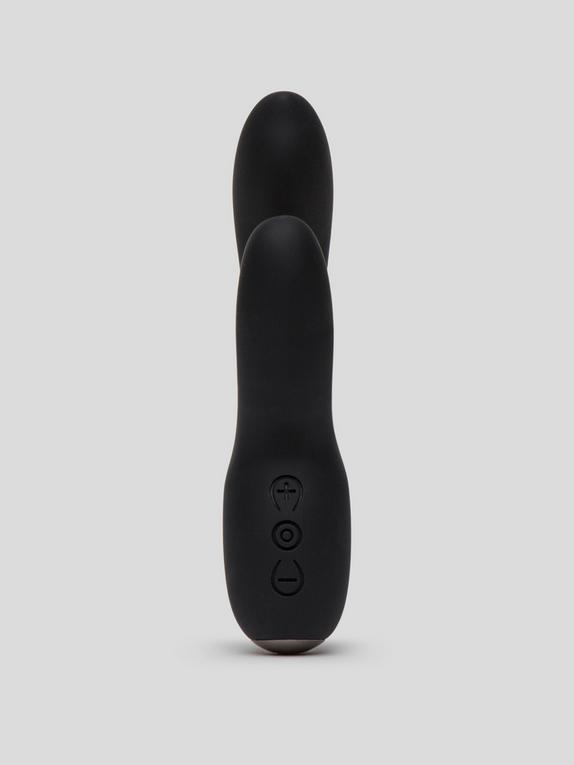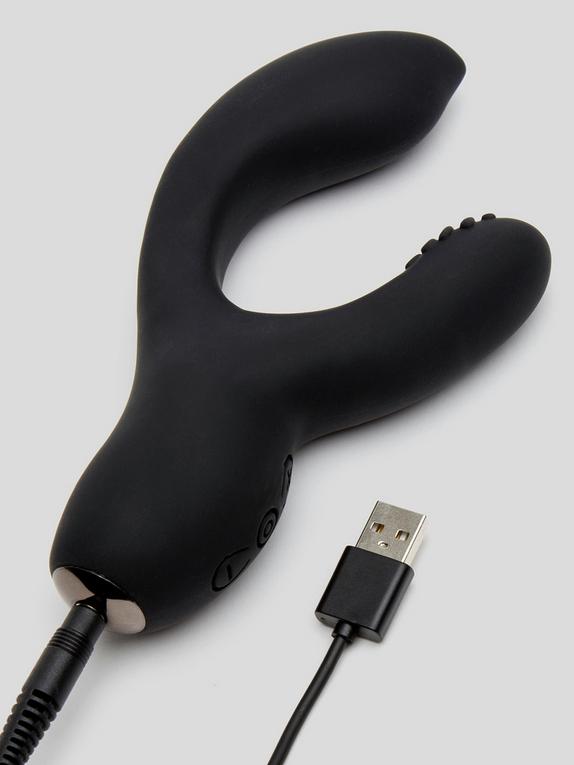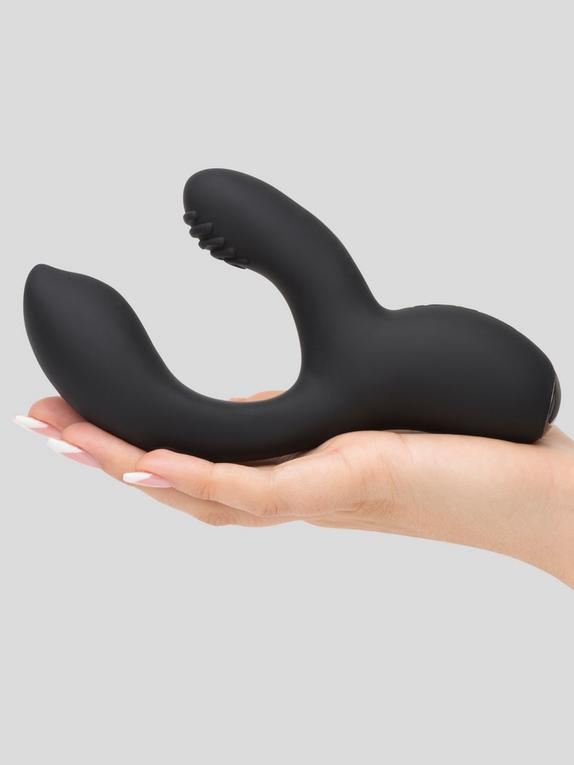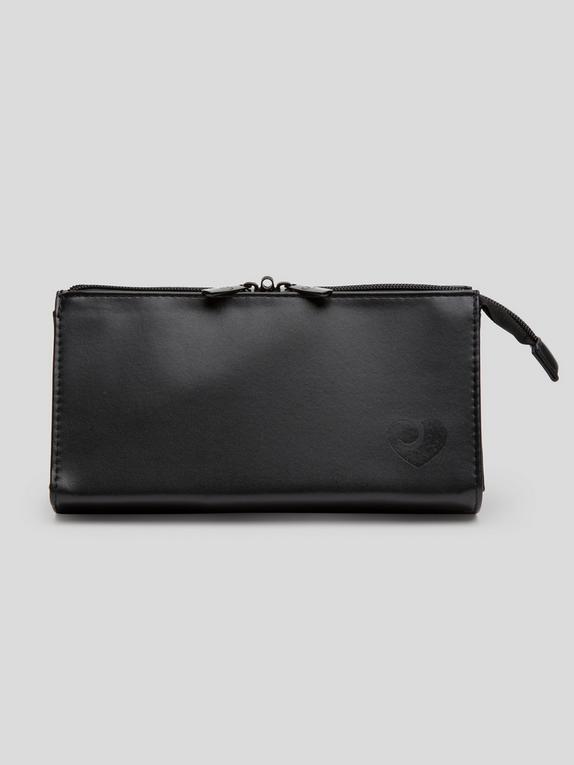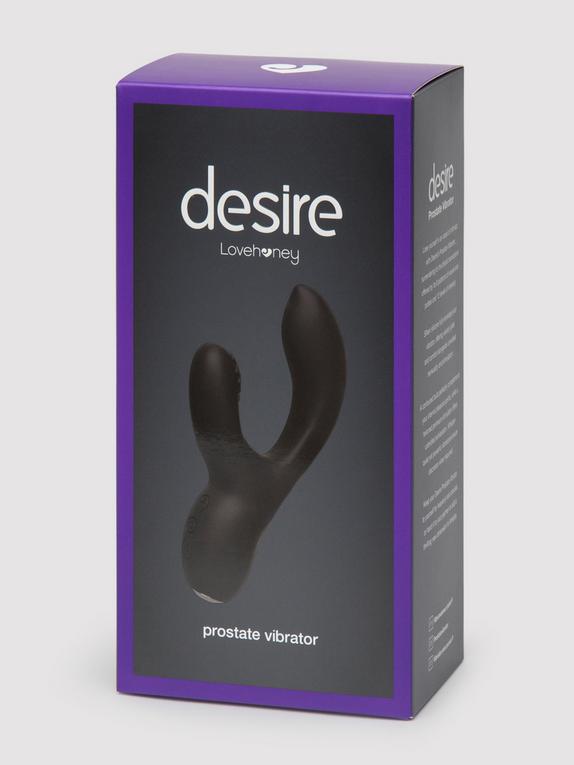 Desire Luxury Rechargeable Girthy P-Spot Vibrator
Last chance! This product is not going to be re-stocked!
Velvety silicone vibrating prostate massager with external perineum stimulator for sumptuous delights
Whisper-quiet motor for discreet pleasure sessions
Contoured bulb with a pronounced tip tantalizes the prostate for intense pleasure
Textured perineum stimulator adds external excitement
Comes with a luxurious storage and charging case
Enter a sanctuary of derrière gratification with Desire's Luxury P-Spot Vibrator. Its velvety silicone bulb slips inside to tantalize your body with 8 modes of vibration – each with 12 intensities – while the external stimulator delights your perineum.

Use the prostate massager on yourself for stellar solo arousal, or pass to your partner to bring a thrilling new dimension to foreplay or sex.

Perfect for enjoying in the bath or shower, your USB rechargeable toy is fully waterproof and has a travel lock alongside its whisper-quiet motor for breathtaking weekends away.

Use with a generous coat of water-based anal lubricant to heighten sensations.

Store your new prostate massager in the case provided, away from dust, heat and direct sunlight. A small opening in the back of the case can fit the width of the USB cable for discreet charging.

Desire is a collection of luxurious sex toys expertly designed by Lovehoney with only one thing in mind: ultimate sexual happiness.
Essential Info

Allergens: Latex-Free , Phthalate-Free
Features: Rechargeable
Waterproof: Submersible

Power and Speed

Power Type: Rechargeable
Vibration speed: Speeds and patterns

How it Measures Up

Circumference: 4 inches
Insertable Length: 4 inches
Length: 7 inches

How it Feels

Flexibility: Firm
Material: Silicone
Product videos
Enter a sanctuary of derrière gratification with Desire's Luxury P-Spot Vibrator. Its velvety silicone bulb slips inside your body with 8 modes of vibration – each with 12 intensities – while the external stimulator delights your perineum.
Male Sex Toy Advice
Unlock unlimited pleasure by consulting our Male Sex Toys guides, written to help you choose and use the best Male Sex Toy for you.
Frequently bought together
Popular combos for more sexy fun
Customer reviews
4.7 star rating
4.7
13 Reviews
Design:
Ease of use:
Quality:
Orgasm rating:
Vibration Strength:
Quiet:
Thank you for posting a review!
We really appreciate your opinion and hope to see you again soon.
Thank you for posting a review!
Your review was sent successfully and is now waiting for our staff to publish it.
Design:
Ease of use:
Quality:
Orgasm rating:
Vibration Strength:
Quiet:
Design:
Ease of use:
Quality:
Orgasm rating:
Vibration Strength:
Quiet:
He liked!
Review by Sexy T. on 10 Jan 2021
review stating He liked!
First off - we are huge fans of the desire range from Lovehoney!We LOVE how the male toys are black and female toys are purple and we have EVERY.SINGLE.ITEM. in the Desire collection!The desire toys are sublime, beautifully designed, from their smooth feeling to touch to their shapes, sizes and levels of vibration. Each toy comes in its own little storage pouch/box (pouch or box depends on the item) and the toys can even be charged while being stored in the box thanks to a nifty little hole for the charging cable to go through.And just when you thought it couldnt get any better they are all re-chargable - so no frantically hunting around the house for new batteries!Now this toy in particular is a male toy which goes without saying from it's description. It is designed so well, everything is the right size shape and position for me for MAXIMUM impact.VIBRATION: the rhythm, strength and speed of vibration are all interchangable, depending on how the user prefers, whether you prefer to whack it straight up to full force, or whether you prefer to start slow and gradually increase the speed and intensity as your 'session' goes along. Go on, grab yourself this toy - you WILL NOT be disappointed - the only thing I can promise is that your bank balance may suffer a bit because you will want the whole collection!
Cons:
Not a single thing.
Bottom Line:
Just go and get the whole Desire range!
On Desire Luxury Rechargeable Girthy P-Spot Vibrator
Design:
Ease of use:
Quality:
Orgasm rating:
Vibration Strength:
Quiet:
Design:
Ease of use:
Quality:
Orgasm rating:
Vibration Strength:
Quiet:
Yes yes yes
Review by Sgthondo on 1 Nov 2020
review stating Yes yes yes
This toy is fantastic, you can stop your search now when it comes to prostate play.I bought this massager on the back of many excellent reviews and I can say they are all true. Firstly the package arrived promptly with all the updates I needed. It was delivered in a plain brown package so no one could tell what was inside. Once opened, I was presented with the toys packaging, a cardboard box displaying a picture of the toy and various information about how capable this thing was of making you moan and groan Once opening the packaging I found a very well made, soft and lovely feeling lockable zipped carry case, this contained the prostate massager, instruction booklet and USB charging cable. The carry case is large enough to carry a few extra items, that along with the internal divider helps store some extra plugs, lube etc. Great for travel. Onto the massager it's self. It appeared much smaller that I thought from the pictures, however DO NOT let it's size fool you. This thing packs a punch. I charged the massager for around 2 hours before first use and after some warming up the massager was in and rumbling around inside me. There are two locations that the massager provides vibration. In the tip of the toy, resting inside you on your prostate and in the external part which rests against your perineum. The massager can be held in place by closing your legs around it, therefore acting like a butt plug rumbling away, or you can take hold of the massager and trust, twist, press and rub as much as you like. The versatility of this toy is amazing. In the handle are 3 buttons. A plus button to increase vibrations, a mode button to cycle thorough the many vibration patterns and a minus button to decrease vibrations. It initially took me a while to get comfy with these buttons. They are very close together and blend with the body of the toy, so it takes a little time to know what you a feeling for and then it's all good from there.This thing brought me to my first prostate orgasm. OMG it's phenomenal. I want to play with this thing everyday, soft rumbles for constant leaking, edging and teasing or powerful vibrations for intense and explosive MUTIPLE orgasms!!!!!! Yes guys multiple orgasms Lovehoney, you guys have nailed it with this one As if that isn't enough..... the vibrations are excellent for using on the head of penis. Trap the head between the two arms of the toy and your in heaven. JUST BUY THIS TOYyou will not be disappointed
Pros:
Versatile, powerful and brought my first prostate orgasm.
Cons:
Small closely located buttons, but I'm just being fussy.
Bottom Line:
Everything you need for an earth-shattering multiple-orgasm session.
On Desire Luxury Rechargeable Girthy P-Spot Vibrator
Design:
Ease of use:
Quality:
Orgasm rating:
Vibration Strength:
Quiet:
Design:
Ease of use:
Quality:
Orgasm rating:
Vibration Strength:
Quiet:
My favourite
Review by Jakr on 30 Sep 2020
review stating My favourite
This is a brilliant toy, I can easily have the best time by myself hands free enjoying the sensations, very quiet on low mode the only thing I have to dislike is when you switch it on it's automatically on high mode making it loud (luckily not too loud) but I would like it to be silent from the start then build yourself up The sensations it gives off is out of this world and I only use it low mode!! when you slip it in to you feel yourself laying there just enjoying the feeling of how big it is and it feels like it has filled you up and you become so sensitive then you turn it on and omg you don't want it to stop it rumbles and vibrates on the right parts mixed with the different modes you can pick what feeling you want so it's different every time, The battery lasts for about 1 use ( I last around 20-40 minuets) it's not terrible, I use a portable battery bank and hide it with the toy to charge This is simply the best toy deffently recommend for men who wants a hands free experience
Pros:
It's perfect and the best thing I know to date.
Cons:
When you turn it on it's on max setting.
Bottom Line:
Deffently get it, it's a brilliant time and it gets you every time.
On Desire Luxury Rechargeable Girthy P-Spot Vibrator
O
Optimized
5.0 star rating
Design:
Ease of use:
Quality:
Orgasm rating:
Vibration Strength:
Quiet:
Design:
Ease of use:
Quality:
Orgasm rating:
Vibration Strength:
Quiet:
Powerfully Pulsing for Intense P-Spot Pleasure
Review by Optimized on 27 May 2020
review stating Powerfully Pulsing for Intense P-Spot Pleasure
On unpacking the Desire Luxury Rechargeable P-Spot Vibrator it certainly feels like a luxury package. The vibrator itself is made of silky smooth silicone and comes packaged with a very nice leather-look storage bag, USB lead and mini instruction manual. The vibrator has an intriguing wishbone shape, and the bulbous, girthy head looks exciting but not overly intimidating. But swiftly on to the performance of this little beauty. Although girthy, this vibrator is well designed and slides smoothly into place. You can notice the increase in thickness compared to slimmer prostate vibrators as this gives a very satisfying sensation of fullness. One of the absolute joys of this toy is the fact that there are 2 independent vibrators – one powering the prostate stimulation and the other providing the perineal pulsation. The vibrator provides a generous range of intensity settings (12), from the low and rumbly end of the vibration spectrum through to rapid, buzzy, toe-curlingly great humming at the other. However, it's also one of the quietest vibrators that I've ever used, which is amazing when you experience the full intensity of this toy. Another really great feature of the desire vibrator is that the 8 pattern settings produce different patterns in each of the 2 vibrators, meaning that your prostate is treated to one exciting, pulsating pattern and your perineum is pleasured with a contrasting pattern. Or you can choose to just have the prostate or perineum vibrator running on its own. This toy is anything but boring! As someone who is very turned on by perineal stimulation this is a huge selling point. However, the one main design issue that I have with this toy is that the perineal stimulator rises at a slightly awkward angle, and is very rounded in shape. The means that it tends to slip either side of my perineum which can be a little bit frustrating. I would have preferred something which was angled more like a T-bar, and was a little flatter against my perineum, to enjoy the maximum stimulation from those fantastic vibrations along the whole perineal area. However, squeezing your thighs together tends to avoid any slippage to one side, and intensifies things into the bargain…so bonus! The controls are easy to use, but due to the position of handle, can be slightly awkward when the toy is in position as you need to reach down and try to find the correct button by touch alone. Again, this is a tad frustrating to begin with but the more you use it the more you get a sense of where you need to press to alter the intensity or the pattern. The toy is very easy to charge using the USB cable and takes around 100 minutes to reach fully charge. The manual indicates that the charge lasts for about 40 minutes but it's testament to the power of this prostate vibrator that I can barely last for about 15 - 20 minutes with this inside me. I've noticed with some prostate vibrators that they can be a bit uncomfortable to remove afterwards, due to the curved profile, but this one slides out smoothly and without any bother. Cleaning is so easy with anti-bacterial soap and water, and the unit is waterproof so you don't need to worry too much about getting water in the wrong place. In summary I would say that this is an ideal prostate vibrator for someone who is looking for that little extra stretch and pressure that the girthy head provides, and who enjoys powerful, rumbling vibration in both of their pleasure-spots…prostate and perineum. I really love that it offers different patterns between the two vibrators and this is a really unique feature of this toy. However, I feel the perineal vibrator could have been better designed to lie snugly against the perineum more, and the controls could have been a little easier to use when the toy is in position. Nevertheless, this does not detract too much from what is essentially a well-designed premium pleasure product which is definitely going to get that pulse racing and those juices flowing. This will definitely be one of those toys that I keep coming back to as it most definitely hits the p-spot!
Pros:
Girthy head; powerful vibration; independent dual vibrators.
Cons:
Perineum stimulator could have been a better 'fit' and at better angle.
Bottom Line:
Amazing prostate stimulation for those who love it on the girthier side.
On Desire Luxury Rechargeable Girthy P-Spot Vibrator
A
Alicia4 E.
5.0 star rating
Design:
Ease of use:
Quality:
Orgasm rating:
Vibration Strength:
Quiet:
Design:
Ease of use:
Quality:
Orgasm rating:
Vibration Strength:
Quiet:
This is the male rabbit you've been waiting for
Review by Alicia4 E. on 27 May 2020
review stating This is the male rabbit you've been waiting for
The first thing that comes to mind when you pick this vibrator up for the first time is " quality", and it doesn't disappoint when it comes to the power behind the vibrations either. When you first turn it on it starts in the mid power level, and I thought, mmm, nice, then when I turned it up to full power, my first thought was I need this in me now. As I got ready to insert it I thought lets see what these vibrations feel like on my penis first. I'm glad I did, because wow! It really hits the spot there too. I lubed it up and trapped my penis between the 2 arms of the toy, and used it to masturbate. Then I tried it by trapping the tip of my penis between both the tips of the vibrator; at that point I almost forgot about getting in my ass, but not quite. At first I wondered if the handle part would be long enough to use it in thrusting mode, but it is; the interesting thing is that because the handle is so short I found that I could sit on it on the edge of the bed, and get a rocking action going, while using a wand on myself at the same time. Though I wouldn't say it is OK to sit on a hard surface with it in, like the toilet seat lid. Getting it in the first time was a bit of a faff, until I realised that first straightening out the arm of the toy a bit, aloud it enter me easily. I made sure that I only put the lube on it with the opposite hand to the one I intended to insert it with. That mean't that the handle remained dry and easy to hold. Laying on my side to insert it, I also found that I could easily use the controls with a finger tip; yet I didn't have any problems with accidentally changing the settings as I used it. Being someone who also likes to get some thrusting action going during anal play, I was interested to try this "P" spot vibrator out, as prostate massagers are not built with that in mind, with the prostate vibrators I have seen before, not having any external perineal stimulator. So to me this looks like a hybrid between a prostate massager, and an anal vibrator; you can leave it to do it's thing like a prostate massager, or take hold of the handle and get a bit of a thrusting action going as well. It gives me the best anal orgasms, from just laying there and doing nothing but enjoy the ride The external vibrations on the prostate massagers that I have tried, when they are there at all, seem to be more of an after thought by the designers, but the perineal vibrator arm on this little baby packs a punch alright. I would describe it as being the anal equivalent of a rabbit vibrator; I was going to say the "male rabbit", but I'm sure that women could get a lot out of this toy. Not just as an anal toy but as a "G" spot vibrator, with the ability to give external vibrations too. Using separate toys of course. This toy is way more than just a prostate vibrator, It should be every guys go to " it does it all" vibrator; and not dismissed as a male only toy by women, especially trans women. As a trans woman who has yet to get her surgery, I'm longing to try this vaginally, like a rabbit, as my prostate will remain after surgery, being then accessible from inside my vagina; and also to use as a double penetrating vibrator; I can't be 100% sure it will work as a double penetrator but it sure looks like it could. I would love to be able to review it from the view point of a post surgery trans woman, if it's still on the market by the time I get my surgery; which looks like being a few years down the line.
Pros:
The power it packs, and the quality of the build.
Bottom Line:
The most versatile male sex toy I have ever used.
On Desire Luxury Rechargeable Girthy P-Spot Vibrator