$7.50
$24.99
You save:
$17.49 (70%)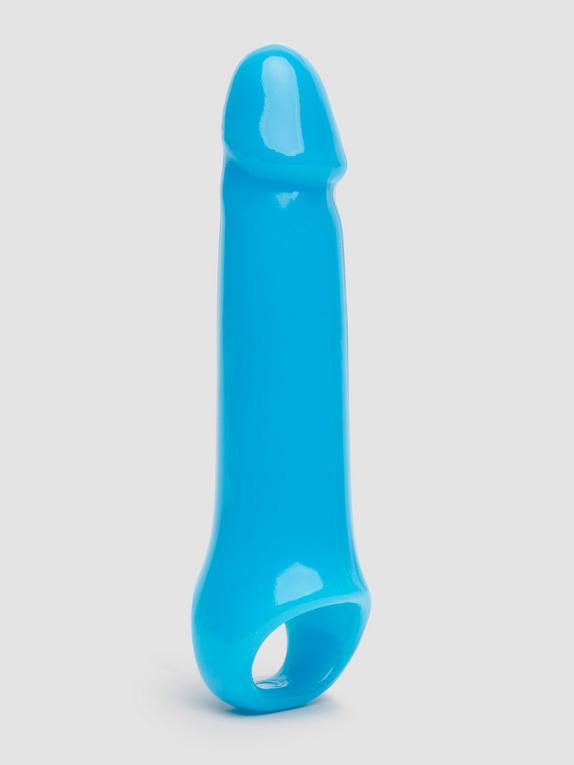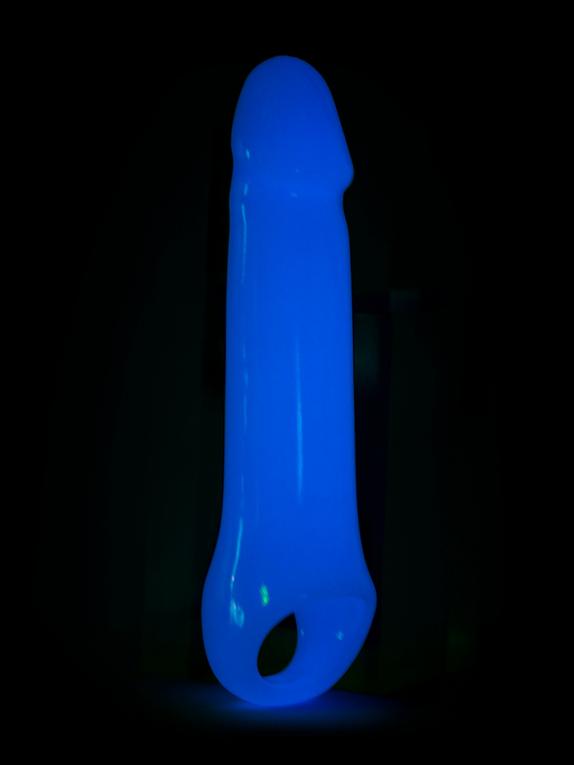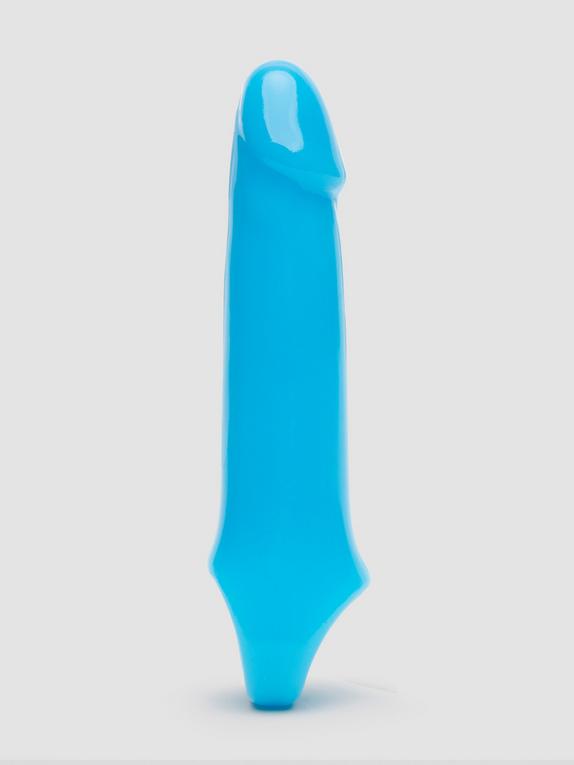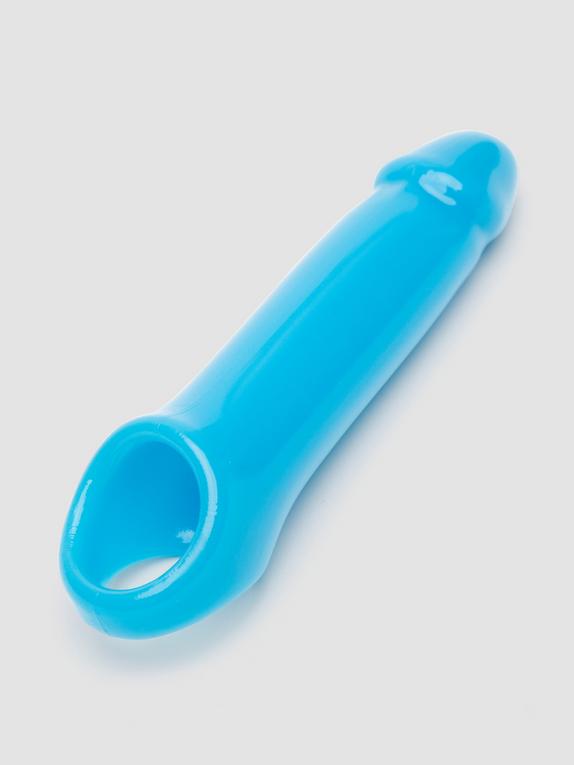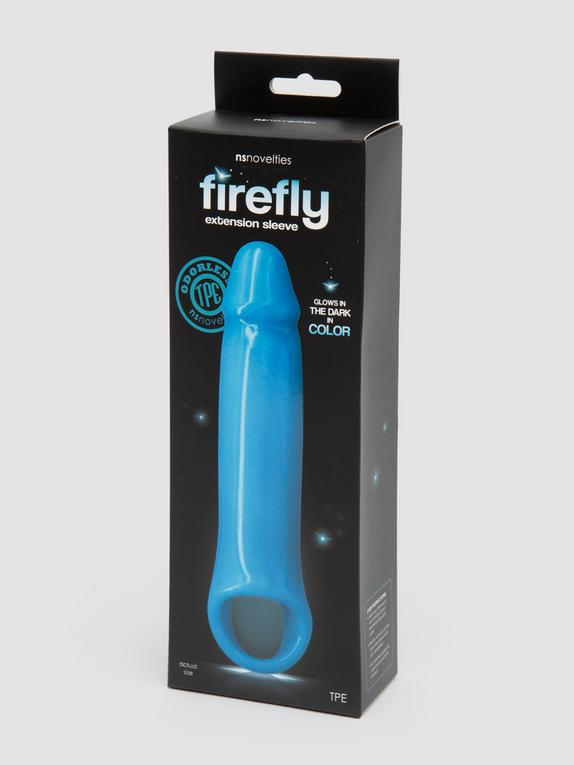 Firefly Glow-in-the-Dark 1 Extra Inch Penis Extender 6.5 Inch
$7.50
$24.99
You save:
$17.49 (70%)
Last chance! This product is not going to be re-stocked!
$7.50
$24.99
You save:
$17.49 (70%)
Realistic glow-in-the-dark penis extender for a true pop of colour in the bedroom
Adds up to 1 extra inch of length to your penis
Perfect for fulfilling beam-me-up fantasies
May help to delay ejaculation and prolong pleasure sessions (results may vary)
If you, like many, have dreamed of sporting a shaft that can only be described as out of this world, then we have the extender for you. Slip into this smooth little sleeve, switch the lights off and rejoice in the increased size of your glowing schlong.

Increasing your natural length by up to 1 extra inch, this realistically shaped penis extender measures 6.5 inches in total and has a 4.5 inch deep internal canal.

Bright blue in colour, this penis extender adds more than just size to your sexcapades – along with glowing in the dark, it may help delay ejaculation and prolong your pleasure sessions. Plus, it features a sturdy ball loop so it can feature in even the most robust bedroom games.

For a slick, sensational ride, be sure to lube the extender internally and externally with water-based lubricant before use.
Essential Info

Allergens: Latex-Free , Phthalate-Free
Waterproof: Submersible

How it Measures Up

Circumference: 4.25 inches
Insertable Length: 4.5 inches
Length: 6.5 inches

How it Feels

Flexibility: Flexible
Material: Soft Plastic
Penis Extender & Enlarger Advice
If you're looking for sex toys to help you get a bigger penis, our advice guides are here to help you get started in the easiest possible way.
Frequently bought together
Popular combos for more sexy fun
Customer reviews
1.5
1.5 star rating
6 Reviews
1.5
1.5 star rating
6 Reviews
Thank you for posting a review!
We really appreciate your opinion and hope to see you again soon.
Thank you for posting a review!
Your review was sent successfully and is now waiting for our staff to publish it.
Search reviews
5.0 star rating

4.0 star rating

3.0 star rating

2.0 star rating

1.0 star rating
Strange shape and ineffective
Review by Colonel_lube on 1 Feb 2021
review stating Strange shape and ineffective
So this delight was sent for us to test. We are a fan of penis extenders in our household as they serve to give her a little more pleasure and him an extended time till orgasm.

This blue meanie arrived in the post. It is a similarcolour to washing machine detergent. It is made of a softish material with a strong ball loop.

At first glance it looked a little small but the material was quite stretchy. Penis extenders require a fair amount of lube on you and on them to enable you to put them on and this was no mistake. Squeezing the extender as you pull it over your penis makes it a little easier to get in place and reduces the humerous fart noises that often accompany the prep work.

The extender was quite difficult to put on, and we found this was because it has a tapered tip. In my experience the head of the penis is often wider than the main shaft which is in direct contrast to the extender. This meant once on it was not the most pleasant experience for me.

For her the experience was underwhelming, the penis extenders we have used in the past have been really effective and giving plent of orgasms. This time there was no effect. The problem is the smooth surface of the extender. It is very smooth so it provides little to no stimulation itself, which coupled with the strange shape meant it had no effect on her.

The final feature of the extender was the glowing gimmick. And yes it did glow once a light was shined on it for a few minutes. It glowed and when on my penis led to some starwars light saber noises which raised a titter or two.

Ultimately some light sniggering from the glow in the dark this extender was very underwhelming. A shame as it is well constructed. Adjust the shape and add some ridges/nodules to the outside and this could have been a great product.
Bottom Line:
Looks nice but does little
Cons:
Strange shape and texture mean no orgasms for either of us
On Firefly Glow-in-the-Dark 1 Extra Inch Penis Extender 6.5 Inch
Looks kind of cool but doesn't hit the spot
Review by Colonel_lube on 22 Jan 2021
review stating Looks kind of cool but doesn't hit the spot
So this little blue delight arrived for us to test. We have used a few different penis extenders in the past to good effect and we looked forward to trying this one out.

The gimmick with this is that it glows in the dark. It does, which does look a bit weird if I am being honest but made for a few laughs and some star wars lightsaber noises.

Out of the box this looks and feels nice. Quite good quality, thick material and stretchy. The outside is smooth which was a new thing for us with an extender as the ones we have used in the past have had extra rib/ridges/nodules outside to add to the stimulation for her.

Putting this on was not the easiest even with plenty of lubrication to my penis and inside the extender. The problem was the shape. Now it is clearly penis shaped but it is tapered so the end is a lot narrower than the base where the ball loop is. Now I am not the largest of men out there but I had a real struggle getting this on. It was just too narrow at the end. A bit of warming in my hands loosened the material a bit and with some squeezing and pulling it went on.

Once on it stayed in place pretty well with the ball loop being quite sturdy. In use it was pretty unsatisfying for her. There was some extra size but the smoothness of the material actually reduced the sensation for her, which is clearly not the point. From my point of view the extender worked well, it didnt move around on my penis too much, it served to reduce sensation enough to make me last longer but did not remove all feeling.

Ultimately we felt it would work, kind of, for me. However the lack of really pleasure for her makes it not the greatest product out there. We did wonder if the smooth outer and sturdy manufacture would make it of more use if used in conjunction with anal rather than vaginal penetration but we have not made use of it that way yet.

In short this extender does look pretty good and looks to be of good quality but the tapered design and the lack of extra stimulation on the outside really reduces its effectiveness. Which is a shame as who doesnt wanta shed load or orgasms accompanied by the sound of someone making light saber noises and breathing like Darth Vader?
Bottom Line:
Flatters to deceive
Pros:
Glowing element made it fun and it looks good quality.
Cons:
Tapered design and lack of external stimulation
On Firefly Glow-in-the-Dark 1 Extra Inch Penis Extender 6.5 Inch
Glowing but tight
Review by Ir1shlover on 18 Jan 2021
review stating Glowing but tight
As always fast and prompt delivery from Lovehoney.I was chosen to test this item and appreciate the opportunity.The item came packaged very nicelyand it felt nice to the touch when I took it out of the package.I am not very large in the trouser department, hence why i own a few of these extenders so have a small amount of expeience with them. I choose the smaller one as I am on the smaller side but this product is even too small for me.We used a lot of lube after I was hard and managed to get me into it and used it for a while but it actually strated to make me go down as it was too tight. There is not a lot of sretch to it either, unlike some otehrs that Lovehoney have, which means they accomodate a lot of different sizes.The glow in the dark aspect is a nice touch , but you have to leave it out to absorb light for it tot hen glow int he dark, which when you have a family is a bit tricky, but thats just a tiny niggle as how else is it going to glow without light first.The ball ring part isa ctually one of thebetter ones on these extenders as it stretched to go over my balls and then held the extender in pace very well, some of the other more stretchy ones, although they fit my member better were too loose over the balls, so a combination of this ball holder and other extenders would be ideal.
Bottom Line:
Fun novelty, but won't get much use.
Cons:
Too small and tight.
On Firefly Glow-in-the-Dark 1 Extra Inch Penis Extender 6.5 Inch
Too small
Review by Joe 9. on 16 Jan 2021
review stating Too small
Firefly Glow in the Dark 6.5" Penis ExtenderWe really enjoy receiving new items to test and review from Lovehoney but on this occasion a full blown test was out of the question.The item came nicely packaged in a clear fronted box and the first thing that struck me was how small it looked. The box said that it was 'Super Stretchy' so I opened it in the hope that they were right. Yes it's stretchy but the material is quite thick and nowhere near as stretchy as they suggest.I'm assuming that, although this is very much a novelty item, it's meant to be worn like a condom but being so thick I doubt that you'd feel anything through it and as other reviewers have found, it's too smooth to provide any friction for your partner.I don't consider myself to be any more than average in size but there was absolutely no way that I was going to fit inside this even with a generous helping of lube and a lot of encouragement from my wife who at this point was laughing uncontrollably.Even if I had managed to force it on, the internal length and diameter is much smaller than I am and therefore risked serious injury from the ball loop if I'd tried to stretch it back far enough.In the interests of a full and thorough review, I've left it in the bedroom window to charge up and will see if it does actually glow in the dark later tonight which will undoubtedly give my wife another good laugh but I doubt it'll see the light of day again after that I'm afraid.
Pros:
It gave my wife a good laugh.
Bottom Line:
Novelty, yes, but not practical.
Cons:
Too small in every way.
On Firefly Glow-in-the-Dark 1 Extra Inch Penis Extender 6.5 Inch