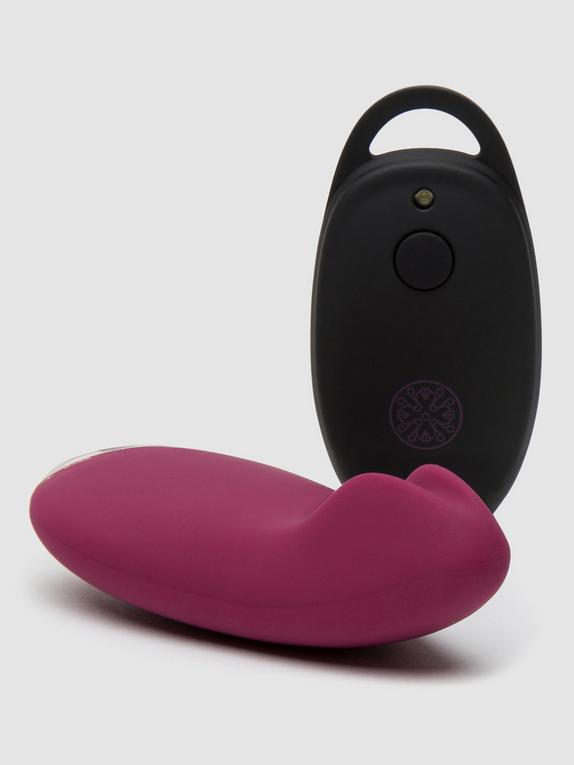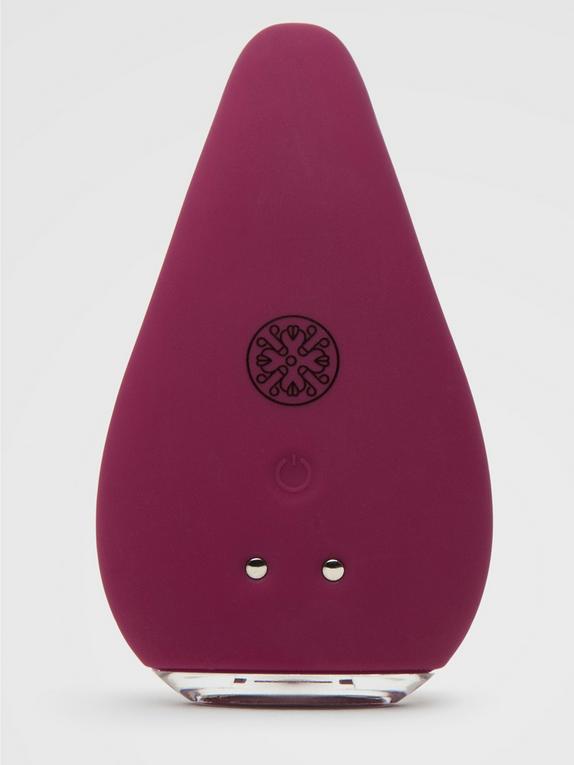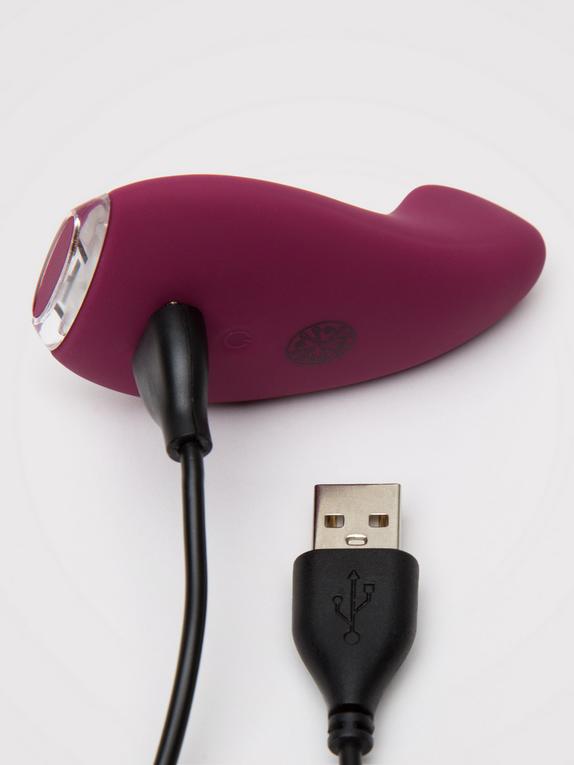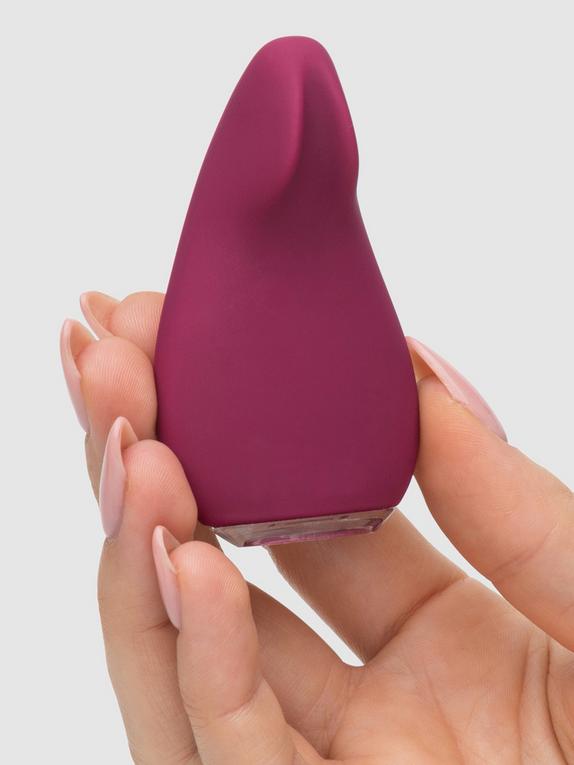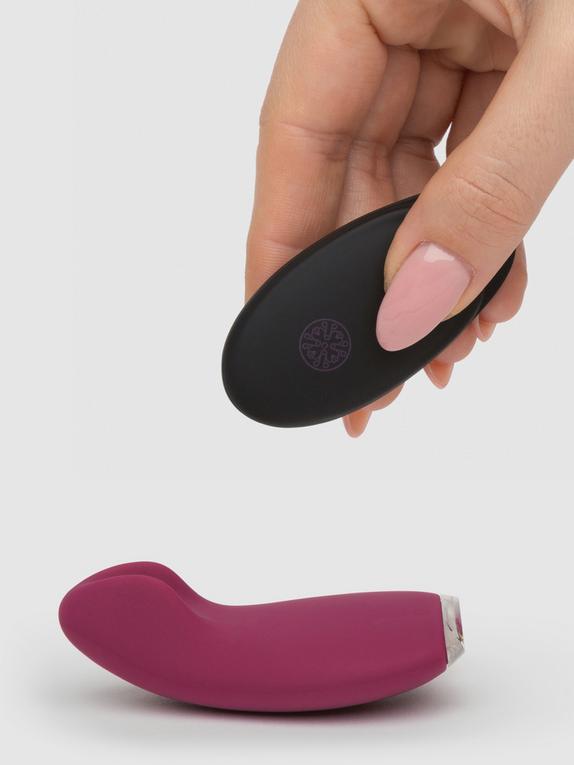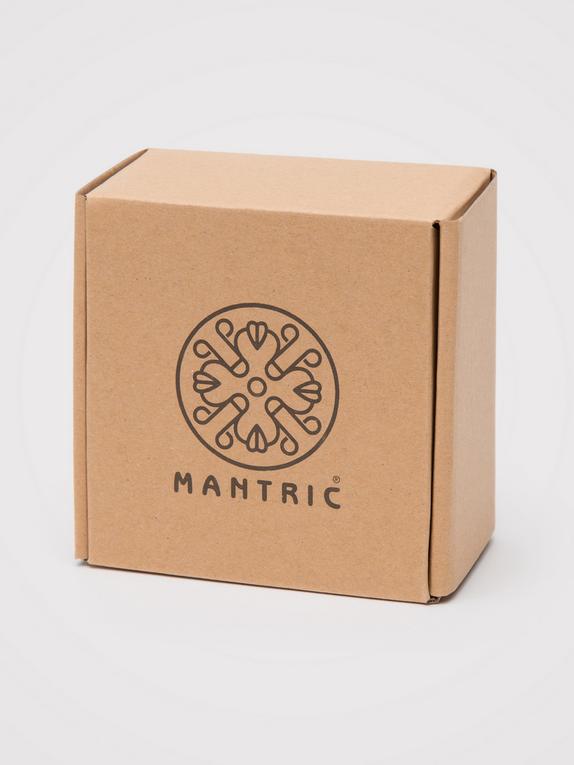 Mantric Rechargeable Remote Control Panty Vibrator
Last chance! This product is not going to be re-stocked!
10 function remote control panty vibrator for fun in the bedroom or out and about
Hand over the remote and let your lover surprise you with the 3 speeds and 7 vibration patterns
Specifically molded tip expertly cocoons your clitoris for precise stimulation
Incredibly small and extra quiet for discreet play
Magnetic USB charging for use anywhere in the world
Enjoy intimate arousal without having to take your clothes off, with this secret panty vibe. Measuring just 3 inches, this pocket-sized plaything fits snugly inside your panties, its cleverly moulded tip sending pulses of pleasure directly to your jewel.
Made from supple silicone, this pebble-shaped vibe is soft and flexible. Its tip is contoured to effortlessly cocoon your clitoris, allowing you to slip the discreet vibrator into your panties and be taken away by its heavenly pulses.
Slather with water-based lubricant for extra slip and slide.
No tricks here. Mantric Sex Toys combine simple, straightforward packaging with unbelievable quality for intense sensations without compromise.
Explore other customer-favorite products:
Pocket Vibrator
from BASICS
Jiggle Balls
from BASICS
Thrusting Rabbit Vibrator
from Lovehoney
We-Vibe Tango
from We-Vibe
Essential Info

Allergens: Latex-Free , Phthalate-Free
Features: Rechargeable , Remote Controlled , Travel Lock
Waterproof: Submersible

Power and Speed

Power Type: Rechargeable
Run Time: 60 minutes
Vibration speed: Speeds and patterns

How it Measures Up

Circumference: 4 inches
Length: 3.5 inches

How it Feels

Flexibility: Firm
Material: Silicone
Product videos
Have glorious orgasms without having to take your clothes off, with this secret vibe. Measuring just 3 inches, this pocket-sized plaything fits snugly inside your knickers, its cleverly moulded tip sending pulses of pleasure directly to your jewel.
Vibrator Advice
Our handy Vibrator guides will help you navigate the wonderful world of vibrators, and choose and use the best Vibrator for you.
Frequently bought together
Popular combos for more sexy fun
Customer reviews
4.1
4.1 star rating
79 Reviews
4.1
4.1 star rating
79 Reviews
Thank you for posting a review!
We really appreciate your opinion and hope to see you again soon.
Thank you for posting a review!
Your review was sent successfully and is now waiting for our staff to publish it.
Search reviews
5.0 star rating

4.0 star rating

3.0 star rating

2.0 star rating

1.0 star rating
An Egg Beater !!!
Review by Verified-Customer on 21 Jul 2021
review stating An Egg Beater !!!
I've had a remote-controlled egg for a few years now, but whilst its gives a nice feeling it always leaves me frustrated that its never taken me over the edge and at worse can deaden the senses for later.
This fixes that problem big time !!!!
Its so nicely made, its a cute design, the material is soft and sensual and works with the controller without any issue. I find it very easy to position and the range of speeds and patterns hit the spot regardless of where I am or what I'm doing. My OH loves teasing me with this. It may be a little too noisy to use in a public place but tbh your reaction would give the game away !!
Definitely one of my favorite toys to date
Cons:
Maybe a little too loud ?
Bottom Line:
Fantastic upgrade on an egg !!
On Mantric Rechargeable Remote Control Panty Vibrator
So loud 😂 it's sounds like 📳 on D.N.D
Review by Verified-Customer on 17 Jul 2021
review stating So loud 😂 it's sounds like 📳 on D.N.D
Omg 🤣 I love the concept 💕 but the sound's are way too loud!! The speeds are powerful, but this is definitely one for when the 🏠 is empty or when you're on holiday out of the country! Remote control comes in handy. Definitely want to try it on holiday when we get to travel again.
Pros:
It's really soft like slik so I'll give that a 5🌟 very easy to charge strong magnets hold in place
Cons:
The sound was a passion killer. There's is no extra option to buy extra charger if anything brakes.
Bottom Line:
If you can get it on sale.. definitely worth a Try. I ordered x2. One on sale (gift). And one for me
On Mantric Rechargeable Remote Control Panty Vibrator
Absolutely BUZZZZIING
Review by Verified-Customer on 15 Jul 2021
review stating Absolutely BUZZZZIING
I got this as a little treat for my partner for our weekend away. It did not disappoint it has a great vibration off it I thoroughly enjoyed it and so did he having all the control of when to switch it on and when to increase the vibrations.

The vibrator must be switched on and automatically turns off if not used so it cannot be used spontaneously as we tried it 10minutes into our walk after leaving the house and it had turned off. The on switch is on the vibrator itself so you would need to take it out and press "on" and put it back for it to work. However this made it more fun as I knew he only had a few minutes of teasing me before he would start to play :)

Great toy for couples but could be used solo as a bullet.

Would recommend
Pros:
very powerful,fun to use,great battery life as it took me a while to reach the big OO when in public
Cons:
It is very noisy it would not able to be used in public places such as shops in my opinion
Bottom Line:
I really enjoyed this product, it was great to try something new, great price, powerful and exciting
On Mantric Rechargeable Remote Control Panty Vibrator
Powerful little device
Review by Verified-Customer on 14 Jul 2021
review stating Powerful little device
I am completely in awe of this knicker vibrator. Not that I've used many, apart from a few bullets, but the design and execution of the Mantric is phenomenal. I am very impressed.

On opening the box, I was surprised at just how small it is. It's super discreet, but that doesn't stop it from packing a punch. It's also incredibly soft - like the softest velvet you can imagine, and it feels really nice to stroke with just your finger tips.

Once I'd stopped admiring it, I connected the USB charger to the external magnetic twin points to give it its first full zap of energy. The magnets aren't particularly strong so I found myself having to arrange the cable in such a way to prevent it kinks from disconnecting the charging points. It wasn't too difficult though and I found a happy place for it balanced on a boxy UK power socket. The unit came with a half-charge and it was ready to go within 30 minutes, as indicated by the solid light display.

Before I get into the buzz-power, let's just talk about those lights, shall we? They are brilliant! How clever of Mantric to colour-code their wave patterns. It makes things so much easier to shout directions to a partner, and adds to the perfect design that the whole range offers. I'm simply loving the futurist vibe of this vibe!

So, down to usage. I pressed the button on the back of the vibe and felt a satisfying 'tick' as it activated standby mode. Then I pressed again for the first level of buzz to begin. Like most vibrators, the first 3 patterns are low, medium and high constant buzzes, but while it was on the first level, I went in for positioning in my undies. I've personally always been a little confused by which direction these gizmos are supposed to go; the pointy end with raised fins obviously hugs a clitoris, but I've never been sure if the triangle is supposed to point down or up. I tried first popping it down the little gusset-pocket of my knickers with the flared triangle end sitting in front. Oooh, it felt nice, but it didn't sit flush to my pubic bone, which felt odd (also a bit uncomfortable when clothed), and the fins only covered my clit hood from the outside so the indirect vibrations were frustrating. So next I tried flipping the unit around. I put the flared end of the triangle underneath me and let the fins on the pointy end burrow between folds of flesh to hug my clitoris directly. This felt MUCH better, because the vibrations target ALL the external pleasure zones. I sat on the edge of the bed and wiggled a bit to press the vibe in place. Phew was it good! And that was only on the first setting. I'd almost forgotten about the remote at this stage so I scrambled around to find it while clamping my legs tightly shut (didn't want to disengage my new friend!). I popped off the back of the remote and removed the protective battery strip, then snapped on the cover before pressing the button - like the vibe, it only has one to do the on, off, and cycle through the wave patterns. When the buzz-strength increased, I could all but contain myself! And I only held out a short while longer before flipping to the 3rd settings (highest buzz) to finish the deed. Amazing! I've since tried it a few more times, albeit with more patience to try out the patterns later on in the cycle, and I'm happy to report that they are all really good. So effective in fact that I am still yet to recharge it!

My OH and I had lots of fun trying it out in the bedroom to test the range of the remote - it works well from several meters away and it thankfully doesn't need to be pointed at my crotch to trigger a reaction. We are eager to test it out in public once COVID restrictions finally permit us to eat out, and I'm giddy at the thought of him using it on me while I grind away on a restaurant chair. It's pretty quiet so I don't imagine anyone will hear.

Another excellent product from the Mantric range. It's well worth the money.
Pros:
Sleek design and so soft.
Cons:
Charging connection is a bit iffy.
Bottom Line:
Worth the money and good for away-from-home fun with a partner.
On Mantric Rechargeable Remote Control Panty Vibrator
Best day out at the Zoo ever!
Review by Verified-Customer on 13 Jul 2021
review stating Best day out at the Zoo ever!
My partner and I used the Mantric Rechargeable Remote Control Knicker Vibrator at the Zoo and all I can say is thank god this toy is waterproof! We didn't get to see many animals, but honestly, I really wasn't that bothered.

The toy was fully charged via the magnetic charger and I slipped it into my knickers half way around the Zoo. I have a chronic pain condition and feel pain really easy especially from walking around. But with the happy hormones flowing from the vibrations I was pain free for the whole trip! The toy lasted for an impressive amount of time. Easily over an hour!

The colour was dark so it was easily concealed in my underwear and you couldn't see the colour through my black leggings. It's not the prettiest of designs but for use outside of the home it's 100% the best colour. It's got a velvety silicone feel which makes it feel expensive and comfortable when resting on the skin. It could do with a bit of a grip as I did find sometimes it slid out of place. At times you could see something was down there but a quick fix and it was ok. Although the slippery it got the harder it was to fix. I had to have breaks as sometimes my labia felt numb from the vibrations. When it was off for awhile I had to manually turn it back on with the button on the device. This is a little hard to find unless it's in your hard. So a little raised dot on the toy where the button is would help. Then we had to play about to get it to connect again to the remote but it didn't take too long. This did ruin the moment sometimes. I think the toy would be better used where you're mainly going to be sitting down or at least not walking a lot. This is the first toy I've used with a moulded tip for the clitoris. The difference that tip makes is unreal! Excellent design feature to really help stimulation. It has a little light on and I was worried it would be seen through my leggings but it was not visible. It was surprisingly quiet. One of the quietest of its kind I've come across. You could hear it slightly but only if you was really quiet and concentrated on listening out for it. I didn't get any funny looks so I don't think anyone else heard it.

The different settings are all pretty strong and give some good patterns. The throbbing type setting really got me throbbing which then just made my partner (who had the remote) even more excited, and then he was throbbing too! The remote is small and he could just put it in his pocket and click to change settings. We didn't really test the range as we didn't want to be too far away from each other. But the signal easily went through his jeans, through my leggings, through my knickers and to the receiver on the device. One downside of the remote was that it has just one button. So he'd press it but didn't know what setting it was on or what it was doing. So I had to tell him. Not sure whether that made it sexier or an inconvenience. We agreed though that we'd prefer the remote to have a dial type so he could increase and decrease the intensity of the vibrations. This would give him more control and be a little more exciting for me as I wouldn't know when things would get better.

I didn't orgasm witht the toy but that was down to me. I decided it wasn't the right place or time! I easily could have if I wanted to though (I've but good for orgasm as it wouldn't be fair to say I didn't orgasm). I planned on waiting until I got back to the car but it ran out of battery. A little disapointing but I can't complain as it had been on for so long.

When I got home I used another vibrating toy and put it on the Mantric Rechargeable Remote Control Knicker Vibrator so the vibrations ran though that, through to the moulded tip and on to the clitoris. Worked better than expected! Not enough for orgasm but still fun.

We got the toy on sale but I'd probably consider paying full price for it. Overall I'm really happy with the toy, trip out and especially that moulded tip!
Pros:
The moulded tip really makes a difference. It directs the vibrations right to the sweet spot!
Cons:
It slipped about sometimes when walking as I was wet & partner didn't know what setting it was on.
Bottom Line:
Moulded beauty! Quiet and naughty for fun days and nights either home or away.
On Mantric Rechargeable Remote Control Panty Vibrator