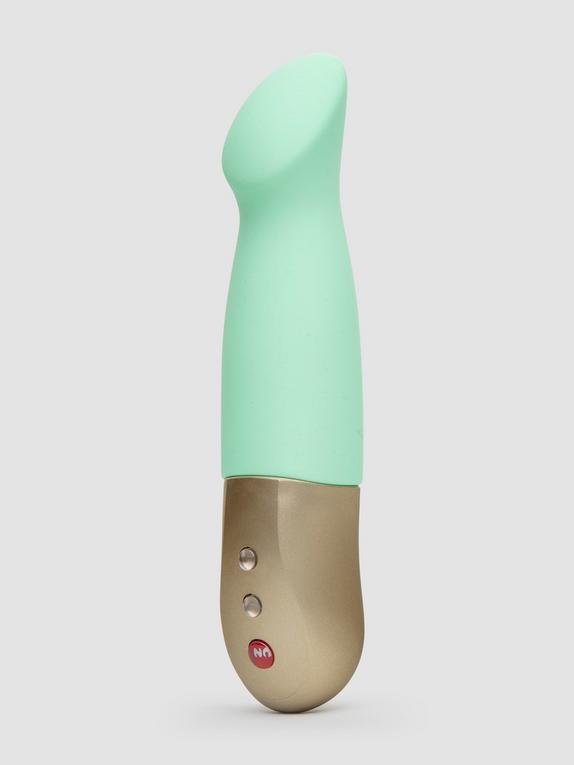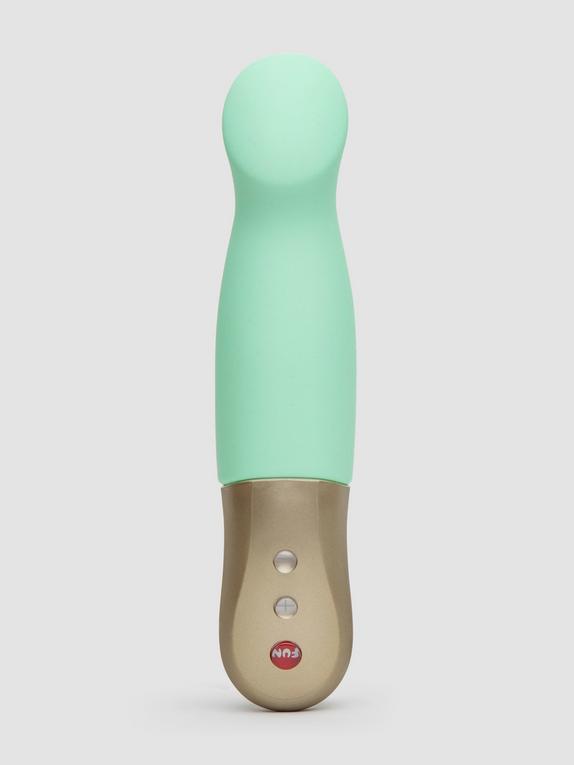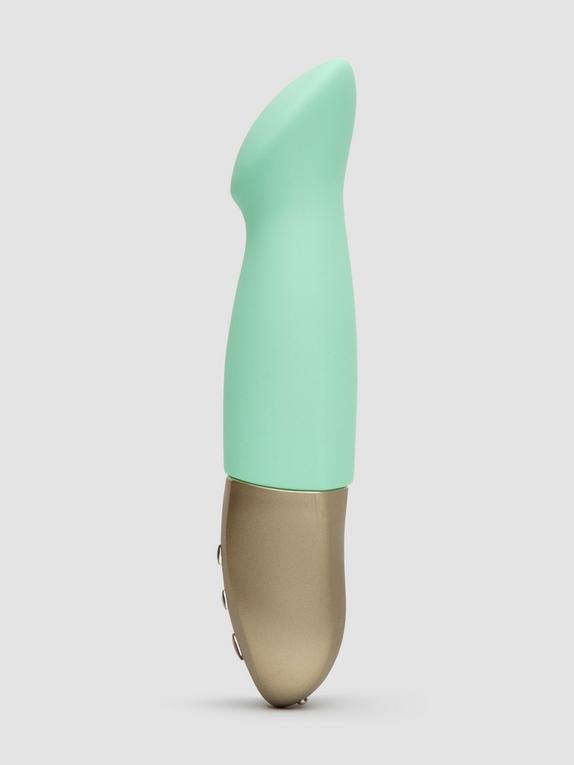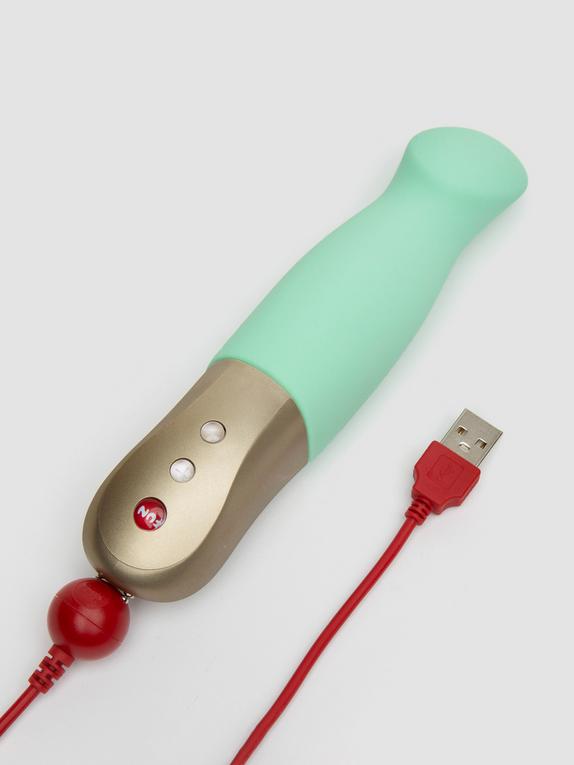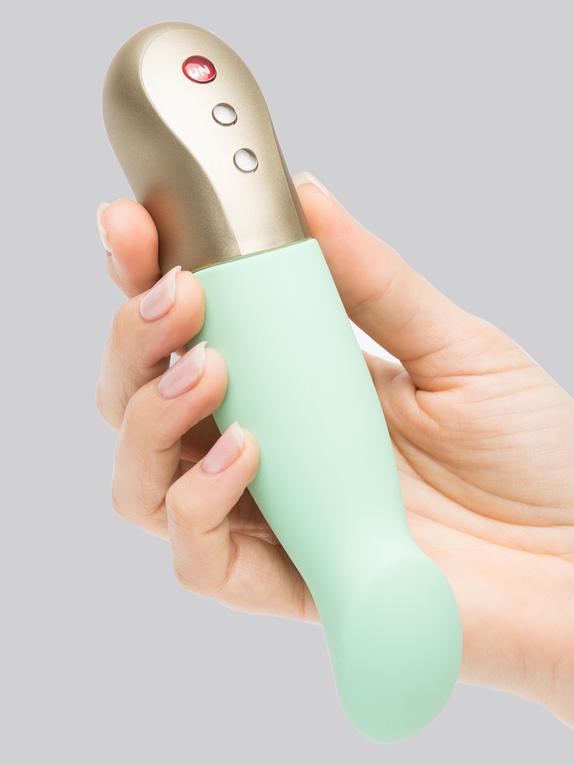 Fun Factory Sundaze Rechargeable Thrusting Vibrator
Last chance! This product is not going to be re-stocked!
Rechargeable thrusting vibrator for deeper, more fulfilling pleasure sessions
Explore 15 thrusting, tapping and stroking modes for varied sensations
Super quiet with raised, light-up buttons for discreet enjoyment and easy play
Waterproof for nerve-tingling bathtimes and fun in the shower
Experience incredible sensations with this thrusting vibe from Fun Factory. Using exciting new tech, this super-quiet toy is more than just a vibrator – explore its tapping, thrusting, stroking and fluttering modes for deeply fulfilling pleasure sessions.

New Pulse Vibe technology offers a spectrum of sensations that stimulate the body in unexpected ways, both internally and externally.

With its range of rumbling vibrations, and tapping and pulsing modes, SUNDAZE engages nerve-endings many other vibrators can't, for awe-inspiring arousal.

With 15 modes to choose from, this toy just begs to be played with for hours at a time, either solo or with a partner.

Always slather with a generous helping of water-based lube before play.

Please note: this product is not recommended for people with pacemakers.
Essential Info

Allergens: Latex-Free , Phthalate-Free
Waterproof: Submersible

Power and Speed

Power Type: Rechargeable
Run Time: 180 minutes
Vibration speed: Speeds and patterns

How it Measures Up

Circumference: 4 inches
Insertable Length: 4.5 inches
Length: 7 inches

How it Feels

Flexibility: Flexible
Material: Silicone
Product videos
Experience incredible sensations with this thrusting vibe. Using exciting new tech, this super-quiet toy is more than just a vibrator – explore its tapping, thrusting, stroking and fluttering modes for deeply fulfilling pleasure sessions.
Vibrator Advice
Our handy Vibrator guides will help you navigate the wonderful world of vibrators, and choose and use the best Vibrator for you.
Frequently bought together
Popular combos for more sexy fun
Customer reviews
4.1
4.1 star rating
7 Reviews
4.1
4.1 star rating
7 Reviews
Thank you for posting a review!
Thank you for posting a review!
Your review was sent successfully and is now waiting for our staff to publish it.
Search reviews
5.0 star rating

4.0 star rating

3.0 star rating

2.0 star rating

1.0 star rating
A wonderfully unique toy
Review by Queerantine on 2 Apr 2021
review stating A wonderfully unique toy
It's hard to know what to say about this one because it's very different to all the other toys I own, including thrusting ones. If that intrigues you, it's probably worth a punt, but if that sounds intimidated maybe go for something more standard.

I absolutely love this toy. The various different modes are incredibly stimulating. My personal favourite is the tapping, which genuinely feels like getting finger banged. It's shockingly good compared to other toys that supposedly emulate sex acts.

It's not a quick orgasm toy, but absolutely brilliant for building you up. If you sometimes struggle to reach orgasm, as I do, this toy could definitely be one that may help. It functions in a way that is like trickling water into a glass, it might take a bit of time but will eventually spill over.

It doesn't make a great clit toy, so best to pair it up with something, though I could see many people reaching orgasms with this one on internal alone. Definitely a good toy if you're chasing the elusive G Spot orgasm.

The toy itself has a lovely feel, soft silicone, a fair bit of flexibility. It looks like a fairly small toy, but it's movements mean it packs the punch of a larger toy.

Also, notably it is perhaps the quietest toy I have ever owned, regardless of setting. If you need a little stealth its definitely perfect for that.

Overall I highly recommend this if you are looking for a new experience, looking for a slow build toy or hoping for a G Spot orgasm, but it's the kind of toy that might be hit or miss so if you're looking for a safe bet, look elsewhere.
Pros:
The tapping is amazingly like getting finger banged.
Cons:
Nothing, but it might not be the best fit for everyone.
Bottom Line:
An unique toy perfect if you're looking for something a bit different.
On Fun Factory Sundaze Rechargeable Thrusting Vibrator
Was this review helpful?
0
0
Terrible
Review by Verified-Customer on 25 Mar 2021
review stating Terrible
Spent an hour and a half changing and changing the setting never finding the thrust setting that I had find the first time.
Cons:
The chargers magnetism want strong enough so if the surface is not flat, it did not stay attached.
Bottom Line:
Expensive phallic paperweight
On Fun Factory Sundaze Rechargeable Thrusting Vibrator
Was this review helpful?
0
0
Good present for the woman who has them all
Review by Petrichor on 23 Nov 2020
review stating Good present for the woman who has them all
I received this as a tester on a week-long turnaround to meet the review deadline, so this is quite a first-impressions review. Toys that are out of the ordinary can take time to figure out how to make them work for you, so I'm expecting to only enjoy it more in the future.Straight out of the box, I wasn't impressed with the build quality, especially for such a premium toy. The handle isn't really metallic, it's more of a matte gold paint that looks a little scuffed. Something's loose in it which gives it a slight rattle. The silicone felt grainy under my fingers, and when I looked closely I could see it had tiny silicone burrs. With enough lube these don't cause irritation or chafing, so it's not going to stop my enjoyment. The magnetic charge can attach either way up, which sounds good, but actually means the magnets compete and the connection is quite fragile.The controls are well designed; because of the simple buttons, it's easy to pick up and go, but it's definitely worth reading the settings page. The box and manual also give tips including, unusually, brunch suggestions.There are three buttons, Up, Down, and "Fun" which made me laugh - it's mostly just a slightly larger on/off button.This means you can quickly turn it off, and if you turn it back on within 15 seconds it picks straight back up where you left off. This avoids disruption being a buzzkill, and is easy to control for edging.The up and down buttons beep each time you change setting. It's not a loud beep, but it is audible. It stops beeping so you know when you've reached the end of the settings. The vibrations are definitely something special; they're powerful, and incredibly quiet despite that, actually quieter than the beeps! They're also surprisingly musical - I checked against my piano and the first few settings are tuned in a C minor chord.The settings aren't different strengths, you can't choose stronger or weaker vibrations, they're all just very different types. Because of this it's not one for power queens, and it's useless for a quickie - it's definitely more of a slow build and enjoy the journey kind of toy. I paired it with my womanizer premium for a quick lunchtime session, but half an hour later my break was was over and I hadn't got anywhere! It had become really warm in that time, but not so much that I think it's a problem, although "unusual heat build up" is listed as a warning in the "DON'TS" section. I'm happy with this I since I normally pay extra for heated toys. The first setting's nice and buzzy on my clit, but does nothing for me internally, so it's good to warm up with, but the rest are nice and rumbly. The bulbed head of the toy is great as a general clitoral stimulator, it feels more like a magic wand than a bullet. The real stars are the thrusting settings - I've had several mechanical come-hither motion toys where were always loud and ineffective. Sundaze really feels like thrusting - and if you hold it loosely in your hand you can see it move back and forth. I love the feeling of tapping the end of a firm silicone dildo, so it's no surprise that the tapping settings are probably my favourites, but all of them are good to cycle through.You do have to hold it very lightly, so you can't grip or thrust with it, but also can't let go because it thrusts itself straight out! This is a shame, because it would have been a great handsfree toy to lie back and relax with. It's probably the best toy I have for internal vibrations, but I can't orgasm without clitoral stimulation. Strangely though, when I did orgasm my clit became really sensitive. Even the lowest setting on my womanizer starlet was oerwhelming, and so were my partners fingers - when he didn't stop I was squirming and giggling hysterically. I particularly wanted this toy because of its small size (read the measurements!) and it was a perfect fit for me - at least to begin with. As time went on, I found myself wanting to move to something bigger if I didn't come fast enough. It also means that some angles won't work - if I tried to use it from behind it would just slip out every time. I was disappointed to see that the manual specifically says not suitable for anal; just the tip with a narrow neck looks like it would be a good butt plug! Instead I'd like to try pairing it with one since it's small, and the vibrations transfer really well.This is a really good toy for someone who's already got a few and is looking for something a little different, and wants more than just size and power. It does need a little time to enjoy, but is quiet and waterproof, so a good contender for locking yourself in the bathroom! It wouldn't be my first choice for if I was more focussed on the destination than the journey, this is more of a special-occasions relaxation toy.
Bottom Line:
Awesome if you want something novel with lots of fancy settings.
Pros:
Good controls, amazing vibrations, tapping/thrusting settings, very quiet.
On Fun Factory Sundaze Rechargeable Thrusting Vibrator
Was this review helpful?
0
0
Holy Moly
Review by Elizabeth on 22 Nov 2020
review stating Holy Moly
Wow this rocked my world!!!! I have been curious about the SuNDAZE since its launch as I love Funfactory all their products are emaculate and Iittle different from the norm.Normally I reach for a clitorial toy as a standard vibrator just tends to make me a bit numb and honestly they do nothing for me. I find it hard to cum during sex so I've always been looking for the thing that's going to try and awaken vaginal pleasure. Enter the Sundaze! Now if you like vibrator power queens then this isn't for you. It vibrates but there are better out there. But the tapping, rumbling and thrusting setting are where this toy is AT! The first time I used it I killed the battery after a full charge because this stimulates you in a way where its pleasurable for long amounts of time without losing sensation. Switch it up and oh, it feels good! I have only have my Toy 48 hours but it is now the ONE I have reach for and I have reached for it a lot. OMG. I seriously think this toy is going to teach me about what I like and just genuinely improve my sex life! The iceing on the cake is that Funfactory have thrown in a free storage bag which normally you have to buy separately. The beautiful soft silicone is a dust magnet so I was greatful for it. All in all it was expensive but it was worth it. Im in lockdown by myself. I deserve it!
Bottom Line:
My holy grail of sexual pleasure.
Pros:
Tapping, rumbling and thrusting.
On Fun Factory Sundaze Rechargeable Thrusting Vibrator
Was this review helpful?
0
0
Unique and interesting vibrator, yet disappointing
Review by BluePup on 20 Nov 2020
review stating Unique and interesting vibrator, yet disappointing
I was ever so kindly sent this Fun Factory Sundaze Rechargeable Thrusting Vibrator by Lovehoney in exchange for an honest review. Thank you, Lovehoney!It is first worth noting that this toy is not suitable for those with pacemakers. Arriving discreetly, this unique toy by Fun Factory comes in a sleek and pleasant looking box. Inside you find the charging lead, a branded beige/goldish bag/case for your new toy, and a lovely detailed booklet. This booklet is one of the best I've ever had come with a toy- it gives amazing detailed instructions on how to use the vibe, along with a few ideas of how to use the toy with a partner, games you can play as well as a couple other things! The paper feels really nice and premium. One thing I found out through the packaging is the focus on being ethical and environmentally aware with toy production, which is lovely to see being a focal point of a brand.Moving onto the vibrator itself, I found myself instantly drawn to the seamless nature of the silicone. It's so very soft and feels amazing to the touch. I haven't felt a silicone quite so nice before, so this is a real premium treat. As there is no flared base, this toy is not suitable for anal play, but for those with a vagina it offers a luxury slick feel. It definitely stands out for this reason against my other toys.The charger is magnetic and easily attaches to the toy. I found that it could easily disconnect, however, meaning it's best to keep charged in an area where it can't fall off or get knocked. I've used the toy quite a few times now for long periods, and I've found the charge to last a good amount of time and the toy remain at a good vibration level.I was very excited to try out the thrusting and tapping sensations this toy offers. While I am fond of the thrusting and the patterns using this function, I have to say I'm really quite disappointed by the strength of vibrations this vibrator offers. Compared to my much lower priced toys, they are weak and I really do wish they had more of a punch. I adore power when it comes to toys, and while the tapping sensation is something I've never experienced before which is interesting and standout about the vibe, it doesn't live up to the expectation I had. I haven't managed to reach orgasm with this toy on its own. The only time I have reached climax using this toy is when using with my partner who also stimulated my clit with his fingers. I feel that without this, I really wouldn't have reached the point where I am able to come. I have managed to do this alone too, but the dual stimulation I find to be a necessity. If this toy was in the form of a rabbit, I definitely think it'd work better for me personally.I have to say, while the vibrations and actual function of the toy doesn't work for me, who is very power hungry, they are extremely quiet. You definitely couldn't hear this even through thin walls which is lovely to see. While I can't come with this toy alone, I do enjoy using it alongside my fingers for my clit when I need my toys to be quieter.Overall, while very interesting as an idea, I don't find this toy to work for me personally. It's lovely to see a smaller internal stim vibrator with unique functions, but the Sundaze just doesn't hit the mark for me personally.
Bottom Line:
Interesting and unique, but just isn't right for me.
Pros:
Presentation, seamless soft silicone, booklet that comes with it, thrusting patterns, quiet.
Cons:
Too weak for me personally, higher price for what you get.
On Fun Factory Sundaze Rechargeable Thrusting Vibrator
Was this review helpful?
0
0