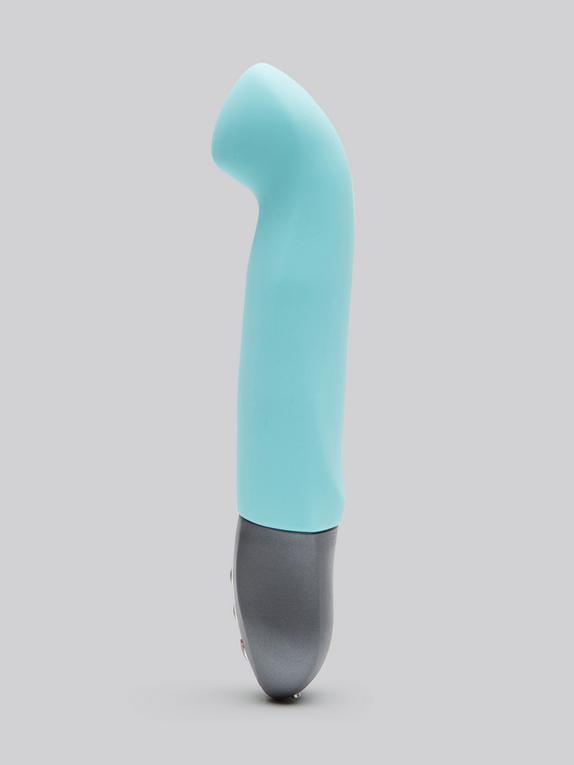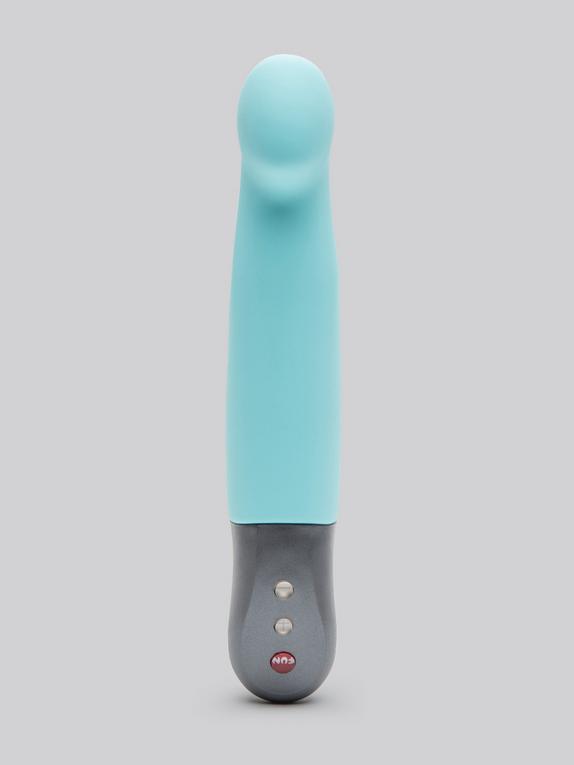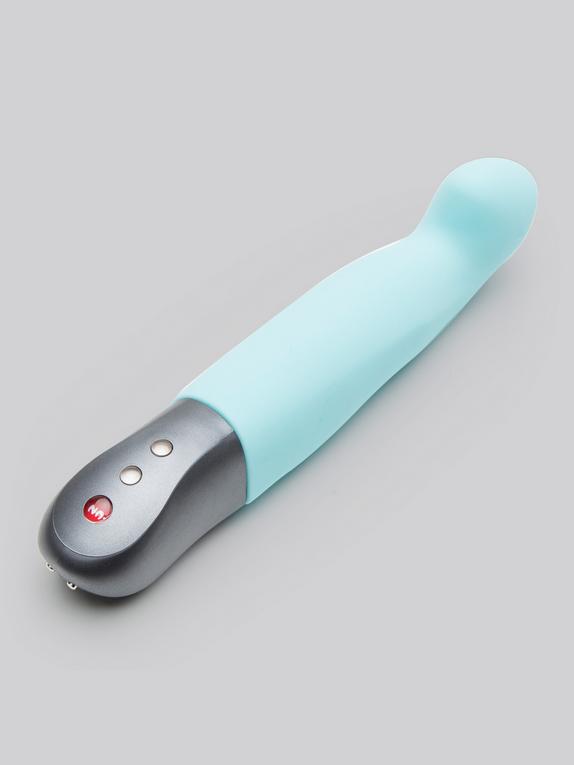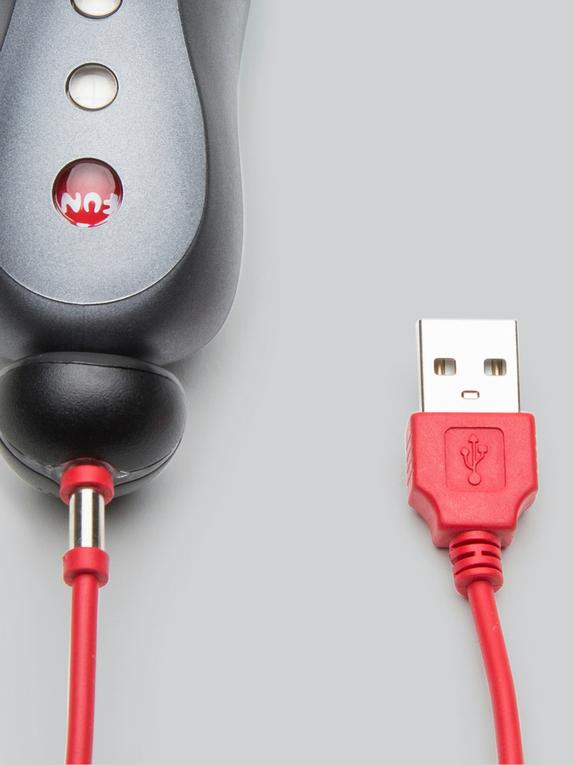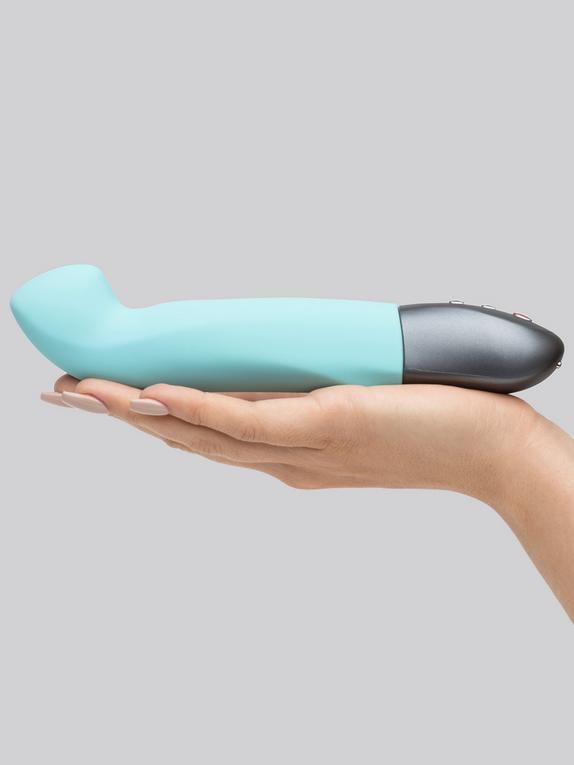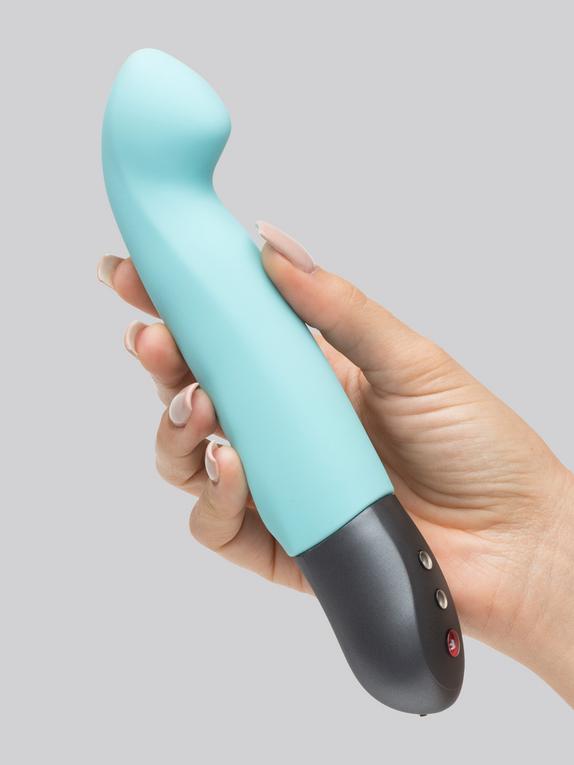 Fun Factory Stronic G Rechargeable Thrusting G-Spot Vibrator
Last chance! This product is not going to be re-stocked!
Thrusting G-spot sex toy for thrilling, powerful internal massage
Rigid shaft coated in premium silicone with a curve tip offer precise G-spot pleasure
Innovative solenoid technology uses magnets and weights to create silent thrusting
USB magnetic charging and travel lock offer easy enjoyment anywhere in the world
100% waterproof for easy cleaning and bathroom sexytime
Forget oscillating vibrations; they're soo last year. Isn't it time you moved with the times and got yourself a solenoid sex toy? Using an internal weight and magnets, the Stronic G thrusts powerfully back and forth for sheet-clenching G-spot pleasure.

Not only amazing for power and stimulation, but thanks to the innovative motor, this vibe is almost silent, too. Explore all 10 speeds and patterns of thrust to find the perfect one for you.

Always use with a happy squeeze of water-based lube to assist slide and glide.

Please note: this product is not recommended for people with pacemakers.
Essential Info

Allergens: Latex-Free , Phthalate-Free
Features: Rechargeable
Waterproof: Submersible

Power and Speed

Power Type: Rechargeable
Vibration speed: Speeds and patterns

How it Measures Up

Circumference: 4.5 inches
Insertable Length: 6 inches
Length: 8.5 inches

How it Feels

Flexibility: Rigid
Material: Silicone
Product videos
Forget oscillating vibrations; they're so last year. Isn't it time you moved with the times and got yourself a solenoid sex toy? Using internal weights and magnets, the Stronic G thrusts powerfully back and forth for sheet-clenching G-spot pleasure
Vibrator Advice
Our handy Vibrator guides will help you navigate the wonderful world of vibrators, and choose and use the best Vibrator for you.
Frequently bought together
Popular combos for more sexy fun
Customer reviews
4.1
4.1 star rating
7 Reviews
4.1
4.1 star rating
7 Reviews
Thank you for posting a review!
We really appreciate your opinion and hope to see you again soon.
Thank you for posting a review!
Your review was sent successfully and is now waiting for our staff to publish it.
Search reviews
5.0 star rating

4.0 star rating

3.0 star rating

2.0 star rating

1.0 star rating
Not Worth It
Review by Verified-Customer on 18 Sep 2020
review stating Not Worth It
I really wish I could write a good review for this product because in theory it ticks all the boxes. G Spot stimulation? Check. Hands Free? Check. Nice colours that match my kmart colour scheme? Check. However in practice you are paying for the gimic of it rather than anything. I tried to use this a few times before returning it for a refund (thanks lovehoney!) and going with the classic njoy stainless dildo to compare. It's been about 3 months now as I really wanted to wait to compare. As mentioned by someone else, the bulbous head is really uncomfortable to first insert and the buttons are quite awkwardly placed. There's no flexibility in it to make it easier to hook in. For this price you'd expect a remote to make things easier and be truly hands free. Or even bluetooth with your phone to be able to control it from there. The self thrusting modes are plentiful but considering you have to lean it against a pillow or hold it, it kinds defeats the purpose. And after all that, I found because the vibrations are in the body and not the head, you really don't even get any stimulation. At the end of the day, its a good idea but with bad execution. Save your money and buy a combination of a dildo and gspot stimulator or get the we-vibe chorus, which I found is what I expect a hands free toy to be.
Cons:
Not strong enough vibration against G-spot. Poor instructions. No remote. Uncomfortable to insert.
Bottom Line:
Paying for a gimmick.
Pros:
The colour. The idea.
On Fun Factory Stronic G Rechargeable Thrusting G-Spot Vibrator
Very different experience
Review by Verified-Customer on 7 Sep 2020
review stating Very different experience
I read several reviews of the Fun Factory products and was pleased to see I could get this. It is a VERY different experience compared to usual vibrators, and if you like the feeling of penetration its the toy for you. It needs a LOT of lube but I find it cleans off well. I store it in the box and its fine. I find the bulge of the head quite uncomfortable on insertion so you have to be VERY relaxed to take this. Its annoying that when you turn it on it starts in the MIDDLE of the settings but its easy enough to take it down a couple of notches. Its quite loud, and also heavy. Easy to clean and charge and cos of the LONG upfront charge it lasts for ages. Love the blue colour tho!
Cons:
Bulging head is uncomfortable.
Pros:
Love the way it feels, like the heft.
Bottom Line:
Well worth this investment if you want a different style of experience.
On Fun Factory Stronic G Rechargeable Thrusting G-Spot Vibrator
Mind-blowing orgasms
Review by Verified-Customer on 29 Dec 2019
review stating Mind-blowing orgasms
I wanted this pulsator for some time now and when l saw that lovehoney will not restock, I knew it was the time to finally have it (and I am glad I did). The Stronic G comes in a simple cardon box, like all Fun Factory toys, with a magnetic USB charger and a manual. It's recommended to completely charge it before the first use that take 6 hours and gave me 1 hour and 15 minutes of play. Now that I've tried a Fun Factory Stronic pulsator, I understand the hype. And this isn't just any Stronic: the G is designed for really amazing G-spot stimulation. Plus it has a new less-draggy silicone finish, compared with the other Fun Factory vibrators I own. The Stronic G is addictive, to be honest. It's a toy that does the work for me every time I use it and has a big plus that can go hands-free. The constant-mode patterns are repetitive in the best way, and feeling the focused head at my G-spot, over and over, is mind-blowing. It's completely waterproof so you can take it in the bath and it's very easy to clean.
Bottom Line:
I strongly recommend the Stronic G pulsator for some hands-free mind-blowing orgasms.
Pros:
The shape, the sensual pulsating movement of the shaft.
On Fun Factory Stronic G Rechargeable Thrusting G-Spot Vibrator
My New Favourite G-spot Toy
Review by Verified-Customer on 12 Aug 2019
review stating My New Favourite G-spot Toy
I have always been more into clitoral stimulation than G-Spot stimulation. I've found a couple of G-Spot vibrators that I have enjoyed and I have some metal and glass dildos I quite enjoy but generally I don't reach for internal toys. This toy has changed that. At first it was very strange to be using a motorised toy that doesn't vibrate. Particularly for me as if I am in the mood to use a dildo it is generally a metal one, so the silicone feel without any vibration was definitely a weird feeling for me. However, I persevered and I am so glad I did. The thrusting motion is amazing. I have used thrusting toys in the past, but this blows them all out of the water. Regardless of the setting, it has a strong thrusting feel which is perfect for G-Spot stimulation and coupled with the constant perfect rhythm of the thrust, this toy is just unbeatable. Even when using a pattern setting, it still maintains this ideal consistency. And yes, I think I have finally found a toy that I really enjoy using the pattern settings on! I bought this model specifically for G-Spot stimulation and the head hits my G-Spot brilliantly well. I have use it for deeper penetration and it is pretty good but if that is what you after, I would suggest getting a different model (to be honest, I am definitely tempted to buy another shaped one) I don't often use much in the way of lubricant but I will say this toy does need it. The silicone is the slightly draggier kind and so needs lubrication to reduce the friction. The only issue with the draggier silicone is that it is a complete dust magnet and so you will need to either keep it in its box or buy a storage bag for it. (The lack of a storage bag when their toys really need them is probably the one thing that lets Fun Factory down) I really like the fact Fun Factory toys require you to press and hold the Fun button to turn on but a single press will turn it off. This is by far the better way around and stops it starting up accidentally and allows for a quick shut off if needed. Despite having a simple looking plus and minus buttons, I do find the controls a touch fiddly to start with and finding the right setting isn't always as obvious as it should be. Do have a look at the instructions and definitely have a play with the controls before you go to use the toy properly. The thrust action in this toy comes from magnets. This does make the toy quite weighty but it does also come with a warning about using it if you have a heart device. Magnets do affect heart devices and the one in this is pretty strong. That doesn't mean you can't use it if you have a heart device but you should consult your doctor first. Fun Factory are pretty helpful if you email them and can provide you with the specifications of the magnets. Overall, I love this toy. It is my go to toy for G-Spot stimulation and I am definitely including G-Spot stimulation into my solo and partnered sex a lot more. Yes, this toy is expensive but it really is worth it if you are looking for something that is different to everything else out there and actually works really well.
Pros:
Amazing G-spot stimulation.
Bottom Line:
An incredible toy.
Cons:
Dust magnet with no storage bag.
On Fun Factory Stronic G Rechargeable Thrusting G-Spot Vibrator
Beautiful in blue
Review by Verified-Customer on 14 Aug 2018
review stating Beautiful in blue
Okay, so anyone that knows me knows I lose my sh!t when things come in blue, and this was no exception. I'm always a fan of the more exceptional colours in sex toys! I'm a big fan of FunFactory, trusting in their German engineering to produce beautiful, powerful and quality sex toys. I've been after a pulsator for a long long time, but was a bit scared of the other highly ridged shapes so seeing this was an instant win, especially with the curve and bump to give some love to my g-spot. As always the packaging is lovely, keeping the toy neat and safe, and no trashy images in sight. Lots of explanatory diagrams, and some icons to explain the features. Very nice. The toy itself is gorgeous, and the first thing you'll notice when you pick it up is that it is HEAVY. This gives it some nice weight to thrust with, making it very enjoyable to use even without the power on.The second thing is the silicone. It's very smooth and soft, but it has some drag to it. THis is an amazing texture to use though it does require a fair bit of lube, but it gathers lint like nobody's business (cat hair on toy, 2/10, do not recommend), so I'd definitely recommend a storage bag! I had to recruit assistance to use this toy initially, as I was defeated by the travel lock (who knew what reading the instructions could do...), but this does mean you aren't gonna have it turning on in random places. The buttons are a simple 'FUN' on/off button, and a plus and minus to control the speed. The settings this toy offers are speeds of thrusting, as well as some programmed patterns that blend and vary the speed. Whilst I'm not normally a pattern girl, I kind of like these, they make it a bit different and interesting. In use, I found the speedier the better, and tilting the toy to push against my g-spot gave an amazing feeling! I haven't particularly used this toy deeply, as I found it feels best with the head focussed around the entrance to the vagina. I have also found that this is best used in conjunction with some sort of clit stim, but that's probably just my preference. On it's own this feels amazing, but it's never going to get me all the way. Other features I love are that it's totally waterproof, and the magnetic charging, which is always nifty (though a universal magnetic charger would be nice....) . All in all, I would recommend this toy, it's exciting and novel, and provides a different kind of stimulation for when you want something new, or if traditional vibrations just don't do it for you. I would probably not buy this at full price, but if you can take advantage of a discount, snap it up!
Cons:
Needs something to complement it. Maybe add vibrating rabbit ears?
Pros:
Novel, interesting sensation, comes in blue.
Bottom Line:
Worth it on a discount, great alternative sex toy.
On Fun Factory Stronic G Rechargeable Thrusting G-Spot Vibrator