C-ya later, orgasm gap!
If you're looking for a C-shaped wearable sex toy, there's really no question about which brand to go with; We-Vibe is the OG in the field, being the first to introduce this lovable couples' toy category to the market and constantly upgrading and innovating to offer new and better ways to enjoy this now-staple wearable toy category. Not only is We-Vibe the originator of this stand-out type of couples' vibe, but its accompanying app is a game-changer for play, allowing for long-distance fun, custom vibrations, and special modes to explore.
While the brand choice for C-shaped vibes may be obvious, the exact product for you can be less so – We-Vibe's C-shaped couples' vibrator collection is vast and varied. So, before you make the call on which one to improve your sex life with, allow us to introduce you to the main players and teach you about their individual pros and cons.
Sync O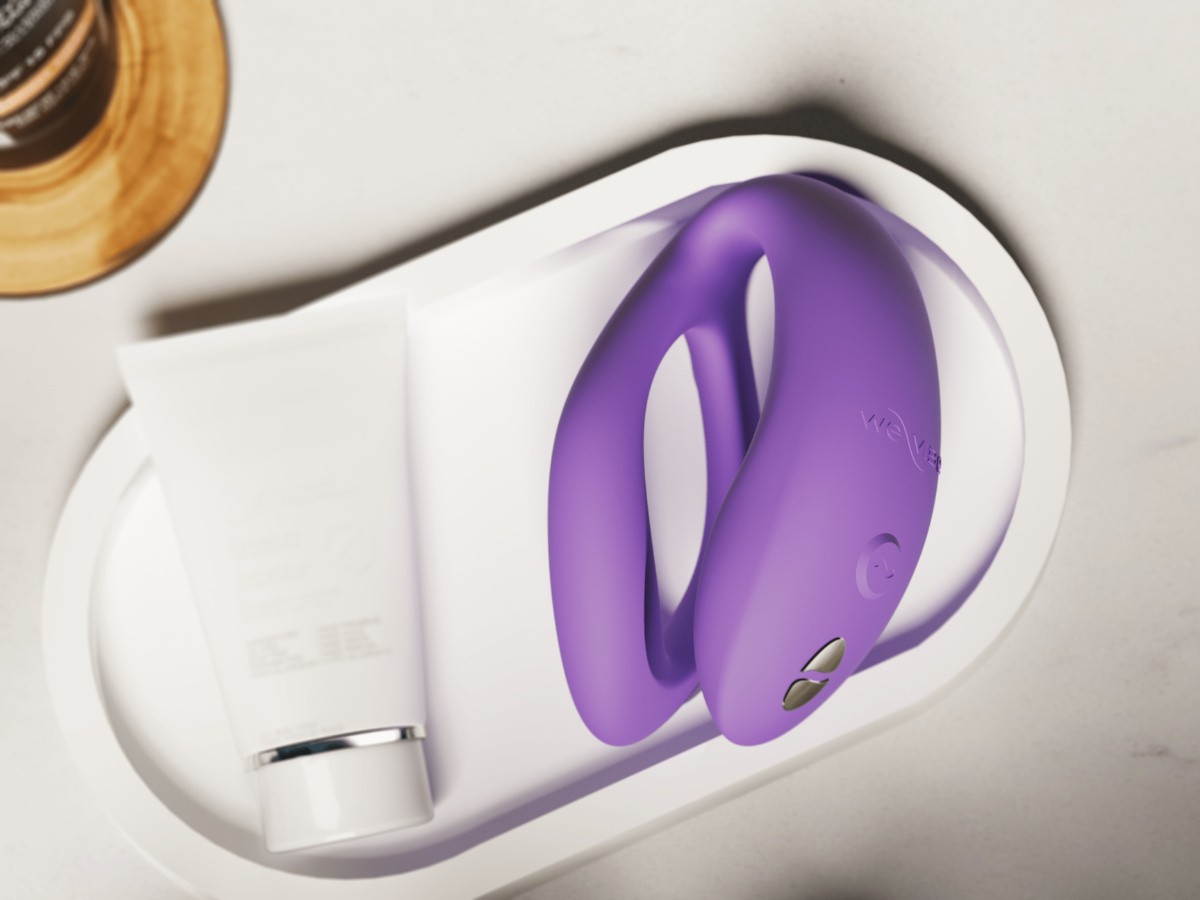 A groundbreaking innovation in the C-shaped couples' vibrator category, the Sync O goes where no other toy of its kind has before with its flexible O-shaped internal arm that ensures the luxe sex toy stays put no matter what! Whether you're switching positions, enjoying particularly rough 'n rowdy fun, or going for a brisk walk in the park, the Sync O ain't goin' nowhere until you decide you want it to.
Where the Sync O shines:
Intimate Connection
The slim (but super secure!) internal arm with its hollow center allows you to feel ~more~ of your partner while still receiving the benefits of constant clitoral stimulation. The Sync O's internal loop is also incredibly lightweight for a barely-there feel that lets you better focus on your and your lover's bodies intertwining (and all the sweet, shared orgasms that are sure to come). Another way the Sync O wins in the intimacy department? Its no-slip design means you won't have to interrupt the flow of your motion to reinsert a displaced toy or get caught up in worries it might move at the least opportune moment; you and your S.O. will be totally free to concentrate on what matters: truly incredible sex.
Public Play
That ingenious stay-put O-shaped internal arm we keep going on about (can you blame us?!) means you're free to play wherever you want without worry of the toy slipping out, no matter how skimpy your panties may be. The free, accompanying We-Vibe app makes for super sneaky control of the Sync O when you're out and about. Should your phone die before you're ready to stop playing, you can simply switch to using the included remote control!
Marathon Sessions
With up to a whopping 150 minutes (about 2 and a half hours) of play on a full charge, the Sync O boasts the highest running time of all the We-Vibe C-shaped couple's toys!
Who might want to pass:
G-Spot Fanatics
The Sync O is the only C-shaped couple's vibrator in the We-Vibe family that doesn't offer anything in the G-spot stimulation department. This isn't an oversight or a design flaw but a trade-off for the O-shaped internal arm's incredible stay-put power. However, that doesn't mean that G-spot stimulation is out of the question; you'll just need to use other means of seeing it, like G-spot toys or sex positions that hit the G-spot naturally. But if your G-spot is calling all the shots, you might want to opt for the Chorus.
Sync O Fast Facts
Price: $169 (unless you're taking advantage of Lovehoney's many deals and discounts, ★wink, wink ★)

Run Time: Up to 150 minutes

App Compatible: Yes

Physical Remote: Yes

Waterproof: Yes

Dual Motors: No

Rechargeable: Yes

Color Options: 2 – Light Purple and Green Velvet

Comes With: Remote control, charging cable, and storage pouch
Chorus With a glowing reputation that precedes it, the We-Vibe Chorus may just be the most well-known of all C-shaped couples' vibrators. An ideal wearable for blended orgasms, the We-Vibe Chorus boasts not one but TWO powerfully rumbly motors – one in the clitoral stimulator and one in the G-spot-pleasing internal arm – that users can control independently. Talk about a custom climax!
Where the Chorus shines:
Intuitive, Effortless Control
If fiddling with apps or buttons takes you out of the O zone, but you still need an extra push mid-sesh to reach your peak, you'll go crazy for the Chorus's one-of-a-kind Squeeze remote. This unique remote has a special optional function where vibration intensity responds to your touch, growing stronger as your grip does. And no need to worry about accidentally squeezing your way out of your favorite setting – users can choose whether they want their remote on button control or squeeze control mode. But the Squeeze remote isn't the only way for the Chorus to listen to your body – revolutionary Touch-sense modes sync vibrations to your and your partner's movements, letting you truly groove to your own rhythm.
G-Spot Stimulation
If G-spot joys are a top priority, the Chorus is hands-down the best choice on this round-up for you. The luxury toy's internal arm is artfully curved to put delicious pressure on the G-spot and features its own vibrating motor that can be controlled separately from the Chorus's clitoral stimulation motor.
Connectivity
Whether you're using the We-Vibe app for long-distance fun, public play, or not-so-plain 'ol custom vibration and mode control, the Chorus won't let you down thanks to its AnkorLink technology that creates and maintains an extra-secure connection between your toy and your phone's We-Vibe app.
Who might want to pass:
Minimalists
If you prefer to keep things simple, you likely won't appreciate all the advanced features that make the Chorus so spectacular. In that case, choosing a less techy C-shaped vibrator like the Sync O or Sync Lite will get the job done while saving you a few bucks.
Chorus Fast Facts
Price: $209 (unless you're taking advantage of Lovehoney's many deals and discounts, ★wink, wink ★)

Run Time: Up to 90 minutes

App Compatible: Yes

Physical Remote: Yes

Waterproof: Yes

Dual Motors: Yes

Rechargeable: Yes

Color Options: 4 – Purple, Cosmic Blue, Coral, and Pink

Comes With: Remote, storage/charging case, and magnetic USB cable
Sync Lite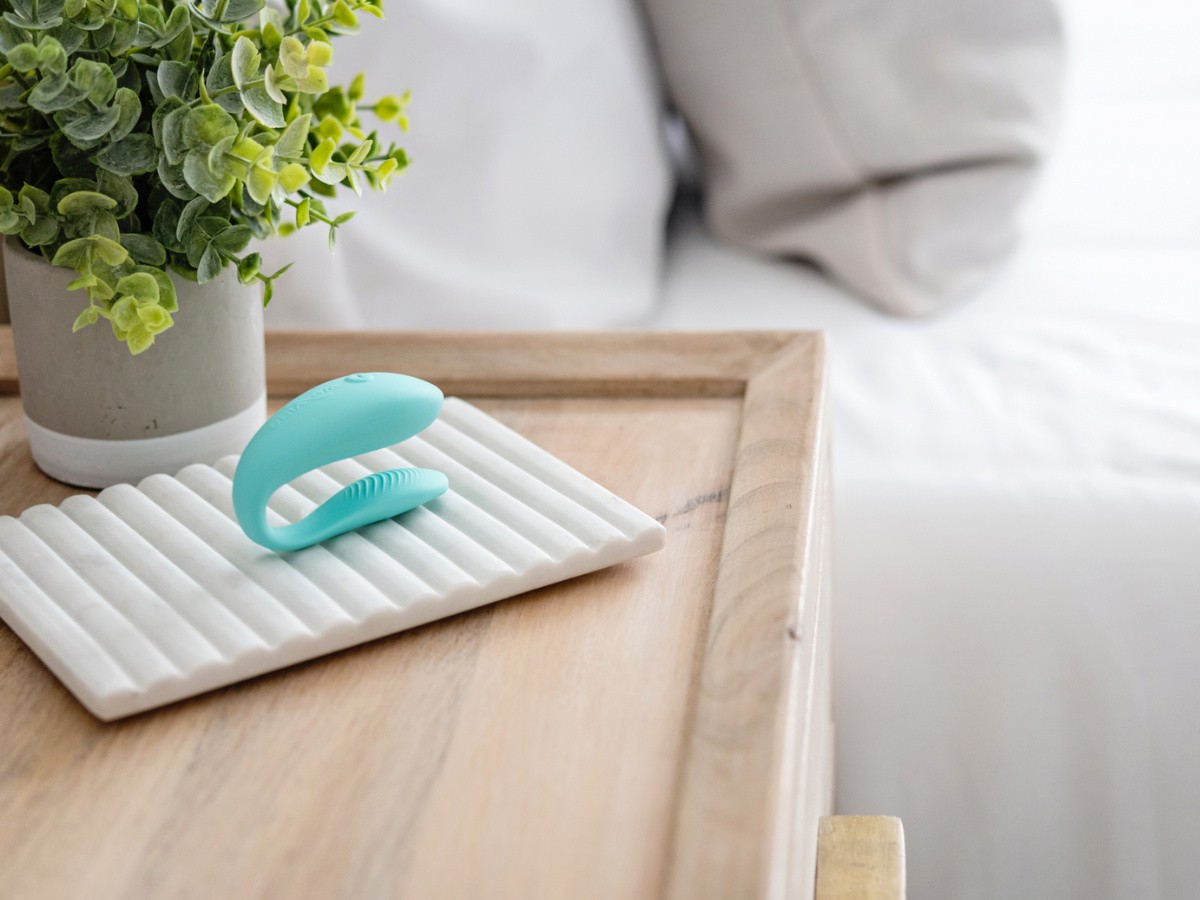 If you want to experience the joys of a high-quality C-shaped couples' vibe but are on a budget, the $89 We-Vibe Sync Lite is the way to go. This entry-level P-in-V wearable provides constant and rumbly vibrations through the motor in its clitoral arm, which carries through into the toy's G-spot-massaging internal arm for delicious stimulation inside and out.
Where the Sync Lite shines:
Accessible Price Point
At under $100 (a rarity for high-quality couples' vibes), the We-Vibe Sync Lite is one of the most affordable high-quality vibrators in its covetable category. With the Sync Lite, you can experience the main benefits of We-Vibe's C-shaped wearables at a fraction of the cost of deluxe models. Sync Lite is a perfect introduction to hands-free vibrations during penetrative sex for couples who are curious about trying this new way to enhance their orgasms together.
Who might want to pass:
Slow-to-the-Finish-Line Couples
If you and your boo like to get it on for hours upon hours at a time, the Sync Lite's 45-minute run time ain't gonna cut it. Those who want a good time and a long time will be better off springing for an upgraded C-shaped vibe like the Sync O or Chorus.
Underwater Lovers
While most We-Vibe C-shape couples' vibrators are fully submersible, the Sync Lite is only splash-proof. If your goal is to use your toy to get jiggy in the bath, shower, or pool (or whatever other body of water makes you randy), then you should opt for the Sync O or Chorus instead.
Sync Lite Fast Facts