Want Better Anal Sex? Use a Wand Vibrator
Wands are fantastic for delivering super-intense pleasure to all your external hot spots. And, thanks to their incredibly powerful vibrations, they're great for giving sensational and soothing body massages.
But, did you know that wands can also work their magic with anal sex? That's right, wands have their place in your backdoor artillery.
Read on for the top tips on how to enhance anal foreplay and sex with a rumbly massage wand.
Use a wand to relax your partner
Perhaps the hardest part of anal sex is being relaxed enough to let it happen in the first place.
Enjoying anal sex requires both a relaxed body and mind. Help get your partner into a totally relaxed state by first treating them to an all-over-body massage.
Use the powerful vibrations from a wand to experience deep tissue massage from the comfort of your own home.
Once sufficiently relaxed, you'll be in a better position to explore anal play.
---
Try an anally targeted massage
Thanks to their smooth, broad heads, wands provide strong, wide-spread vibrations, which are perfect for anal massages.
Glide the wand across the butt cheeks before placing it gently against the anal opening.
Keep it still or move in tiny circles to stimulate the anus. This will provide completely new sensations to your play.
---
Using it during anal sex
Many women find anal sex most enjoyable in conjunction with clitoral stimulation.
Whether you're on all fours, spooning or cowgirl, it's easy to slip a mini wand between both partners to give her incredible dual stimulation.
Plus, it's likely that he'll be able to feel the vibrations too, adding an extra thrill to your anal fun.
---
Try an attachment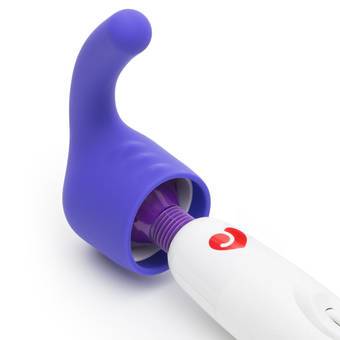 Wands are versatile, multi-use toys and brilliant for all kinds of external stimulation.
However, if you grab an attachment like the Lovehoney Deluxe Wand Silicone G-Spot Head, you can experience the power of wands internally.
The curved shaft is great for deep anal sensations and targeting the prostate gland.
Make sure you use plenty of water-based lube to ensure maximum comfort and pleasure.
---
As with any kind of play, a good quality lubricant is key. Opt for an anal-specific lube like the Lovehoney Discover Water-Based Anal Lubricant to ensure effective lubrication for as long as you need it.
Check out our full range of massage wand vibrators to find the perfect match for your anal play.