Around the World Desires
Have you ever wanted to join the mile-high club? Or fool around in the backseat of a car? Our survey finds that you're certainly not alone.
Being intimate in a location beyond the bedroom is a thrilling fantasy shared by plenty of us that is guaranteed to spice up every sex life. But where do the public dream of having sex the most?
To find out the most desired places to get down and dirty, we asked more than 2,000 adults where they fantasize about being intimate, delving deeper into the psychological reasons behind it.
The fantasy of a new location
Doing the deed in an obscure location is a common fantasy for a lot of adults. Dr Justin Lehmiller, social psychologist and research fellow at the Kinsey Institute explains the psychology behind this.
"For those who do fantasize about sex in novel settings, there are several potential reasons for this. First is the fundamental human need for novelty. We tend to grow bored easily with sexual routines, so mixing up the location in which sex takes place in fantasy (and in real life) is an easy way of reinvigorating arousal.
"Second, specific settings can be helpful for evoking specific emotions that can enhance arousal in some way. For example, fantasizing about sex on the beach, under the stars, or in some exotic location can lend itself to feelings of romance or passion.
"Third, certain novel settings can amp up the intensity of a sexual experience by adding in an element of the taboo, such as fantasizing about sex in a public place where there's a risk of being caught or observed."
Are people more adventurous when they're not at home?
We found that those of us who are brave enough to have sex outside of our home are also more likely to explore their adventurous sides, delving into the world of roleplay, kinks, and fetishes.
Almost half (46%) of those we surveyed are more open to trying a new position during sex outside of the home, and almost a third of us would consider experimenting with sex toys (30%) or roleplay (30%).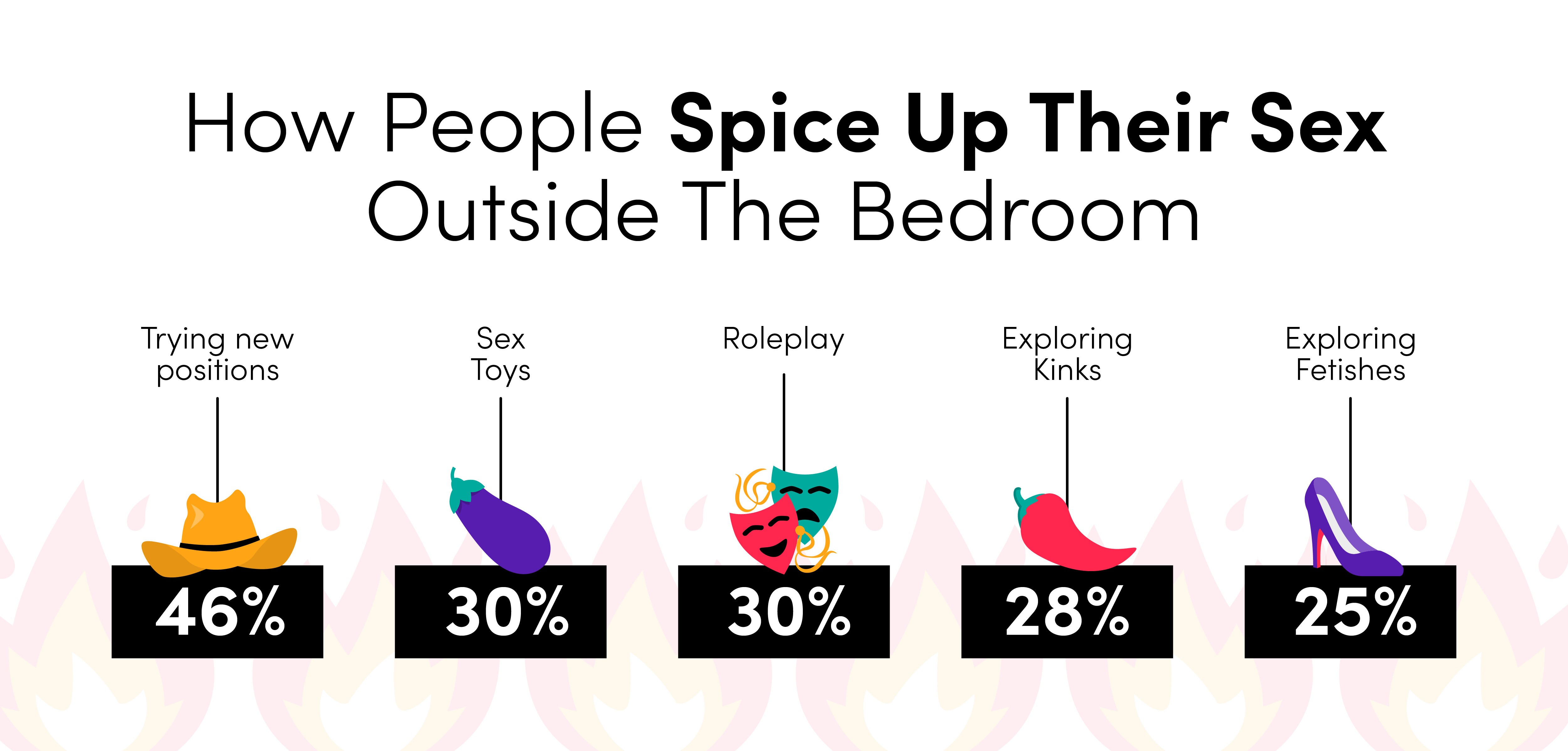 It's clear to see that a new setting can really bring out our wild sides, but what is it about a new place that makes us feel more daring? Dr Justin Lehmiller provides some insights into this.
"People with active imaginations in general tend to vary the setting in their fantasies more often, which makes sense - they fantasize more about almost everything!
"Likewise, sensation seekers (people who have a heightened need for sexual thrills) fantasize more about sex in public settings and other places where the environment adds an element of danger or taboo. Also, women are more likely than men to say that the scene/setting in which sex takes place is an important element of their fantasies."
For most of us (44% overall), and the majority of women (46%), it's because it feels like living out a fantasy. But the most common reason for men is because it involves spending quality time with a partner (41%).
Other than this, 36% of us feel more relaxed outside of the pressures of the bedroom and just over a third of us (34%) feel that our partners seem more comfortable with experimenting.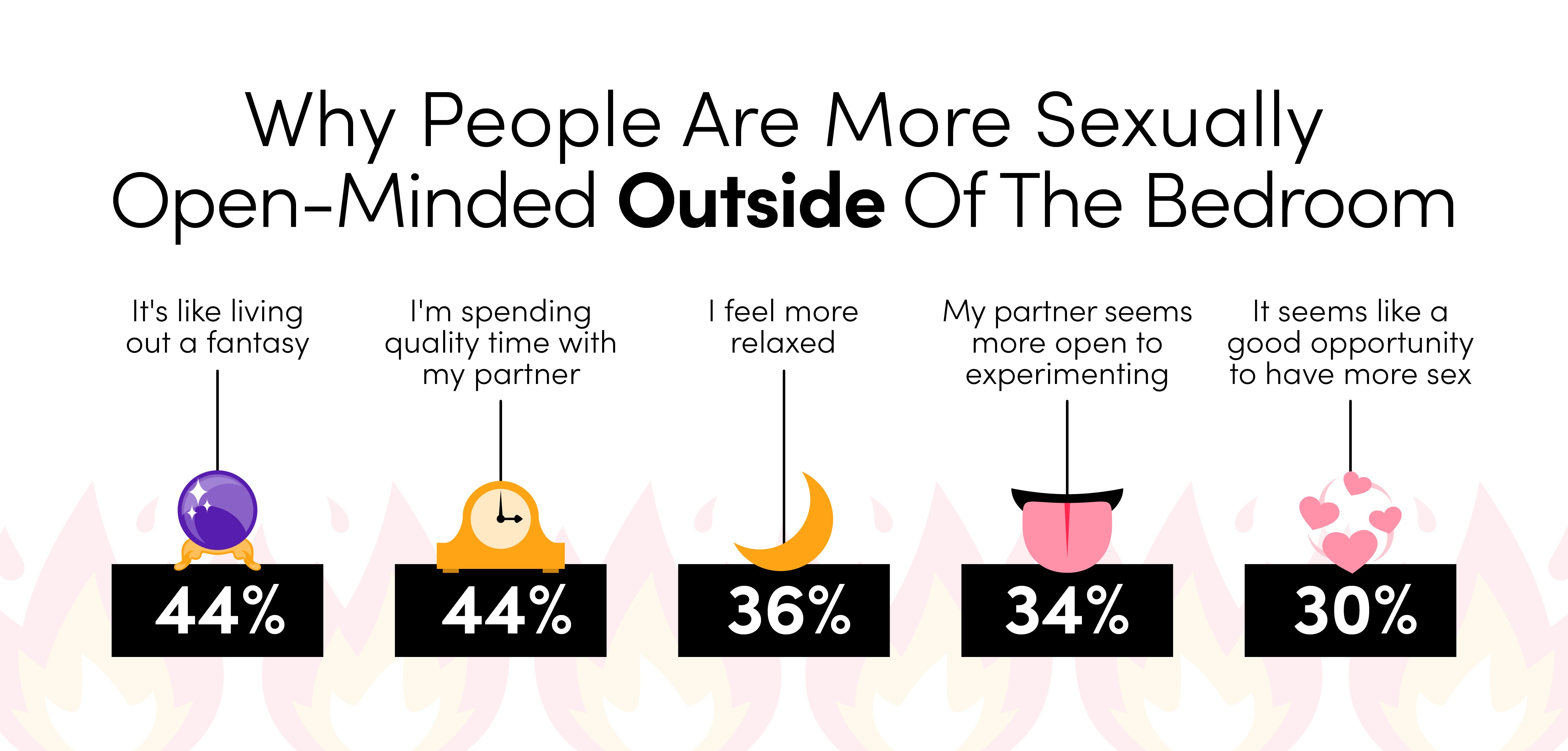 The most desired destinations to have sex
Do you have a dream destination that you'd just love to have sex in? Whether it's a country with a reputation for sex and romance or somewhere with sentimental value for yourself and a lover, this fantasy gives wanderlust a whole new meaning.
We asked our survey group which holiday destinations they'd like to have sex in the most, and unsurprisingly, Italy came out on top. Birthplace of the most romantic language in the world, and home to some of the world's best food and wine, it doesn't take much imagination to figure out why more than 40% of participants would want to have sex in Italy.
And Italy isn't the only country in Europe we'd find ourselves hot under the collar in, France (35%) and Spain (23%) are considered super sexy too. A romantic couples getaway in Europe seems like a sure-fire way to get many of us in the mood, if only we could catch a flight every date night!.
Both having beautiful beaches and stunning scenery, Barbados and Mexico also rank in the top five.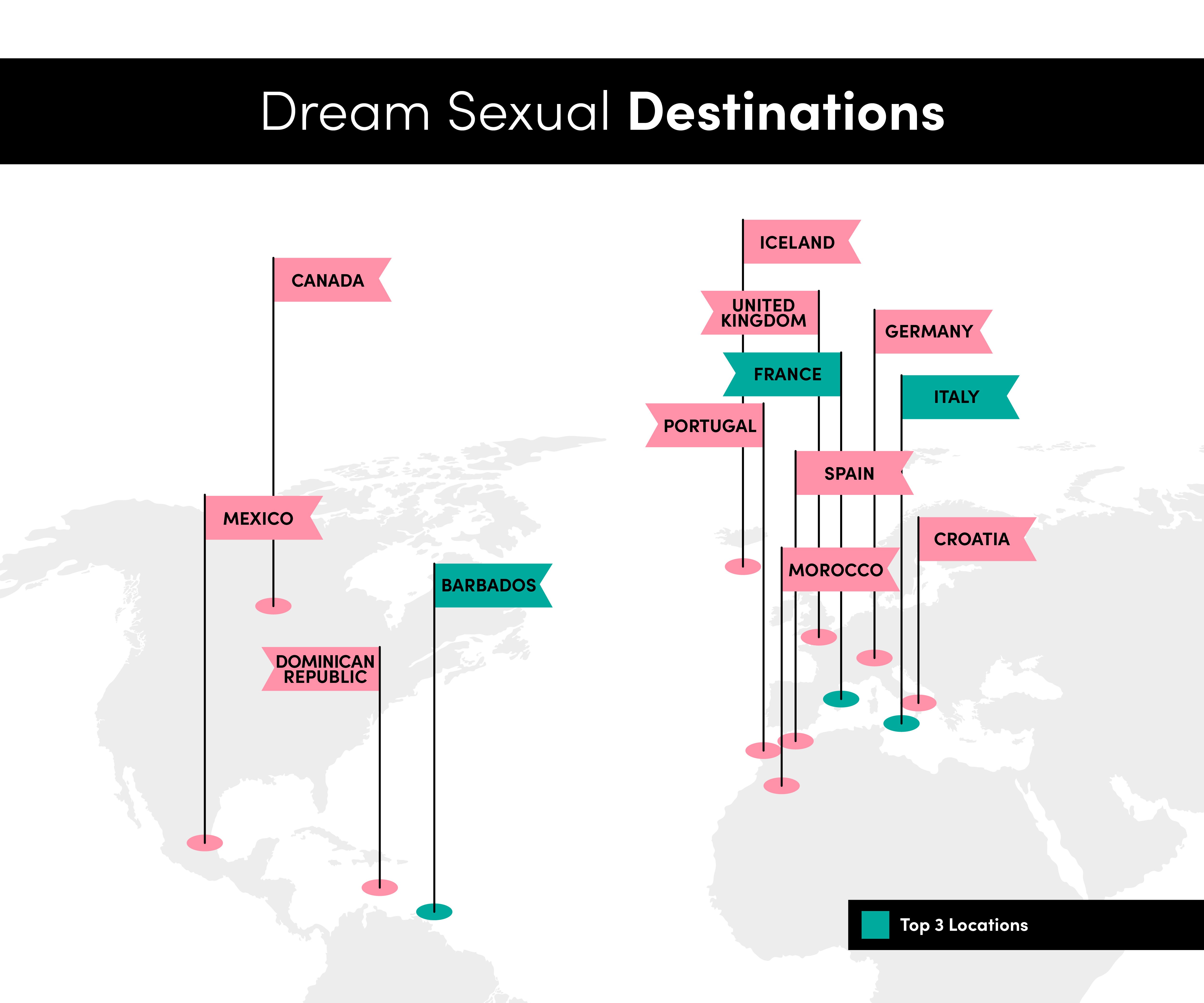 The most desirable locations for sex outside of the bedroom
When it comes to specific situations, shower sex comes out on top as the most common fantasy for sex outside of the bedroom. Almost half of our survey group (46%) like the idea of getting a little dirty before they clean up in the shower.
Sex on the beach is the second most popular location, with 43% of us admitting to fantasizing about a roll around in the sand, which could explain why Barbados, Spain, and Mexico are in the top five most desirable destinations.
Just under a third (32%) of people daydream about fooling around in the backseat of a car, and a similar number (32%) would like to give into their passions by the pool, whilst 20% of people fantasize about making a little commotion in the ocean.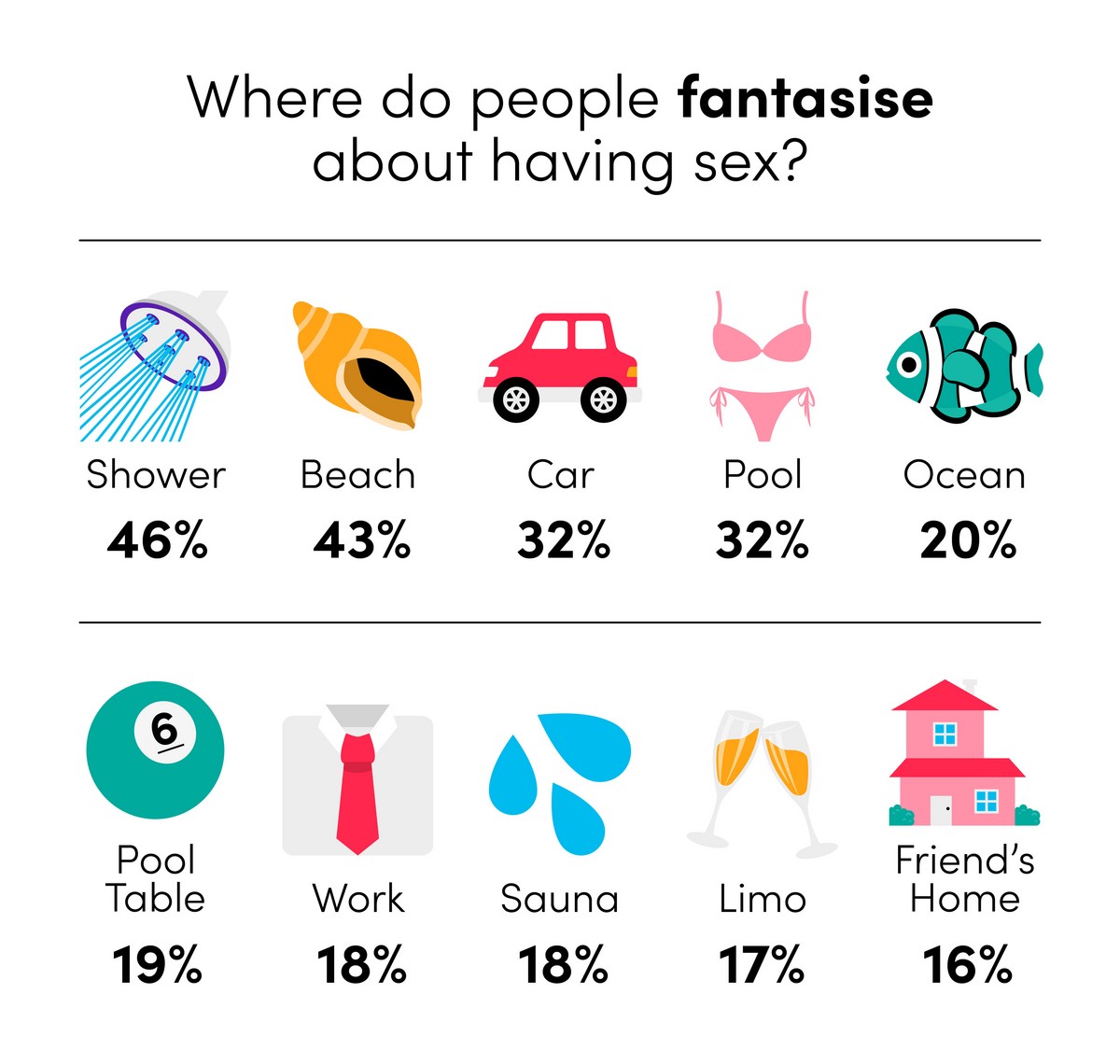 Laws impacting sex around the world
With so many of us dreaming of a steamy encounter in a foreign land, we might be keen to act on these urges as soon as we get the opportunity. But views on sex differ widely across the world, so something you might get away with at home might not be looked upon favourably elsewhere - and vice versa.
Different countries around the world have no shortage of interesting sex laws. Kissing on public transport is illegal in Vienna, Austria, whilst in Hungary's capital Budapest, sex is only allowed in the dark. Even in your own home, with your partner.
Over in Singapore, blow-up dolls are a strict no-no, and appearing naked in a private place that can be seen publicly is criminally liable, which might disappoint the exhibitionists among us. In China, the only place you're allowed to be naked is the bathroom, and women aren't allowed to walk around naked in a hotel room.
Advice on travelling with sex toys
For many of us, our sex toys are an irreplacable part of our sex lives so they're a must-have on our holiday packing list. Certified sexeducator Bobby Box gives us some advice on how to travel safely with sex toys.
"Travelling with sex toys is legal in the United States as long as security is confident the toy cannot be used as a weapon. So if the toy is large or menacing in some way, it's best stored in your checked baggage. Anecdotally, people have found that items associated with BDSM play (ropes, cuffs, etc.) are often regarded with more skepticism than others, so you're best to keep those in your checked baggage as well.
"However, the legality of sex toy travel differs from country to country. So first and foremost, do your research to ensure your playthings are legal in the country you're traveling to. For example, Saudi Arabia, Thailand, Vietnam, Malaysia and India are but a few destinations where these items are not prohibited and legal action can take place.
"Now, when it comes to your carry-on, most may think it's smarter to conceal your sex toys, but the opposite is true, as security is likely to rummage and remove the item from your bag. It's recommended that you bring sex toys in clear plastic sandwich bags as it makes the toy completely visible while preventing them from being physically handled by another person (eliminating any transference of germs). To make things clearer, label the item so security is less likely to question you in front of others.
"You're best to travel with toys that are compact and discreet, something that won't pique curiosity. Some toys even have travel-lock features that prevent them from turning on in your luggage. Lube is subject to liquid rules, which means you cannot carry more than 3.4 ounces in your carry-on. However, there are plenty of travel-sized lubricants available under that limit.
"Another thing to consider is the toy's charging method. Depending on your destination, you'd be safest with a toy that offers a universal charging method or can adapt to alternative outlets. But if you're going to bring a toy that uses batteries, remove them prior to packing as they may trigger alarms during the screening process."
Methodology:
This data is based on a survey we conducted in August 2022 of 2,008 Americans over the age of 18.
Expert commentary was provided by:
Dr. Justin Lehmiller - social psychologist and research fellow at The Kinsey Institute
Bobby Box - certified sex educator