Sex on the First Date: Yes or No?
We've all heard of the 'third date rule', a dating guideline that suggests we should hold off on getting naked with someone until date number three. This rule has been around for a while, but the boom in hookup culture, as well as the availability of quality sex toys like Pocket Pussies and Dildos, has led many of us to throw it out the window in favor of getting hot and heavy from the get-go...
Despite some lingering stigma, our data has shown that having sex on a first date is by no means uncommon in today's culture of dating apps and sex positivity. Whether it's getting rid of the first date jitters, exploring your sexual compatibility, or trying out new experiences together with Strap ons & Couples Sex Toys, our study shows that there are plenty of reasons to shed the stigma and get down and dirty straight away.
But just how many of us are opting for this? And why might some of us still prefer to wait? We asked over 2,000 adults these questions to find out exactly what they think about having sex on the first date.
How many of us are opting for sex straight away?
Nearly half (49%) of our respondents say that they have previously had sex on date number one, compared to just 42% saying they haven't. Men in particular are more prone to a first-date hookup, with just under 60% of male respondents admitting to having done this.
Women, on the other hand, are slightly less inclined to jump straight into bed with someone. According to our survey, only 43% of women have had first date sex. Given that women typically receive more judgement and stigma for being sexually active, it comes as no surprise that they may want to wait slightly longer before having sex with someone new.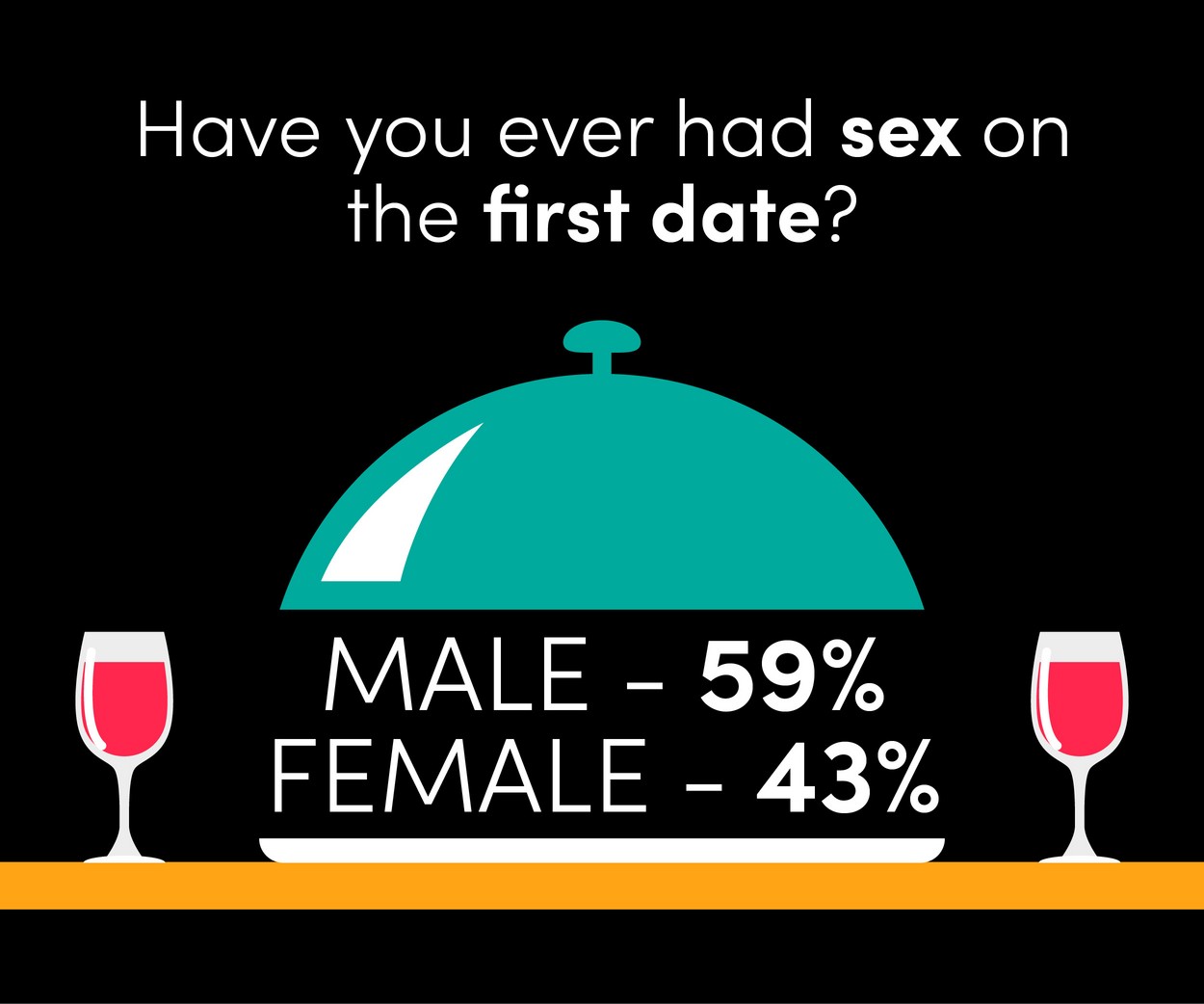 Additionally, we found that those aged between 18-24 and those over 55+ are the least likely to participate in first date sex, with only 31% and 42% saying they previously have, respectively.
Why are some of us eager to have sex on the first date?
We're sure everyone has their own reasons for wanting to dive straight into having sex, but what's the most common reason for people throwing the 'third date rule' out the window?
Despite many women being cautious about having sex immediately, there are still plenty who are willing to give it a go - and their main motivation is to test how sexually compatible they are with their date. Almost half of all female respondents (49%) said that sexual compatibility testing is the main reason they're open to first-date sex, whereas the most common answer for men (and most common overall) is simply because people enjoy having sex on the first date.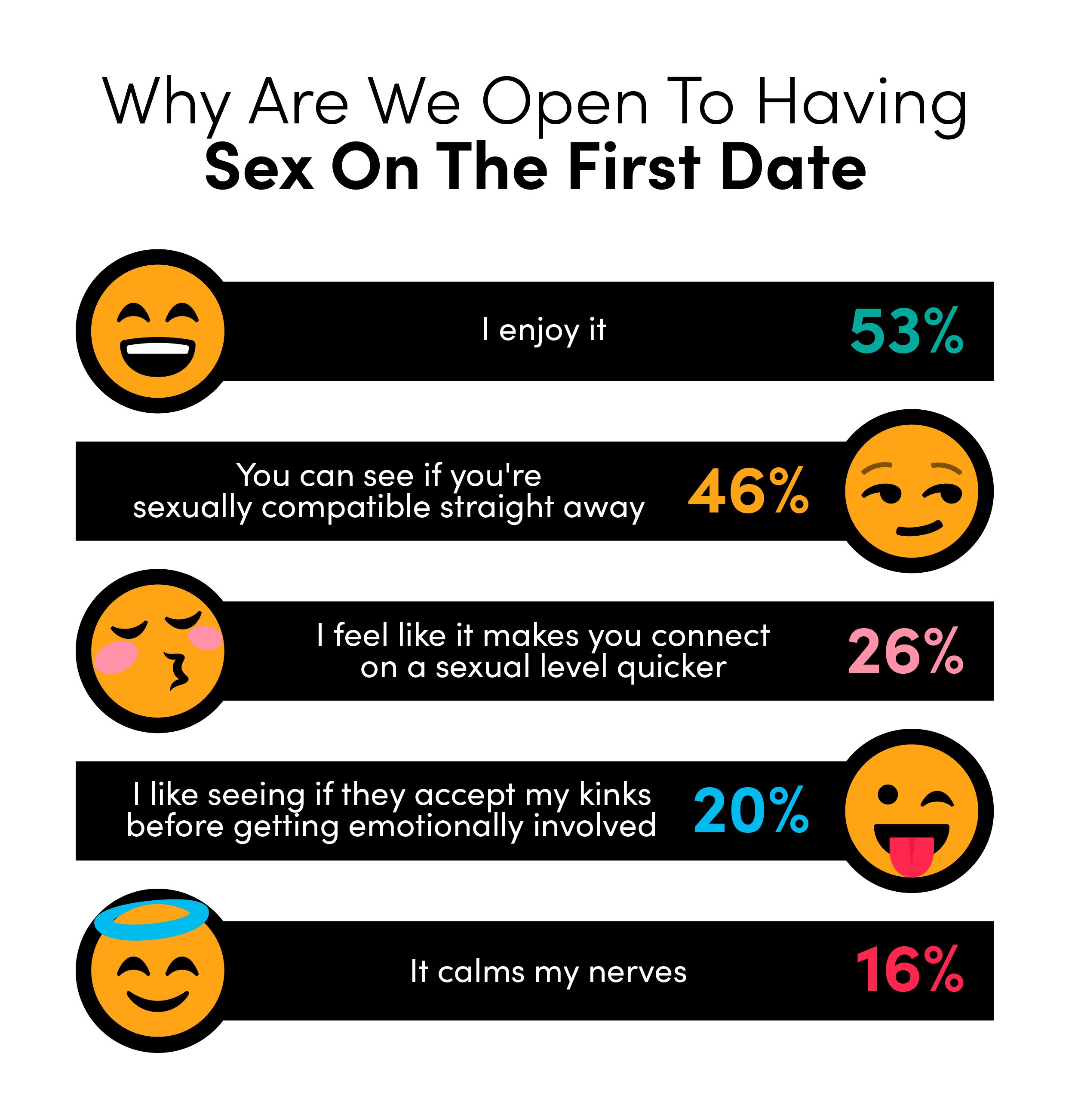 Following this, another contributing factor behind people being open to getting hot and heavy on a first date is that they feel it makes them connect more quickly on a sexual level, with 28% of men and 22% of women admitting this. While some may prefer to build an emotional connection before taking things into the bedroom, others value a sexual connection just as much.
Does your star sign make it more likely for things to get steamy on a first date?
Not everyone puts much stock in star signs, but those who do may be interested to know that we found that Capricorns (55%) and Libras (54%) came out on top when it comes to first date sex. With Capricorns tending to be one of the most enthusiastic lovers of the zodiac, and Libras being extremely amorous and erotic, it's no shock that they're at the top.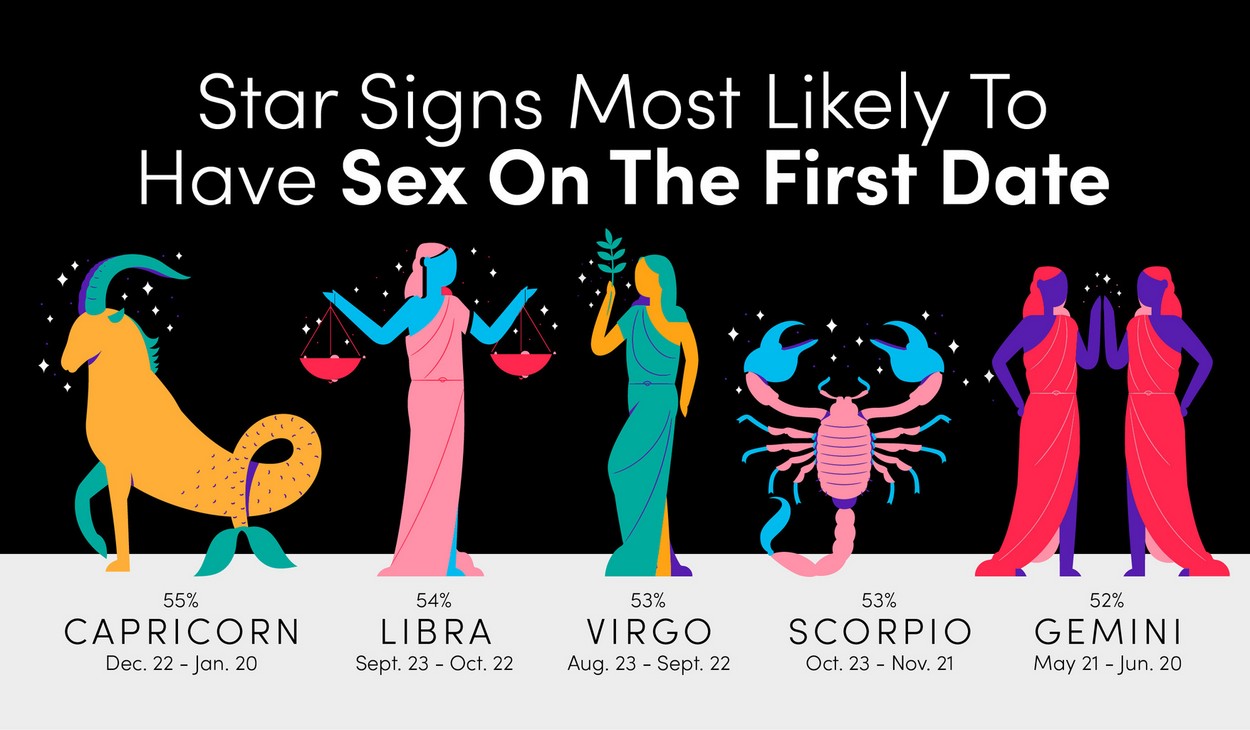 As for which star sign had the most 'no' votes, almost 50% of both Leos and Aquariuses said they've never done the deed on the first date. Leos are typically turned on by feeling desired, which can often be something that comes later on down the dating timeline, and Aquariuses are known for generally holding their passion deep inside and trying to contain their excitement, so it makes sense that they're less likely to jump straight into bed.
The benefits of having sex on the first date
Whether it's calming nerves or testing sexual waters, we've found that there are countless reasons to get jiggy on a first date, but what are the actual benefits? We spoke to psychotherapist Rachel Wright (MA, LMFT), who specialises in modern relationships, mental health and sex, to gain insight…
"Sex on the first date can be beneficial if you want to have sex on the first date. Here's the thing: there is no 'right time' to have sex. And I'm talking about sex with the definition of a 'meaningful experience of pleasure'. The concepts of 'Don't give away the milk for free' and 'They won't like me anymore if I give it up too quickly' are old and antiquated and can create so much shame for people of all genders.
"For some people, having sex right away is incredibly helpful in determining if they want to go on a second date, and for others it feels entirely out of reach because they need to have established an emotional connection with the person before they can have sex.
"Wherever you fall on this spectrum is perfectly okay, and it's encouraged to talk to the person you're going out with about it. If you've been texting for 2 days before the day, perhaps it may not come up - but if you've been texting for two months and trying to schedule a date and it's finally happening, you may have already discussed sex. Be honest with yourself and the person you're going out with about your expectations of yourself and them."
Why do some people avoid sex on the first date?
Now we've established how many people do have sex on the first date and why, let's talk about those that avoid it. Among those that said they've never had sex on the first date, the most common reason (47%) was that they don't feel comfortable having sex with someone they don't know. This is the most popular answer across all genders, so it seems we can all agree that feeling comfortable with each other is a huge part of enjoying sex.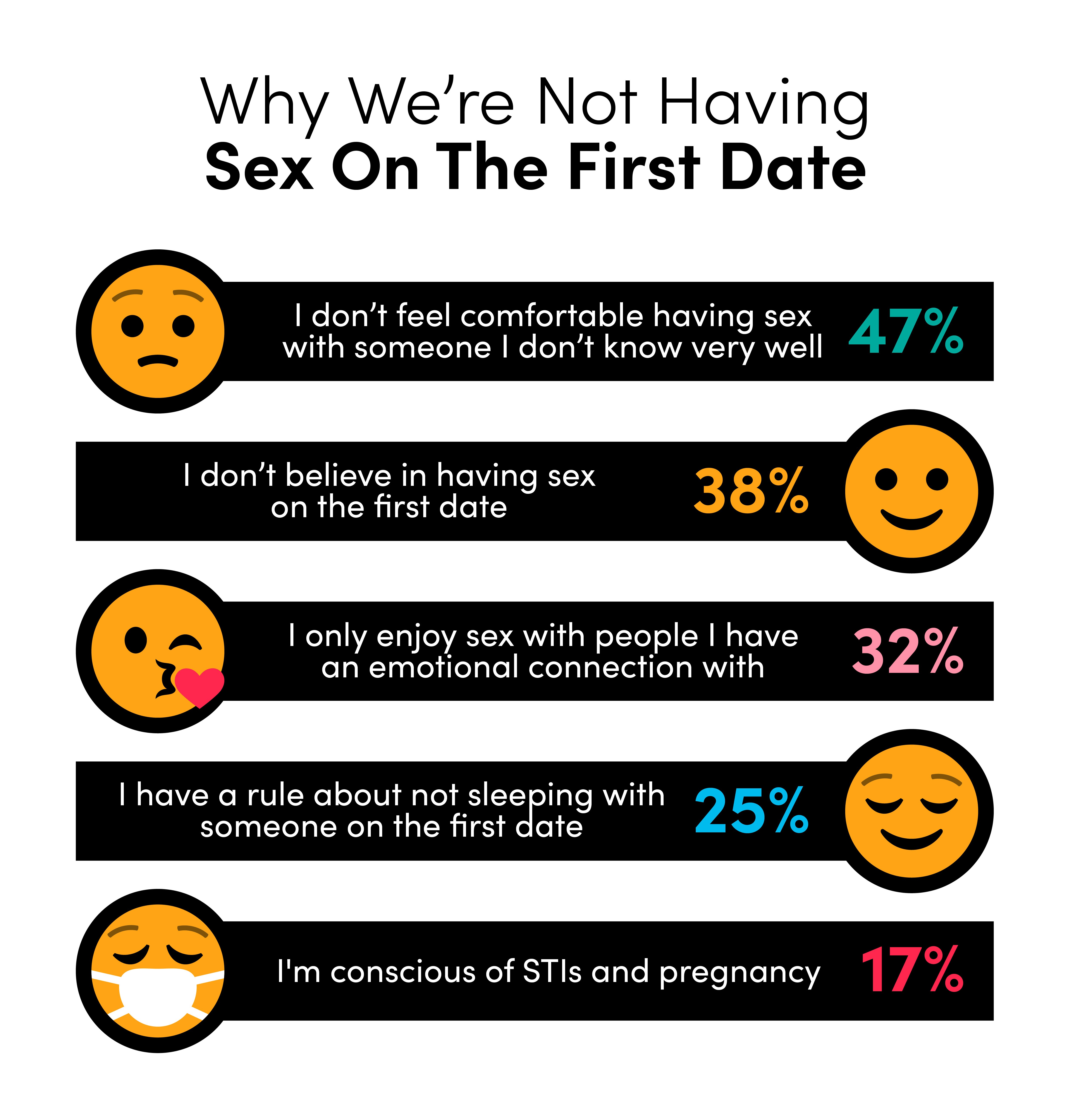 Another common reason that people say for not having sex straight away was simply "I don't believe in having sex on the first date" (38%), followed by "I only enjoy sex with people I have an emotional connection with" (32%). A lack of emotional connection was the second most common reason among men, suggesting that - perhaps surprisingly - men are more likely than women to desire emotional closeless before letting things get physical.
Only 17% of respondents were concerned about the risk of STIs and pregnancy, despite this being something we should all be considering, no matter how many dates we've been on with someone.
How to have first-date sex safely
To ensure we all know exactly what we need to do to make sure the first-date sex we're having is as safe as possible, Rachel shared the following advice:
"There's no such thing as safe sex - only safer sex. Even if you use barriers (such as condoms) and other forms of birth control, there is still a chance of pregnancy and STI transmission. Plus, some strains of HPV + HSV 1 & 2 can be transmitted simply through skin to skin contacts or lip to lip contact - condoms don't prevent that. So, have a conversation.
"STIs are a part of life when you're sexually active, and there's no shame in getting one, as long as you're getting tested regularly and asking if your partner or potential sexual parter(s) has been tested too.
"Share with your potential sexual partner the date of your last screening, if you have any STIs, and what protection you'd like to use - and do this BEFORE you're in the 'bedroom'. If you can have this conversation before the first date, you can come prepared with condoms, lube, - whatever you need! And remember, STIs acan be transmitted in all sorts of ways - not just through vaginal or anal penetration."
Methodology:
Data is based on a survey we conducted in August 2022 of 2,008 adults over the age of 18.
Expert commentary by:
Rachel Wright, MA LMFT, psychotherapist specialising in modern relationships, mental health and sex