Reverse Cowgirl: What is this Sex Position & How to Do It
While missionary can be A-okay, sometimes you just want to mix it up a bit to keep things exciting. That's where Reverse Cowgirl comes in, a woman on top position that is a sexy twist on the all-time favorite Cowgirl.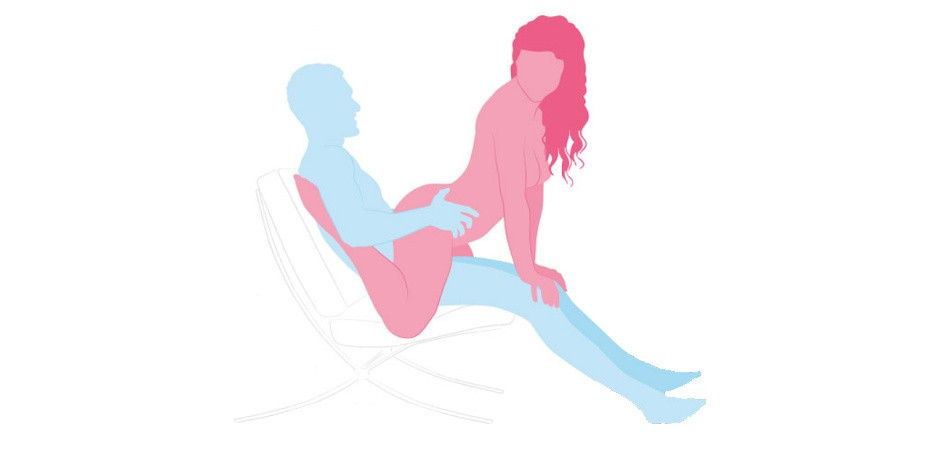 In this article we will explore how to do this rodeo sex position, as well as the expert tips and techniques on how to master it and what to avoid, because no one wants to be a one trick pony!
Caveat: While this position is usually talked about in terms of heterosexual sex, anyone can perform "partner on top" regardless of gender or sexual orientation. For the purposes of this article, however, we are referring to it as Reverse Cowgirl (or Cowgirl) - the most popular name for this position; but keep in mind that anyone can do it.
So, are you ready to learn how to ride a cowboy, to save a horse?
What is the Reverse Cowgirl Position?
Reverse Cowgirl position (or partner on top) is when the female-identified partner (or vulva or anus owner) straddles their partner in a kneeling position, while facing away from them, and rides them like bucking a bronco. Hence the name "cowgirl". In this position their partner is lying on their back with their legs closed, with their penis (or a strap on dildo) penetrating her vagina or anus.
Why do People Like the Reverse Cowgirl Sex Position?
Perfectly angled for vaginal stimulation and visually appealing for him, this is a great quickie position for sensational shared climaxes.
The cowgirl is often cited as one of the most popular sex positions. Women especially love it because they get to control the angle and depth of penetration, as well as the rhythm and pace. In this position she gets to ride, grind and hump away, which stimulates both the clitoris and G-spot for maximum pleasure and blended orgasms.
Since she is in control, this position is also empowering, with the female as the "active", "top" or dominating partner.
How to do Reverse Cowgirl
To get into this position, the rider can begin by standing facing away from the top, then gently lower themselves down to insert their partner's dick.
The Benefits of Reverse Cowgirl
While we've already mentioned why women love this position, here are some other pros:
It allows her greater mobility of movement so she can go wild with abandon!
He gets to lay back, receive pleasure, and enjoy the ride.
He gets an awesome view of her booty as she twerks on top and can enjoy all the penetrating action, which is very visually stimulating.
It's very versatile: she can kneel, squat, crouch and even half-squat if he is seated in a chair.
It allows for deeper vaginal penetration and cervical orgasms for her.
If she's shy, she can hide her "O-face" from him and not worry about looking comical (not that he actually cares because he's making the same O-face!).
The Cons of Reverse Cowgirl
While this position is fairly easy to do, there are some cons that can make it a downer for some people.
No Physical Feedback
Since she is positioned facing away, she can't tell from his facial expressions when he is about to orgasm. That's were verbal communication comes in - important during any kind of partner sex.
Potentially Awkward for Him
A man's erection usually points up towards his belly. In this position, he must bend his woody down to get proper insertion into her vagina, which can be extremely hard to do for some guys.
Risk of Penile Fracture
(Caution: this one is scary!) This is a rupture of the underlying tissue in the penis that aids it in producing a firm erection. If his partner becomes too enthusiastic as she bounces on his lap, comes down too hard, or his penis pops out or bends too far at the base, a penile fracture can occur. So, make sure to go slow and take your time. He can also help by holding onto her hips.
Less Intimacy
If you enjoy gazing in each other's eyes, kissing and making out, then you find this position lacks intimacy, which can be a turn-off for some people.
No Direct Clitoral Stimulation
This position doesn't allow for direct clitoral stimulation once she is penetrated, but she can stimulate her clitoris with a finger or a vibrator, and/ or her breasts at the same time.
It Can Be Exhausting
Being on top is a lot of super exhausting and hard on the bottocks, legs, and back, especially if she is not used to it.
Reverse Cowgirl Tips
Reverse Cowgirl can be challenging, yes, so here are a few tips to make it easier and more rewarding.
Penis Angle: He should make sure his penis is in a comfortable position and not at an awkward angle.
Lean Forward or Backward: She can try leaning forward or backward to get the best position for angle, leverage and to aid in stamina.
Rhythm: Both partners can vary their rhythm, from slow and sensual to fast and furious.
Anal: Yes, Reverse Cowgirl is perfect for anal sex as well!
Use a Mirror: You can place a large mirror at the foot of your bed so he can get a sexy frontal view as well.
Sex Pillows: To make this position a little easier, he can place a sex pillow under his hips for a better angle. She can also use pillows under her knees.
Edge of Bed: Try this at the edge of the bed, with his knees bent and feet on the floor. She can then squat on his lap, which is more comfortable.
Leverage: The woman can also balance and support her weight by placing her hands on his legs, or by leaning back and putting her hands on his stomach.
Change Positions: If you get tired you can always change it up!
Reverse Cowgirl Sex Tips for Non-Hetero Relationships
As mentioned at the beginning of this article, anyone can do this position if so desired.
It can be adapted for female-female couples with the use of a strap-on dildo. It's also a great position to try for anal sex (and add a male masturbator into the mix if the receiver has a penis).
Other Variations on Reverse Cowgirl
Best Seat in the House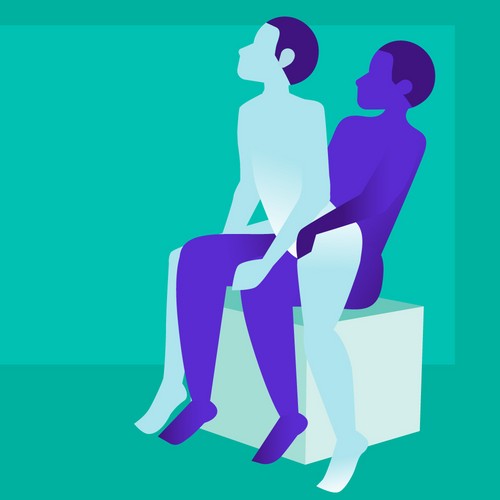 Reverse Cowgirl on a Chair: A sexy alternative, the Best Seat in the House allows for greater mobility and more leverage with the bottom partner sitting in a chair and her on top of their lap.
The Airplane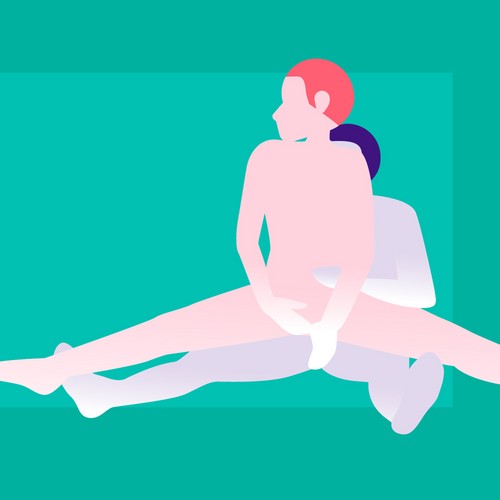 With the The Airplane, the giving partner sits on the floor with their legs spread open. The receiving partner sits on top of the giving partner with their back to them and their legs straight and spread wide apart.
Queening In Reverse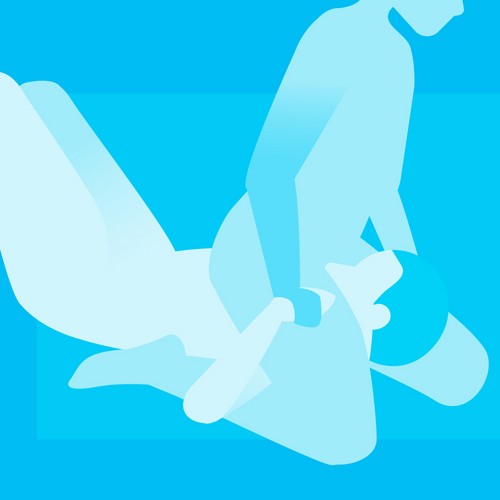 The Bargain Hunter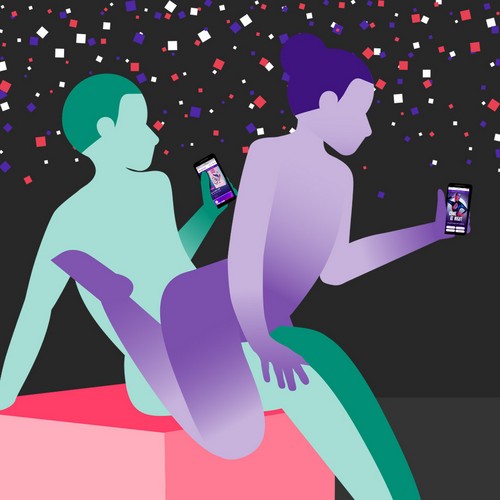 With the The Bargain Hunter, one partner sits in a gently reclining position and invites the other partner to hop on board, facing away from them in a straddling position.
Sit 'n' Splash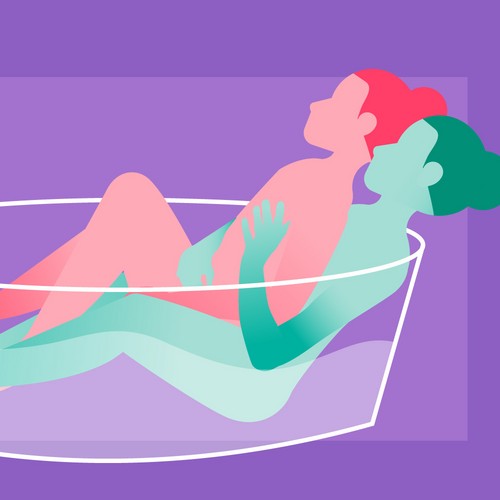 The Spider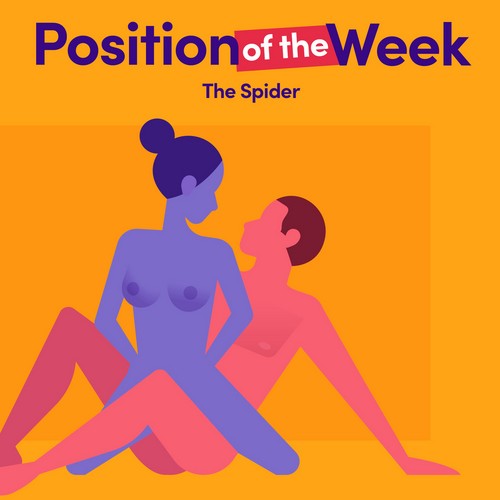 For The Spider, one partner lies on their back with their legs open and feet together. The other partner climbs on top and straddles the reclining partner's pelvis, with their legs facing forwards to meet their partner's hands.
Back in the Saddle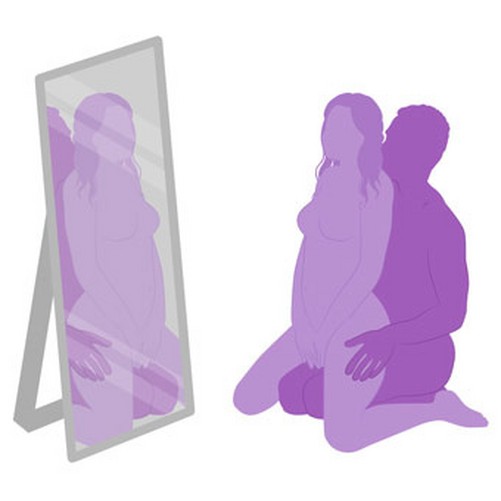 Back in the Saddle? He kneels with his knees together and she straddles him, placing her knees either side of his with her back to him, edging onto him in a seated position.
The Throne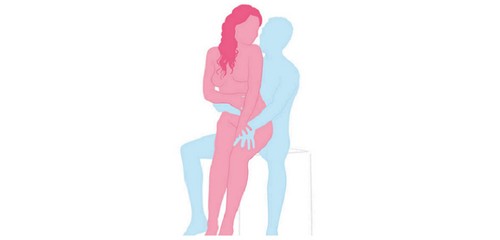 9 Tip to Toe val19-potw-reverse-tip-to-toe-700x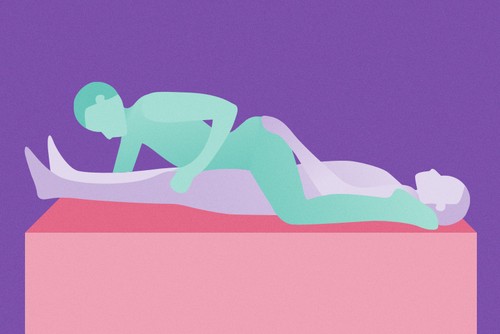 In the Tip to Toe, position, he lies flat, she squats and climbs on top, facing his feet. After penetration she leans forward, putting her legs behind her.
Lovehoney's Conclusion on the Reverse Cowgirl Position
Remember, great sex is not only about how many positions you can get into with your partner. But it does help to spice things up.
Practice the 5 C's: Caring, Connection, Communication, Curiosity, and Consent, to take your lovemaking to the next level!
Explore Lovehoney best-sellers