10 Sex Positions for Lesbians and WLW Relationships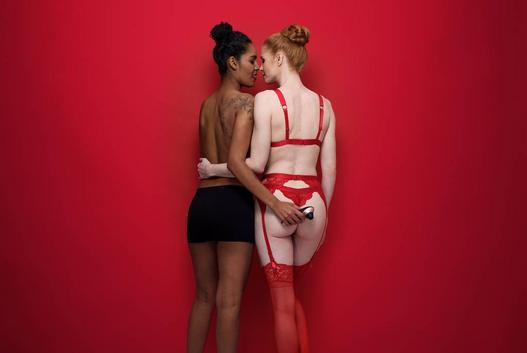 We know how much you guys love new sex positions, and we want everyone to enjoy excellent sex, so we've put together a list of super sex positons for lesbians and WLW (women who love women).
In 2017, there were an estimated 1.1 million people aged 16 and older in the UK who identified as gay, lesbian, or bisexual. If you're someone who falls into that category or your relationship just so happens to comprise two people with vaginas who enjoy having sex with one another, this is the post for you.
We've found 10 delightful sex positions you can try when you and your lady lover want to sneak off into the bedroom for some alone time. For your convenience and ease of access, we've separated our list into both penetrative and non-penetrative options.
---
Penetrative Sex Positions
Missionary is a classic for a reason. It's face to face, it's up close and personal, and it's great for slow and sensual penetrative sex.

How: Have the penetrating partner gear up in your favourite strap-on (harness-assisted or strapless both work), lube up and enjoy.
---
If you're in a hurry or you just aren't in the mood for strap-ons and dildos, opt for some good old-fashioned fingering. Feel your way to her sweet spot and enjoy the results.

How: After foreplay, have you partner assume a comfortable position with legs spread, then slide lubed fingers into her vagina. Crook your fingers towards her belly button to stimulate her G-spot.
---
For deep penetration, dive into another great tradition: doggy-style. Also requiring a strap-on of some kind, consider adding a vibrating cock ring to a harness-compatible dildo for new pleasures.

How: Strap in and hold onto their hips for deep thrusting strokes, or reach around their legs to tease their clitoris and deliver blended bliss. You can penetrate vaginally or anally, with the appropriate lube.
---
Share intimacy with your partner without being face-to-face, and enjoy the erotic sounds as you both vy for purchase on the dildo. Plus, meeting in the middle of the dildo can be immensely pleasurable, achieving simultaneous deep penetration for both partners.

How: This position calls for a double-ended dildo rather than a strap-on. It's best for one partner to insert it first – anally or vaginally, with the appropriate lube – and for the second to slide on at their own pace afterwards.
---
Lean back and enjoy the view in this position. Recline as far as is comfortable for you; if you're both leaning into a sitting position, slip into some sexy lingerie to add more visual stimulation to the experience.

How: Sharing a dildo is undeniably intimate, and you're free to touch yourselves or each other while you rock back and forth or inch closer together.
---
Non-Penetrative Sex Positions
Pick up your favourite flavour of lube and travel south. Use a peppermint flavoured lubricant and she'll benefit from extra tingles.

How: Kiss down her stomach and up her inner thighs to get her excited, then move closer to her clitoris by kissing and licking along her lower lips.
---
This versatile position is great for both long, sensuous sessions and quick, hard rides that get your rocks off in a hurry.

How: Find a position where you're both comfortable and can have your clitoris stimulated by one another's movements, then grind together in the rhythm that best suits you.
---
Share the fun! Settle in next to one another and use your fingers to tease one another's clits. Why not use some of your favourite toy techniques on her, or hand over your favourite vibe to see she can give you new reasons to love it?

How: Take turns with a bullet or clitoral vibrator or simply explore what makes her tick using your hands. If you're in a supported position, you can touch your own nipples or other erogenous zones for increased excitement.
---
Add a new dimension to non-penetrative play by adding a vibrating toy into the mix. Use your favourite scissoring position with a wand vibrator between your clitorises for out-of-the-world sensations.

How: Position yourselves comfortably with a vibrator between you, then grind together against the toy and share the vibrations.
---
More than just a choice way to cuddle, spooning gives you optimum access to touch her breasts and hips, and can be ideal for gentle clitoral stimulation while your bodies are pressed together.

How: One partner curls around the other, then uses their hands to stroke, squeeze, and explore. The arm beneath your bodies can be prone to pins and needles; for the most comfortable spooning, we've found it's best to slide it under your partner's neck when their head's supported by a pillow.
---
Lovehoney's Lesbian and WLW Bedroom Essentials
---
You may also like: