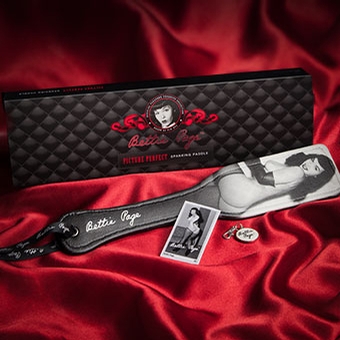 Launching in the UK in October last year, The Bettie Page Official Pleasure Products Collection made its first appearance (and sale) at the London Tattoo Convention, sponsoring the national 'Miss Pin Up UK' competition.
Since then, sales have been consistently strong, with positive feedback from Bettie Page fans and seasoned bondage enthusiasts alike, which has got us grinning from ear to ear!
As an official piece of Bettie Page merchandise, it's very important to us that we please the 'original' Bettie fans, as well as those who have only just discovered her, and the rest who are just looking for a luxurious product to add to their kinky bedroom play.
Amazingly, it seems we've already built up a global fan-base on our Twitter and Facebook accounts (thank you!) but we've noticed that the majority of our followers are in America.
So, with this information in mind, it made sense to launch the collection in the US… and that's what we've done. Read on to discover exactly what's in the range, and catch a preview of our television debut!