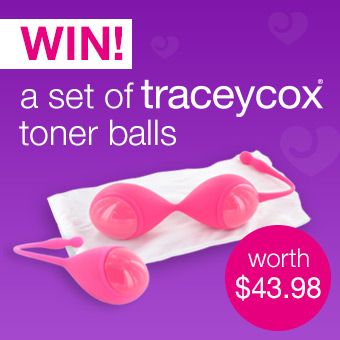 I've been getting healthy and working out a little bit lately with only the occasional cupcake. Inspired by sexy Olympic athletes and being a bit of a hedonist I find myself thinking about creative ways to get fit and have some sexy fun at the same time. That's how I discovered sexercise!
What is sexercise? According to Wikipedia, "Sexercises are physical exercises performed during sexual intercourse, foreplay, or in preparation for sexual activity designed to tone, build, and strengthen muscles… masturbation might be considered a sexercise if done athletically…"
The benefits of incorporating fitness in your sex play are fun and rewarding, whether you're alone or with a partner.
Are you ready to get sexually fit in every sense of the word? Here's your chance to win a vaginal toning set from Tracey Cox's line of sex toys. The winner will receive one of each: Tracey Cox Supersex Toner Balls - Single and Double to kickstart your kegel work out. All it takes is a comment below before March 21st to enter to win.