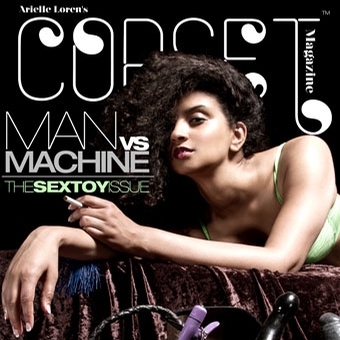 "A revolutionary force for empowering, comfortable, and inspiring dialogue about sex, the magazine embraces curiosity, honors sensuality, and celebrates sex. It's where ordinary people contribute and discuss their desires on their roads to sexual empowerment." [corsetmagazine.com]
I met Arielle Loren at Blogher back in NYC in 2012. We stayed connected and I've been working with her ever since to provide interesting sex toy features, deals, product reviews and giveaways in her magazine and on Corset's site.
The current issue of Corset Magazine, Man v. Machine: The Sex Toy Issue, is full of things we love - including some really steamy stories, a feature from Erika Moen and ohjoysextoy.com, and some insanely hot pictures featuring gorgeous glass sex toys from Crystal Delights.
Big thank you to Arielle for taking the time to answer some of my curious questions and giving a discount on Corset Magazine to Lovehoney readers like you!