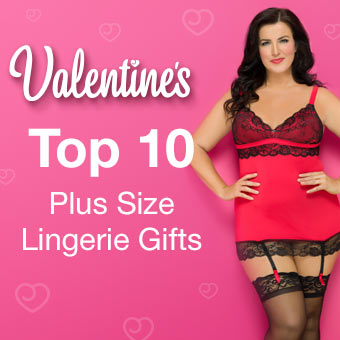 Everyone likes to feel sexy on Valentine's Day, and that's what makes lingerie the best gift - whether you're the one giving or receiving.
"Help! How do I buy Plus Size lingerie for Valentine's Day?" It's true - a lot of people get confused by the term "Plus Size", but all it means is dress sizes 14 and above. The only way it differs from non-plus size lingerie is that it's a bit more flattering for curvier girls.
Many men fret about buying lingerie for their Valentines, worrying that it won't fit or she won't like it. Luckily, we've hand-picked 10 gorgeous options for this Valentine's Day that we're sure she'll love. It's worth noting that you can shop in confidence with our incredible 365 day return policy.
Need more help? Check out our How to Buy Sexy Lingerie Guide for Men for tips on figuring out her size and what she likes.